Six months and counting. That's the last time Cole Perfetti and many of the other top prospects played in a meaningful game. Here we are in September and we are still waiting to know where they'll end up in the NHL Draft.
Luckily for them and for us, we don't have to wait much longer.
The NHL recently announced the dates of the 2020 NHL Draft. The first round goes Tuesday Oct 6 and rounds 2-7 go Wednesday Oct 7.
Related: Cole Perfetti Q&A from March 2020
Perfetti is widely expected to be selected in the top-10. The general consensus is that he goes somewhere between 4-10. His two seasons in Saginaw have been nothing short of special. When you draw early comparisons to Brayden Point, fans of teams in the top-10 hope they get their chance to draft him.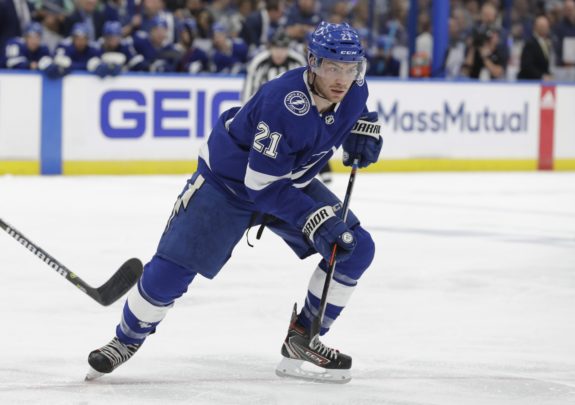 Perfetti took some time to speak to the Hockey Writers on Monday. We talked about a wide variety of topics from how his summer has gone to training to draft interviews and preparation and to an eventual start of the 2020-21 season with the Spirit. Here is our Q&A.
Cole Perfetti Q&A
The Hockey Writers: I'm sure this summer has been crazy for everyone. Just how have you been able to keep this summer as normal as possible for you?
Cole Perfetti: I have been able to work out. I've been able to skate. That's pretty much what my summers are made up of anyway. I've been hanging out a little bit with friends. Golf is actually a new thing for me this summer. Other than playing games, I'm able to skate and do my skill sessions. It's going to feel weird now, normally the season would start. My summer was pretty normal with my skating and working out and what I was doing.
THW: Has the year 2020 taught you anything in particular?
Perfetti: Yeah, it's been a hectic year. I think it's taught everyone especially myself how to be flexible and how to roll with things. I think everyone has had to learn how to live like that. It's new rules all the time, new guidelines we have to follow. It's things we've never had to do in our lives that are mandatory now. We had to get used to it and live our lives like that. So it's definitely taught us how to go with the flow. We just need to keep moving forward even though there are obstacles in the way.
A Typical Day
THW: You touched on this a little earlier. You've been able to train. You've been able to skate. I was wondering what has changed in your routine? What access do you have to gyms, rinks and what other kinds of adjustments have you had to make?
Perfetti: My trainer (Peter Renzetti) is based out of a soccer dome. He has his own part of the soccer dome that we train out of. That is a public building and has not opened up yet. At the beginning of summer, he went and got his weights and everything out of the gym and brought them home. And now we've either been going to the track or we go to this hill quite often and he brings the weights there. We've been doing our normal lifts either at the high school or at the hill. We've been doing a lot of conditioning and a lot of running this year. We've been able to train just as normal as last year. We've still been able to have a really good summer even though I haven't actually been able to go into the gym. For skating, there are limited numbers on the ice. The only thing that's been weird is you have to get dressed in the parking lot and walk in which is a little awkward. In the summer it gets really uncomfortable given the heat. That was annoying. Other than that it's been normal skating.
THW: So what is your typical day like now as we countdown towards the draft?
Perfetti: I get up around 7:30, have breakfast and then workout. Most days I have a skate right after so I just drive to the rink. I normally am done around one. (As for free time), I would go swimming in the back yard, hanging out with friends, go golfing almost every day. That would kill 5-6 hours a day. Other than that, nothing too crazy given most things are closed or with restrictions in place. I work hard when need be and then take the time to rest when given the opportunity.
The Draft Process
THW: Let's talk about the draft interview process. I had heard teams started the process back in April with Zoom and virtual meetings. When did that process start for you and then how many teams have you spoken to so far?
Perfetti: I don't know the exact number, probably the low 20's. It started in April for me. During April and early May it was pretty hectic with almost a call every day and 3-4 calls per week. It was pretty busy but it was a good process. It was a lot of fun. It was unique to do it on Zoom. I was in an environment where I was comfortable doing them in my office or in my room. I was able to be myself and show who I really am. Then from mid-May to about two weeks ago, I didn't have any Zoom calls. Now that the lottery is done and teams know where they're picking, it's started to pick back up again. I anticipate that it will continue over the next couple of weeks.
THW: How have teams handled the fitness situation given that there was no NHL Combine? Do teams directly ask you about it or how have they approached this topic?
Perfetti: Yeah, I have had conversations with teams about my fitness and what I have been doing ti improve in certain areas. I think a lot of teams have contacted my trainer (Renzetti). They would contact him directly and ask him about my progress. I do think that is one aspect teams are missing out on.
THW: Normally the Combine is known for some of the questions teams ask of the prospects. Were there any questions that stuck out to you as being a little bit different or weird?
Perfetti: I was anticipating that, but for the most part I never had anything that was too crazy or caught me off guard. There were a couple of questions that really make you think and test who you really are, your values and your beliefs. Sometimes you hear crazy ones that don't even make sense. But I never had any of that. It was more to see what kind of person I was, how I think and the kind of player that I am.
THW: Turning to the draft itself, has the league given you any indication yet of what to expect on draft night? Will you have access to a hat or a jersey of the team who picks you?
Perfetti: We don't know about that. We haven't had a lot of chatter yet with the NHL. We've had to send some social media stuff for content. I think we're going to get some clarification in the next couple of weeks. It's getting pretty close now. It doesn't even seem real. Whatever it is they do, I'm sure they'll do a good job and I'm exciting to see what it will be.
THW: Going back to you speaking to the teams, it's early and a lot can change, but how cool would it be to hear Detroit call your name knowing you are just an hour away and a lot of Red Wings fans follow the Saginaw Spirit? Have you put much thought into that possibility? And have you spoken to the Red Wings during the process?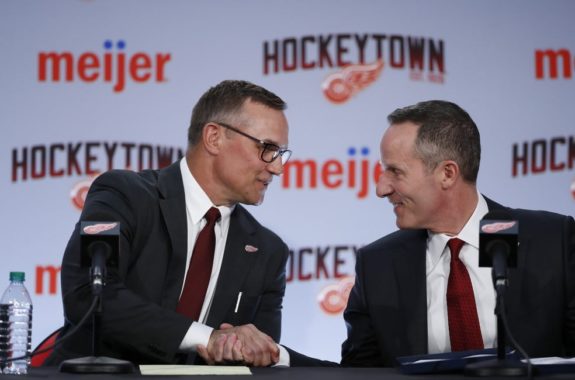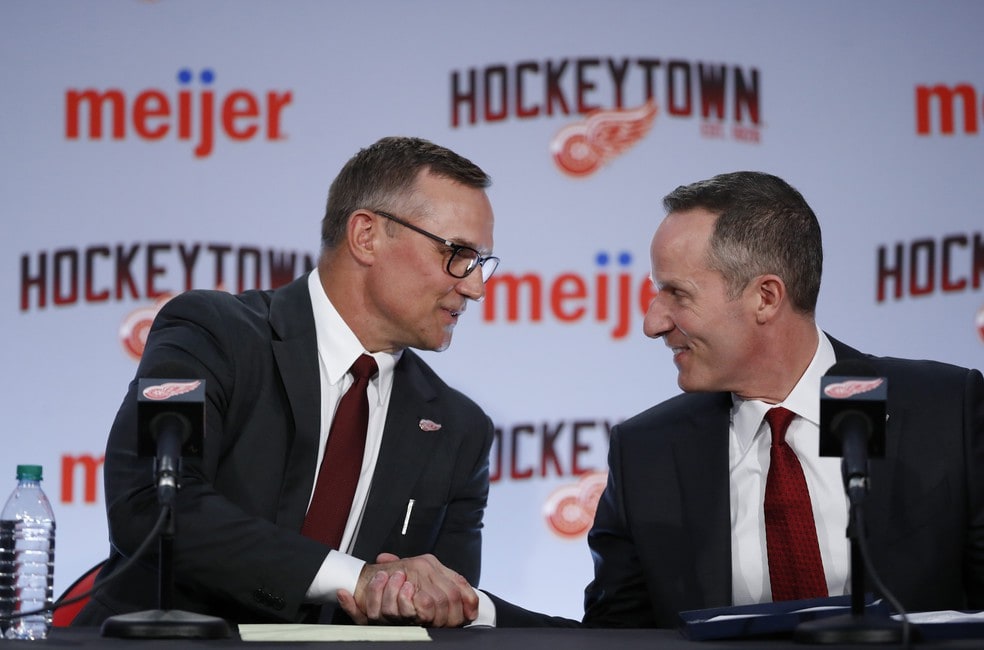 Perfetti: I've had some good talks with them (the Red Wings), a couple of times. I have another talk with them coming up this week. It's crazy to hear people talking about that. I don't think they even know who they're taking yet with there still being 3 ½ weeks to go. There's a lot of great hockey players in this draft. I'm just trying to stay away from that and keep my head focused. When I have an interview with any team, I want to make the most of it and show who I really am. It would be really cool to play in Detroit being only an hour down the road from them and then be really close to my billets who I've grown very close to. I consider them my second family. I talk to them almost every day since I've been home. They've been amazing to me and I can't thank them enough. To be only an hour away from them would be awesome. At the end of the day any team would be amazing and I'd be honored and thrilled to hear my name called to play for any organization.
Looking Back & Looking Ahead
THW: Do you feel like you accomplished what you set out to accomplish this summer? What was the biggest priority for this summer and how were you able to achieve that?
Perfetti: It was definitely my lower body strength, speed and skating. Yes I feel like I accomplished my goal. I think everyone wants to keep improving no matter where they are. Mine was to improve my strength, my skating and my endurance on the ice. I feel I'm in a much better position now than when I first came into the offseason. Every time I go on the ice, I do a lot of technical skating with my coach. I've also been doing the skating treadmill. It's been a real successful summer so far and I feel like I have taken major strides in that area. I feel really confident and excited to show how much I have improved my skating over the summer.
THW: Finally, we want to ask about getting ready for the upcoming OHL season. We know there's a tentative date set for 12/1 to potentially start a season. Are you trying to prepare as though that's when the season will start or have you heard anything different?
Perfetti: That's all we've heard so far. They said be prepared to come back mid-late November. That's my goal is to be ready for then. We haven't gotten any further clarification after the (OHL) call. We're still planning on a 12/1 start. That's what my mindset is on.
If his skating has improved like he said it has, it could be a real game changer for the team that drafts him. We thank Perfetti for taking time out of his busy schedule to speak with us and the Saginaw Spirit for making it happen.
---
---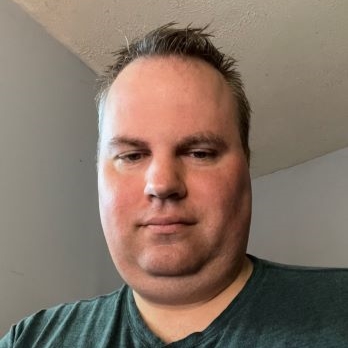 I am a fully credentialed writer who covers the Columbus Blue Jackets, Cleveland Monsters and Erie Otters as well as the Ontario Hockey League and NHL Draft. The 2022-23 season will mark nine seasons with the Hockey Writers. I am also the site's Credentials Manager. Please take note of the updated Twitter handle: @mark_scheig.