Welcome to THW's 2022-23 Hart Trophy tracker. Using a mix of traditional analysis and newer analytical tools, this list will serve as a ranking of the NHL's top Most Valuable Player (MVP) candidates over the course of the regular season. Just to get out ahead of the crowd, here's an explanation for why points aren't everything, in case some players aren't ranked as high as you may believe is warranted.
---
---
Before the new top 5 is unveiled, a few qualifying criteria should be established. First, skaters must have appeared in at least 75 percent of their team's total games to qualify for these rankings. For a goaltender to qualify, they must make a majority of their team's starts. A player's per-game production or performance will be considered, but staying healthy is crucial in determining which individual provided more overall value to their team.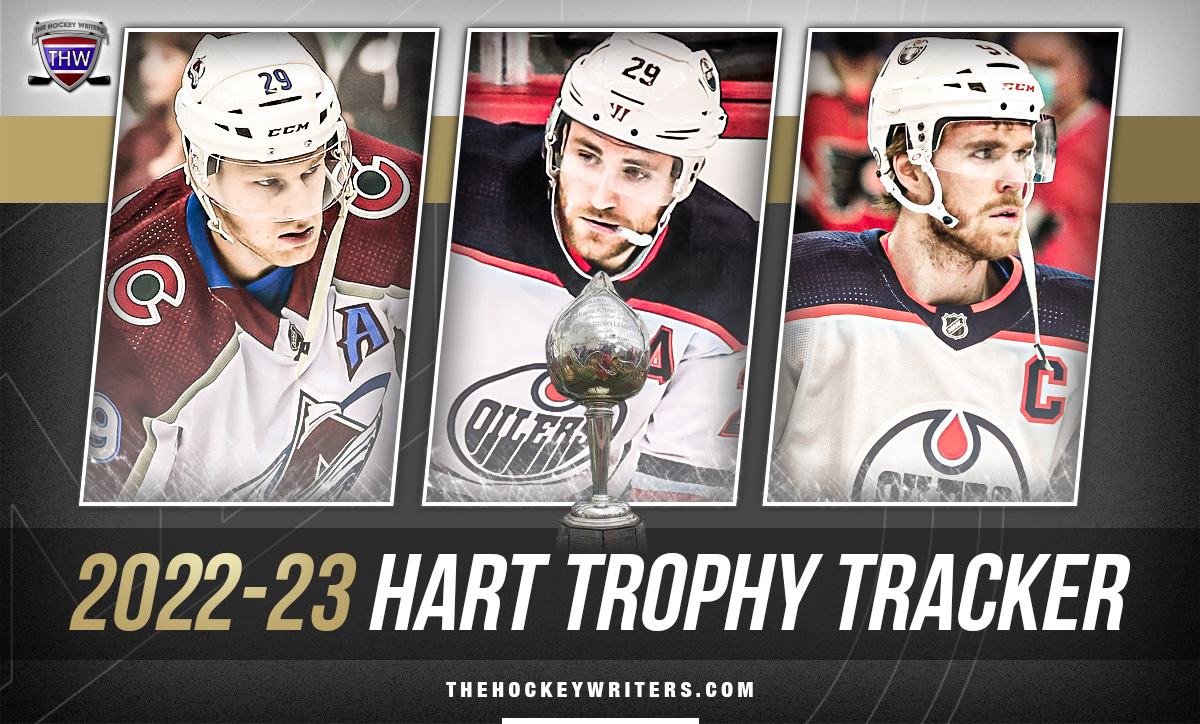 Lastly, those who provide greater relative value (due to a weak supporting cast, for example) will be ranked higher except in rare cases where a player is clearly above the pack. With those stipulations in place, let's dive into the third edition of the Hart Trophy rankings.
Previous Ranking: 1. Connor McDavid (Edmonton Oilers); 2. Ilya Sorokin (New York Islanders); 3. Jason Robertson (Dallas Stars); 4. Linus Ullmark (Boston Bruins) 5. Leon Draisaitl (Edmonton Oilers)
5. Tage Thompson, Buffalo Sabres
2022-23 Stats: 63 Games Played (GP) – 42 Goals (G) – 41 Assists (A) – 82 Points (PTS) – 18:48 Average Time on Ice (ATOI)
Amidst the Buffalo Sabres' youth movement headlined by the likes of Rasmus Dahlin, Owen Power, and Dylan Cozens, center Tage Thompson has spearheaded the organization's long-overdue resurgence this season.
Related: 2022-23 Norris Trophy Tracker
Building on last year's 38-goal effort, the 6-foot-6 behemoth has already potted four more goals in 15 fewer games. Thompson's 42 goals have him sitting in a tie for third league-wide, with his 83 points good for fifth overall and one of the NHL's best surprises this season.
---
Latest News & Highlights
---
Thompson's value is demonstrated in how dominant he is relative to his teammates, outstripping the next closest Sabres in production by 14 goals (Alex Tuch) and 20 points (Dahlin). He's been one of the most dangerous powerplay operators, tallying 18 goals (third) and 31 points (fifth) with the man-advantage.
Thompson's even-strength production is nothing to scoff at either. He's 11th in the NHL with 51 such points, while also leading the league with 3.26 points per 60 at 5-on-5. He thrives with more space around him, but he's by no means a one-dimensional powerplay merchant.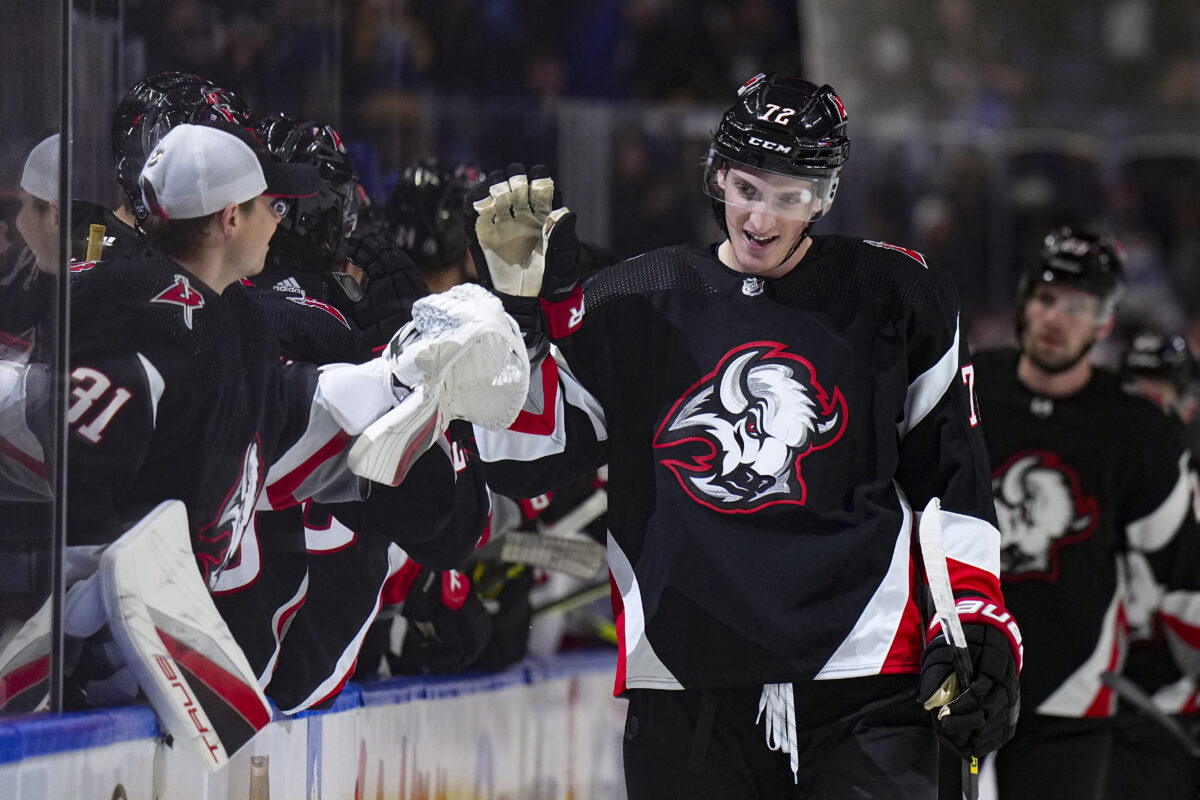 Perhaps most notable is that Thompson hasn't abdicated his defensive duties, helping the Sabres maintain an even or positive share of shots and scoring chances when he takes the ice.
Where Thompson finishes on the official Hart Trophy ballots could be dictated by the Sabres' playoff fate. They sit five points back of the Pittsburgh Penguins for the Eastern Conference's final wildcard spot, with a handful of clubs still in the mix.
Qualifying for the playoffs for the first time in over a decade would go a long way in bolstering Thompson's Hart case, but just being in the conversation is a testament to his season to date.
4. Jack Hughes, New Jersey Devils
2022-23 Stats: 59 GP – 36 G – 40 A – 76 PTS – 20:04 ATOI
As the star on one of the NHL's rising contenders in the New Jersey Devils, center Jack Hughes has finally delivered on his heady draft pedigree and enmeshed himself among the league's elite forwards.
Although a recent injury cost him a few games, Hughes still ranks ninth in goals and in points per game (P/G) while accumulating the eight-highest total of even-strength points (53). Among qualified forwards at 5-on-5 (minimum 300 minutes played) Hughes has generated the eighth-highest rate of points per 60 minutes (2.92) and only Jared McCann has scored goals at a higher clip.
Related: 2022-23 Calder Trophy Tracker
According to Corey Sznajder's tracking data, much of that damage has come off of the rush and in transition. At 5-on-5, Hughes leads all forwards in controlled zone entries and is second in entries leading to scoring chances, routinely carving up opposing defences in the neutral zone.
Further, only a handful of forwards have generated a higher number of scoring chances on an individual level or for their teammates, making Hughes one of the NHL's top dual threats with the puck.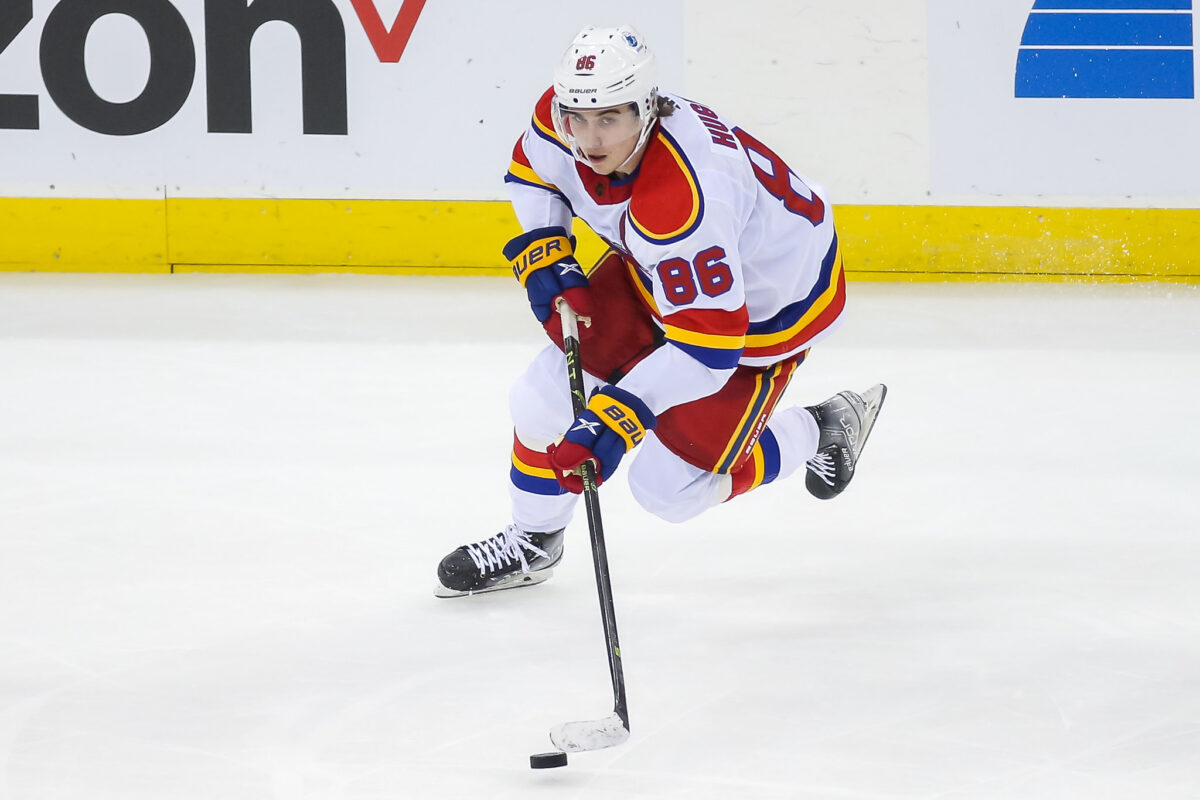 Hughes has also generated a great deal of value through his discipline and penalty impact, which doesn't always show up in the box score. Although his 20 drawn minor penalties only rank 46th, he's only taken a pair of penalties on the year, leading to his plus-18 differential – the fifth-best mark in the league. Giving your team that many additional opportunities on the power play counts for something, even if it doesn't always result in a goal.
The Devils sit third in the league by both points (88) and points percentage (.698), so Hughes can count on team success when building his case for the Hart. Even though the race may be uncontested at this point thanks to a certain player to be named later, the 21-year-old phenom still deserves recognition for his breakout performance.
3. Ilya Sorokin, New York Islanders
2022-23 Stats: 48 GP – 22 Wins (W) – 18 Loss (L) – 6 Overtime Loss (OTL) – .925 Save Percentage (SV%) – 42.7 Goals Saved Above Expected (GSAx)
Although it appears that Linus Ullmark of the Boston Bruins may have locked up the Vezina Trophy as the league's best goaltender this season (not in my opinion, however), there is no doubt which netminder has been more valuable to his team this season.
If it weren't for Ilya Sorokin, the New York Islanders may be battling it out for the best odds to land Connor Bedard in the draft lottery, rather than hanging onto a wildcard spot.
Among goalies to have played in at least half of their team's games, Sorokin ranks second in SV% and GAA behind only Ullmark, but it's his playing environment which makes his season more impressive in my eyes.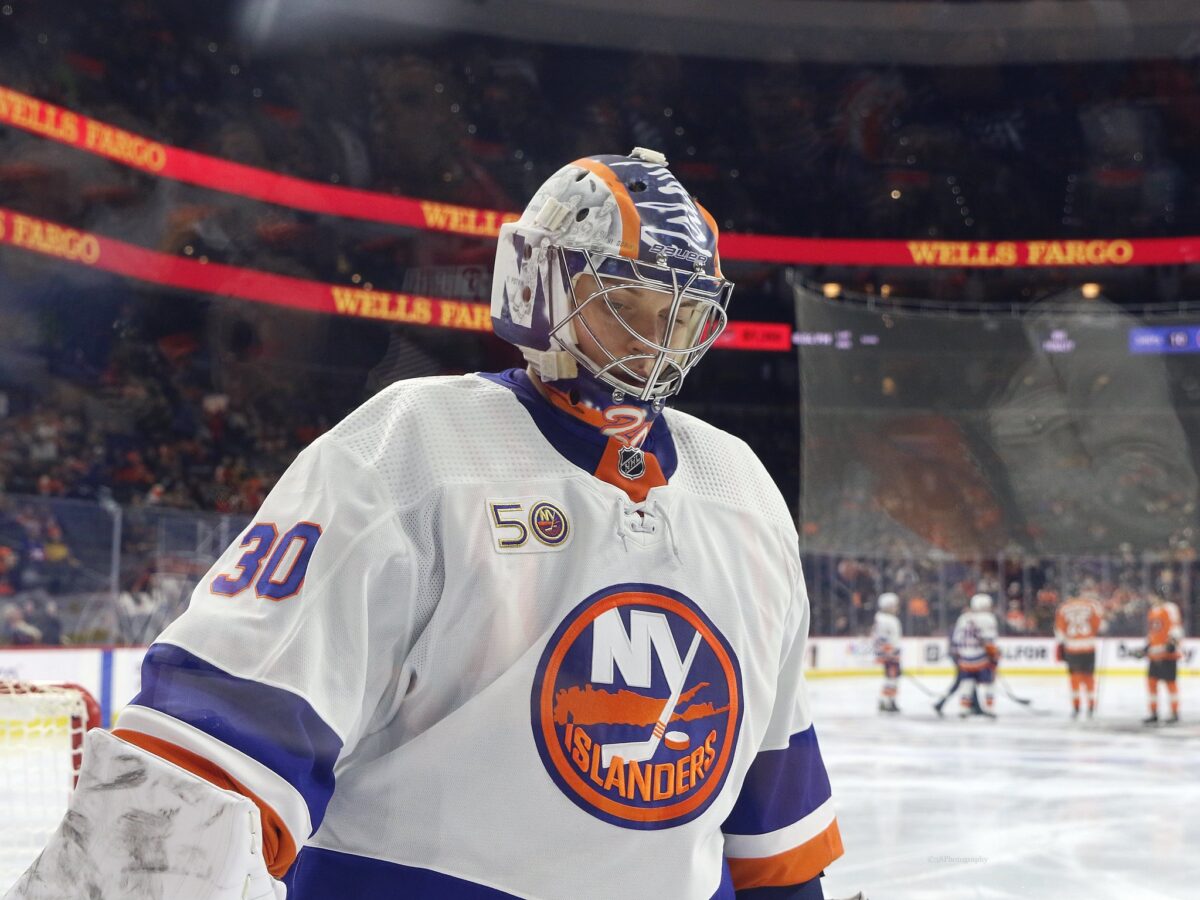 Using Evolving Hockey's GSAx metric which better accounts for the quality of a goalie's workload, Sorokin eclipses Ullmark by more than 10 goals above expected. In fact, Sorokin's current GSAx total ranks as the third-best season ever since the stat started being calculated in 2007-08, besting Igor Shesterkin's Vezina-winning effort from last season (seventh all-time) and Ullmark's current 30.6 GSAx (13th).
According to Natural Stat Trick, the Islanders rank 22nd or lower in all situations in terms of the rate at which they concede expected goals, scoring chances, and high-danger opportunities.In comparison, Ullmark's Bruins rank 12th or higher in each of those metrics, representing a much more structured environment in which to play. Sorokin has also played in the second-most games this season giving him much less reprieve than most of his contemporaries.
The current goalie metrics that are publicly available aren't perfect and lack crucial context that could make gauging workloads a more accurate process. With what we do have access to however, Sorokin has lapped almost every netminder in recent memory, and that should carry more weight than raw SV% or GAA.
2. David Pastrnak, Boston Bruins
2022-23 Stats: 62 GP – 44 G – 40 A – 84 PTS – 19:45 ATOI
With Ullmark holding down the fort for the Bruins at one end of the ice, David Pastrnak has filled opposing nets to his heart's content this season. The 26-year-old ranks second in the NHL in goals, fourth in points, and seventh in even-strength points (54). Pastrnak's 30 even-strength markers are joint-third in the league and a natural byproduct of him firing the fourth-most shots per 60 at 5-on-5.
Related: 2022-23 Selke Trophy Tracker
His eye-popping goal totals draw most of the attention and for good reason, but Pastrnak is more than a one-trick pony. He facilitates the highest rate of controlled zone entries among Bruins forwards while also ranking second in scoring chance assists. He drives play in transition and attracts opposing defences before utilizing his underrated vision and passing to create for his teammates.
Simply put, few NHL forwards are as dynamic and versatile in attack as the Czechia-native, who recently earned himself a hefty contract extension.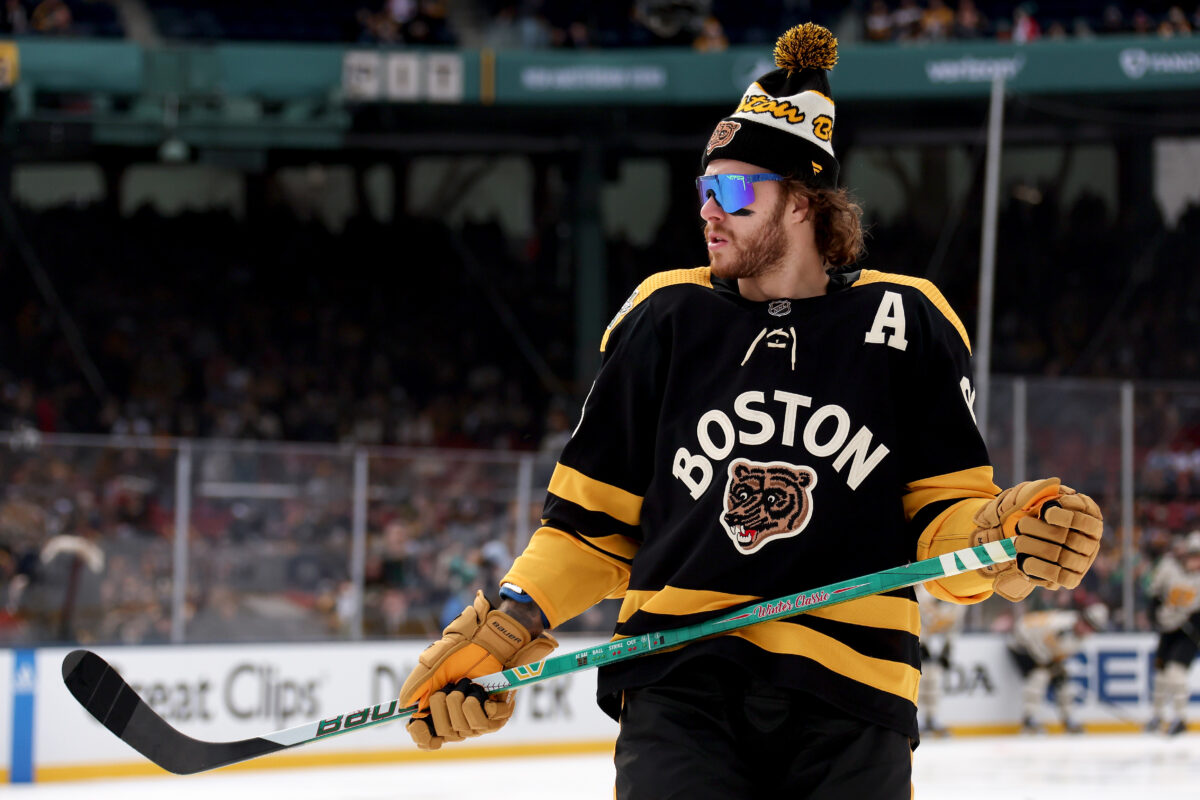 With the Bruins challenging for the single-season team points record, it's difficult to argue that Pastrnak is relatively more valuable to his team than some of his peers. Still, it's hard to argue against the offensive superstar when he's scored 21 more goals and 30 more points than the next closest Bruins skaters.
Overall team strength aside, Pastrnak is the key to capitalizing on their territorial dominance and he does it better than almost anyone in the league.
1. Connor McDavid, Edmonton Oilers
2022-23 Stats: 65 GP – 54 G – 70 A – 124 PTS – 22:43 ATOI
Where to start with Connor McDavid. The Edmonton Oilers' superstar leads the NHL in every scoring category and is on pace for one of the most productive campaigns in decades.
Although 70 goals may be out of the question, McDavid has the opportunity to set the new cap-era record, potentially besting the 65 tallied by Alex Ovechkin in 2007-08. If he does score at least 16 goals in his final 17 games, McDavid would become the first player to hit 70 since Teemu Selanne and Alexander Mogilny accomplished the feat in 1992-92.
McDavid's 1.91 P/G is the highest clip since Mario Lemieux produced 2.3 P/G during the 1995-96 season. He sits four points back of Nikita Kucherov (128) for the cap-era record and it wouldn't be a surprise to see him crack 150 by season's end. It doesn't hurt that the Oilers also have one of the weakest remaining schedules, so expect numerous modern-day records to fall in short order.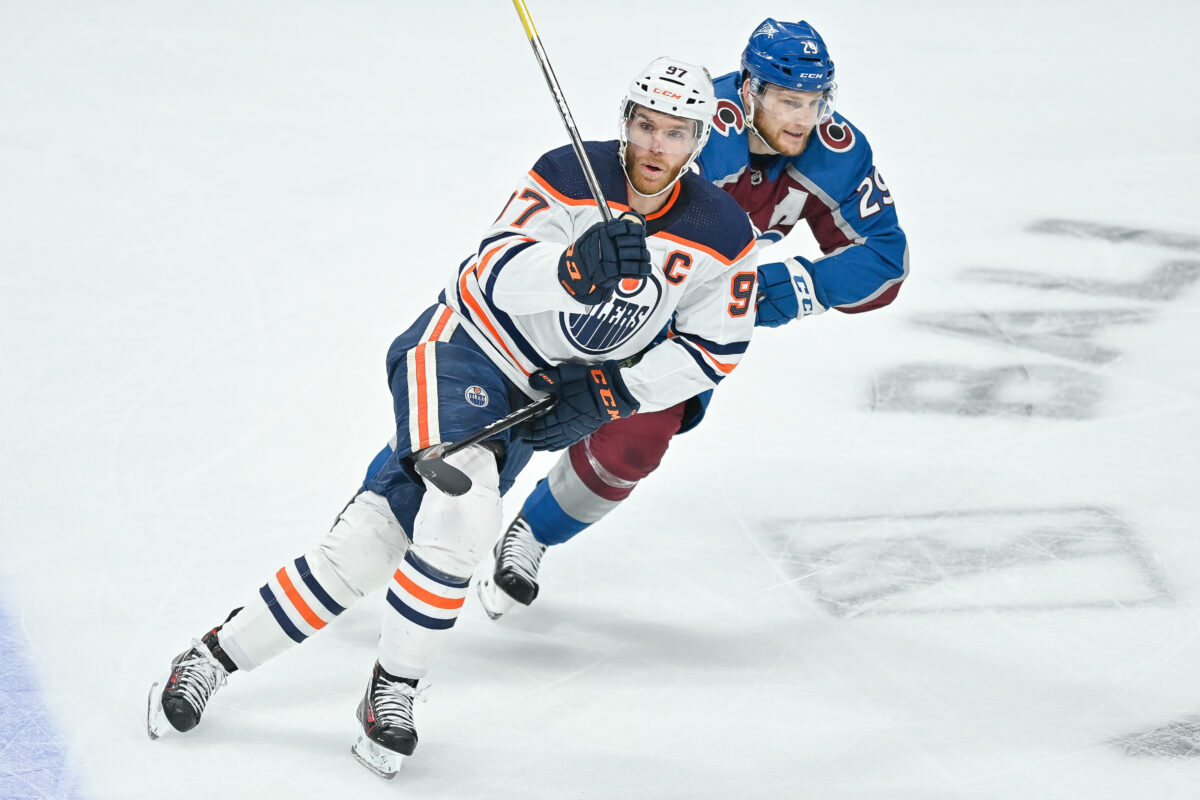 Even-strength production and defensive warts have often been used to dismiss McDavid's otherworldly scoring totals, but both of those arguments have been thoroughly dismissed this season. McDavid's 61 even-strength points rank second among all skaters and the Oilers boast a 58.3% share of scoring chances and expected goals when he takes the ice at 5-on-5.
Goals and points aren't everything when it comes to player evaluation, but the fact that McDavid is 10 goals clear of Pastrnak and 28 points clear of Leon Draisaitl in second place in both categories is impossible to ignore. The Hart is clearly McDavid's this season – better luck next year to the rest of the field.
2022-23 Hart Trophy Honourable Mentions
Here are five additional honourable mentions — in no particular order — to round out the latest edition of the Hart Trophy rankings: Erik Karlsson (San Jose Sharks); Linus Ullmark (Boston Bruins); Leon Draisaitl (Edmonton Oilers); Matthew Tkachuk (Florida Panthers); and Jason Robertson (Dallas Stars).
Let me know in the comments if I missed anyone who should be included in these rankings. I could have easily named an extra five to 10 players to the honourable mentions, so several worthy candidates are likely to have been overlooked. Circle back at the conclusion of the regular season to see the final rankings of the 2022-23 campaign.
Data courtesy of Evolving Hockey, Hockey Reference, MoneyPuck, and Natural Stat Trick. Statistics are accurate as of March 9.