Canada came out with their best showing and left the evening with a 5-1 victory over Team Sweden. They had a dominant performance outshooting Sweden 44-23, yet were marred by an injury and assessed yet another major penalty. Sweden finished third in Group A and will face Finland in their Quarterfinals matchup, and with the win, Canada finishes second, behind Team Czechia, and face Team Slovakia on Jan. 2, 2023. In this 3 Up, 3 Down column, we look at some of the highs and lows of this game.
Up No. 1: Connor Bedard 
With four assists last night, Connor Bedard tied Eric Lindros as the all-time points leader for points scored at the Under 20 World Juniors Championship by a Canadian. In the four games in this tournament, he has scored at least one point per game. The only one he got less than four in was the first game versus Czechia. He also leads the tournament with 18 points total, a full 10 points ahead of Logan Stankoven who sits in second place.
---
Latest News & Highlights
---
"It's definitely cool to hear myself in the same sentence as [Lindros] is pretty cool. My dad said some stuff about him and how good of a player he was. He was a historic talent."

– Connor Bedard 
Bedard also leads in goals scored with six, two ahead of a dozen players tied for second at four. All of this to say, he has been a dominant offensive force in this tournament. Last night, he also added three hits, showing he is capable of not only handling the physicality thrown at him but also dishing it out when necessary. 
Down No. 1: Over Eagerness
Canada's biggest strength can also be its biggest Achilles heel if not controlled, and that's emotion. They came out flying in the first period, hitting everything in yellow. Any time a Swedish player touched the puck, they had a black sweater smashed into them. For a time, it threw them completely off their game; Canada had Sweden on the run and quickly took a 3-0 lead.
"The five-minute major put us back like the Czechia game with them scoring with almost a minute left. We were able to get a good kill, Tommy Milic did a great job on that. Our discipline has to be better; our angling has to be better; we took a few penalties 200 feet from our net. When you get into one game situations you got to be a lot smarter about that."

– Dennis Williams, Head Coach, Canada 
As the period wore on, that eagerness to hit became a problem, leading to several penalties. The one that could have hurt the most was the five-minute major for kneeing assessed to Zack Ostapchuck. While he clearly didn't target the Swedish player's knee, he did come in at full speed and the movement to avoid a hit by the Swede led to a knee-on-knee impact. For Canada moving forward, as head coach Dennis Williams mentioned, this aspect of the game will need to be carefully managed. Thankfully on this night, goaltender Thomas Milic was up to the task of backstopping his teammates.
Up No. 2: Strong Start 
Canada came storming out of the gates with a strong performance, setting the tone in the first few seconds. Maybe it was the black jerseys that made them feel like playing the villain in Sweden's story but they were back to playing the physical, grind-them-down style that they are known for. It also helped to set the table for a goal by Joshua Roy only 57 seconds into the game. Stankoven described it best stating: "It started with Shaner's (Shane Wright) line they went out there and did their job, then we went out there and we scored, so quite a good start for us and we kept on rolling with the third and fourth line. It's a good feeling when up early on a good team like Sweden."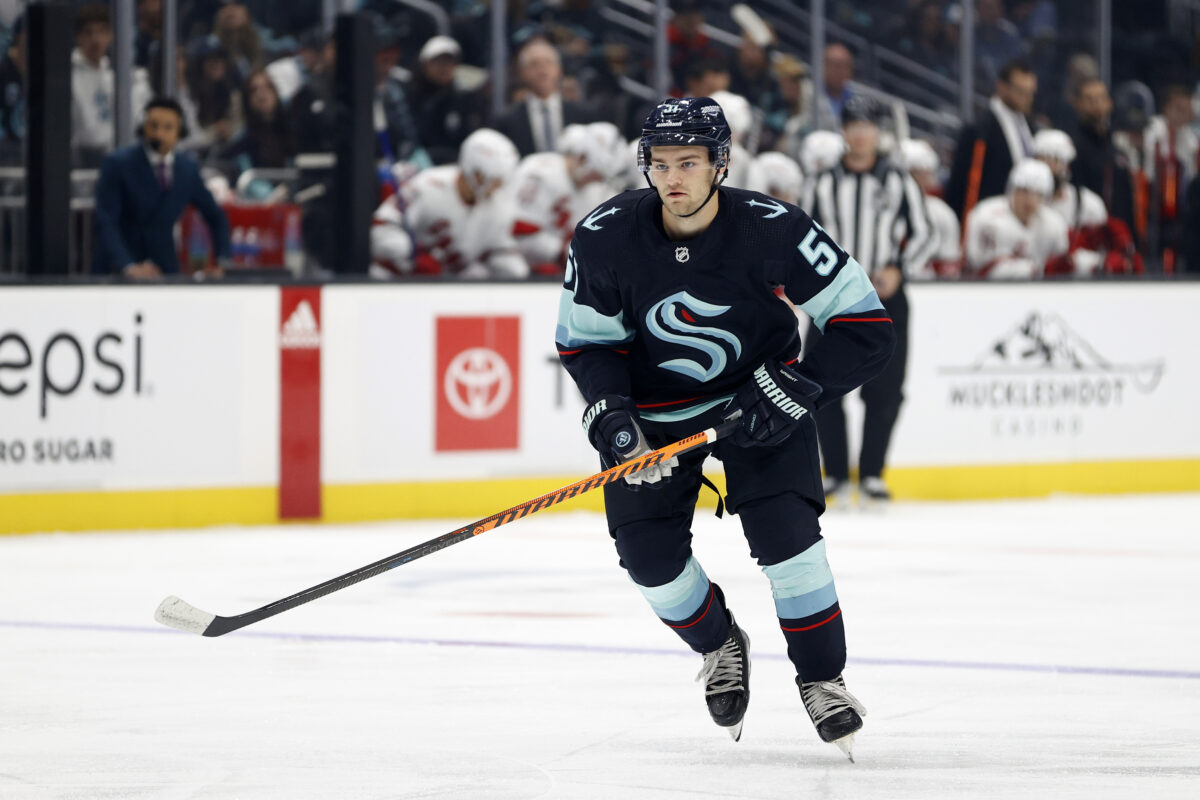 Coach Williamson kept his team rolling through the night, with no one player getting more than 19 minutes and 40 seconds. This gave them ample opportunity to stay fresh and capable of continuing the high-tempo pace he demanded of his team all night. Canada was able to build on that strong start with a dominant first period, which then kept them in control for the rest of the evening.
Down No.2: Missed Opportunities 
While Canada did hold an early 3-0 lead, a late first-period power-play goal by Ludvig Jansson put Sweden back into the match heading into the second period. The missed opportunity here was that it was the only goal during a five-minute major against Canada, that for the first four minutes, Sweden was unable to make a clean zone entry or sustain pressure.  
"We had chances that we missed that we really should would have gotten goals at. That's how it is and you have to move forward"

– Filip Bystedt 
Part of the reason, Sweden was unable to win faceoffs with Canada holding a 65 to 35 percent advantage, which was closer to 75 percent for Canada in the defensive zone. Sweden did follow up with a strong second period where they were able to get 11 of their 23 shots on the net. They also had issues sustaining pressure and getting to the inside to create traffic to make Milic's life a little harder. Had Sweden been able to get even one goal, making it a 3-2 game going into the final frame, the outcome may have been different. 
Up No. 3: The Fans 
The building in Halifax was vibrating from the warm-ups to the final buzzer. The fans were already in a festive mood for New Year's Eve, then the add-in of the traditional Team Canada WJC game mixed in made the air electric. Fans were dressed up in tuxedos and costumes, and a few even came dressed as the TSN camera operator who is in an all-white suit to film during time-outs. They ended up winning "best-dressed fans" for the second period.
This atmosphere was not just for games where Canada was participating, it was every game. From the ovation for Team Austria's first goal to backing Team Germany in their final game against Team Czechia, it was something that was not lost on the players.
Related: 2023 Guide to the World Junior Championship  
German captain Bennet Rossmy was taken aback by the fans in Halifax saying "It was a great feeling to play in front of the fans and they cheer for us. It was a nice feeling". That game had well over 7,000 screaming fans. Once Canada took to the ice however, the place found itself completely sold out and reached new levels of loud.  
"It was quite the atmosphere out there and as players we feed off that. I think we appreciate everyone coming out and cheering us on"

– Logan Stankoven 
Halifax is well-known as a town that likes to have fun and her hockey fans like to get loud. Hosting this World Junior Championship with Moncton shows that smaller cities, specifically ones that have Canadian Hockey League (CHL) franchises, are more excited about this tournament than most others. As they know the significance it has for the players, who they cheer on and idolize year-round.    
Down No. 3: Colton Dach Injury 
It's something no one ever wants to see, a player getting injured. When Colten Dach went in to finish a check in the third period, it looked as though he had an issue with his shoulder. He was crumpled onto the ice and needed immediate help to get to the dressing room. There was also an added feeling of a punch to the gut as his older brother, Montreal Canadiens center Kirby Dach, suffered a significant wrist injury when he was playing for Team Canada at the 2021 tournament. When Colton Dach left the Western Hockey League (WHL) Kelowna Rockets, he was the team's leading point-getter and team captain. In this tournament, he was an unsung hero of the roster.
"He can score and add some offence and at the same time he's laid out some big hits so he was playing physical for us and definitely a difference maker out there."

– Logan Stankoven  
He did not return. Canada does have the option of activating someone as they never used all 25 roster spots on their list. On New Year's morning, the decision was made.
The Ontario Hockey League (OHL) leader in faceoff wins, Owen Beck, has been tapped in time for the Quarterfinal matchup versus Slovakia scheduled for Jan. 2, 2023. He will be expected to replace the checking role taken on by Dach to this point.
Another round-robin is in the books for both of these teams. Now Sweden will get to work on improving on their bronze medal from the 2022 tournament, but first, they must face off against their arch-rivals, Finland to see who gets to move onto the semi-finals. Defending gold medalists Canada will be preparing for their next test, Team Slovakia, led by Filip Mesar and Dalibor Dvorsky, in the Quarterfinals. From this moment on, every game is a must-win. Lose and you are eliminated.
---
---