Team Czechia defeated Team Germany by a one-sided score of 8-1 on Saturday, Dec. 31. After a disappointing loss in overtime to Team Sweden, Czechia came out determined to make a statement in this game that they are ready for any opponent once the Quarterfinals begin. They did so by making some minor adjustments in their puck possession and retrieval game. Here are three takeaways from Czechia's victory over Germany. 
Takeaway #1 – Czech Special Teams 
Czechia likes to play a 2-1-2 on the power play (PP), and they create confusion in the defensive coverage by having the four outer players circle the perimeter, which opens shooting lanes or a quick pass or one-timer from the bumper position. Their special teams made a difference early in this game. It was not just the PP that helped set the tone, although the goal by David Spacek, on a feed from Stanislav Svozil on their first attempt did help immensely. A large part of the tone was also set by the penalty kill (PK). They were very aggressive in attacking the puck carrier, which paid dividends as Germany could not sustain pressure in the offensive zone. Also, the Czech PK was able to create multiple shots, including some scoring chances.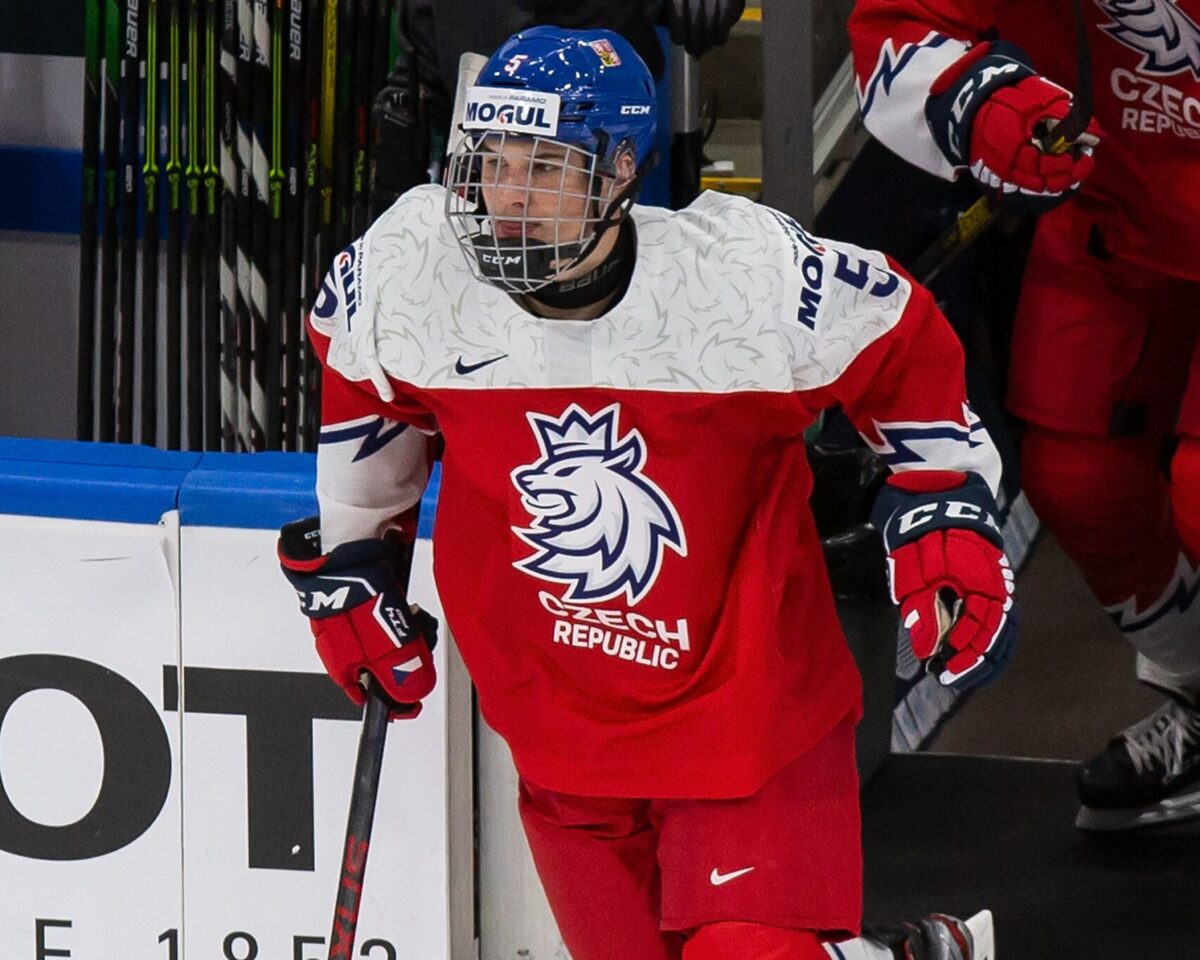 The momentum was apparent immediately following a PP early in the second period, with the game tied at one, that didn't score but did generate several shots and an extended period of possession. After Germany was able to survive the PK, a defensive breakdown immediately afterward left Gabriel Szturc alone in front and he capitalized.
Takeaway #2 – Czechia Ready for Quarterfinals 
Czechia plays a professional-style game with a physical forecheck to build a cycle down low. To keep it rotating and create even more confusion, they activate one defenseman who acts essentially as a fourth forward. This added traffic opens up the front of the net by drawing a defender out of position, allowing for some of Czechia's forwards to move in.
"Defense are taking the pucks deep. They are rotating, it's just making a mess for the defense and it helps me in the front of the net. With my size it's in my game and I want to double up in there. I'm trying that in this tournament and it's started paying off a little bit."

-Jaroslav Chmelar 
While this paid off in this game, against more skilled teams, it could leave them vulnerable to a transition counterattack if the puck gets past the active D's wing.
Related: 2023 Guide to the World Junior Championship
---
Latest News & Highlights
---
A key to future success will be their relentless and physical forecheck that comes in with speed, and in waves, allowing very little time or space for the opposition to generate a clean breakout or offense off of the transition. 
Of note, 2023 Draft-eligible prospect Eduard Sale played only two shifts, both in the third period. He is not ill or injured and there was no comment from the Czechia coaching staff on his limited usage. 
Takeaway #3 – Germany's Program Improving 
Germany doesn't have too far of a gap to bridge before they're seen as a threat to the top nations. They will need to continue to build their program so that they can add one or two more high-quality skill players per birth year. That slight difference could help catapult them into the same conversations as Czechia and Slovakia. In this game, however, they needed to play error-free hockey within their tight-checking defensive system. Unfortunately for them, they were unable to do so for a few moments in the game, and it cost them. 
"We didn't stick to our plan, that's why the score what it was"

– Bennet Rossmy, Captain, Team Germany 
In this tournament, however, this German squad showed that while they may get out-skilled, but will not be outworked. The fact they had already qualified may have played on their mental preparation for this match as Rossmy stated that "We knew we made Quarterfinals already. We just tried to play a good game to be ready for Quarterfinals. We didn't play so well; everyone knows how we have to play next game".
Moving On
Despite the outcome of this game, both teams had qualified for the Quarterfinals, the only question was in which seed. For Czechia, it was a bounce-back game after a heartbreaking loss to Team Sweden, as it provided a final opportunity to fine-tune systems before the elimination games begin.
---
---