Team USA defeated Team Finland by a score of 6-2 on Dec. 31, winning first place in Group B at the 2023 World Juniors. While the game was relatively even in momentum, Team USA was able to rely on their goaltending and offense to keep the game controlled and get the win.
Team USA Finds Its Starting Goaltender
One area that Team USA excelled at over Team Finland was goaltending. 17-year-old U.S. National Under-18 Team goalie and Michigan State commit Trey Augustine has earned himself the role of starter, and for good reason. He is currently 3-0 through the tournament and is the first American goaltender to play three World Juniors games as a 17-year-old since Jack Campbell in 2010. 
Related: 2023 World Junior Championship Team USA Final Roster
---
Latest News & Highlights
---
The only game he didn't start in during the preliminary round was the game against Slovakia, where Team USA lost 6-3. Augustine was put back in goal for the next game against Switzerland, and they came back to win that one 5-1, making 18 saves on 19 shots. Against Team Finland, he recorded 29 saves on 31 shots, and also recorded an assist on a goal by Winnipeg Jets prospect Rutger McGroarty. Finnish goaltender Aku Koskenvuo, currently playing for Harvard University, made 24 saves on 30 shots. 
With shots on goal remaining fairly even throughout the game, goaltending was one of the biggest factors in Team USA's win. Without Augustine, it would have been easier for Team Finland to swing the momentum in their favor should they have scored an extra goal or two.
Offense Leads The Way
Throughout the tournament, Team USA has been described as being one of the more offensively gifted teams competing, as they have a lot of high draft picks and highly skilled players. Against Team Finland, their offensive finesse was on display as ten different players recorded points.
Winnipeg Jets prospect Chaz Lucius opened the scoring for Team USA in the first period, with assists from Nashville Predators prospect Ryan Ufko and Carolina Hurricanes prospect Jackson Blake. McGroarty gave Team USA the lead back in the second period with assists from Augustine and New Jersey Devils prospect Luke Hughes.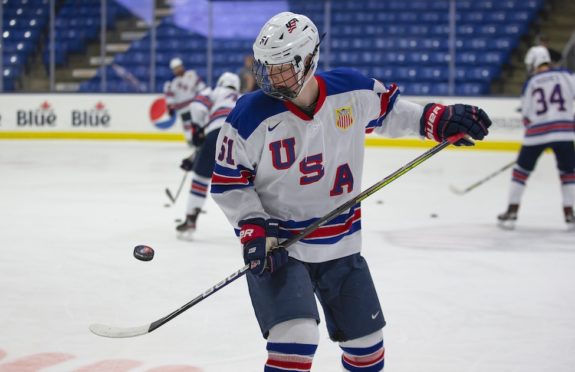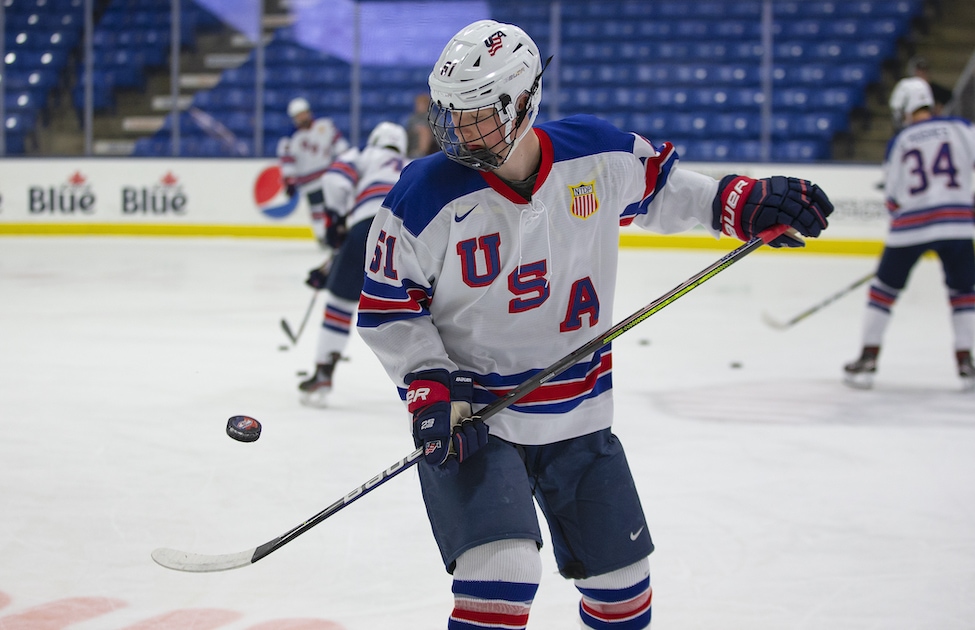 Hughes added to his impressive tournament numbers with a goal later in the period, assisted by Arizona Coyotes prospect Logan Cooley, and St. Louis Blues prospect Jimmy Snuggerud, both of whom had goals of their own. Snuggerud finished the night with four points after recording two more assists on goals by Cooley and Montreal Canadiens prospect Lane Hutson.
With several different players finding the score sheet, Team USA has proven from game to game that they are good at scoring goals. While they excel in this area, there have been places of concern that they needed to work on the past few games, one of which was how they reacted to being challenged by the opposing team.
Keeping Control When Challenged
This game was not the easiest one for Team USA to win. Finland came in with one more point in the standings and is the reigning silver medalist from the 2022 World Juniors. Through all three periods, they kept the game even, with the end total of shots being 30-31, with Finland collecting one extra. 
Control of the game was evenly matched as well, with the one difference being Team USA's ability to score far outweighing that of Team Finland. Finland also won more faceoffs, winning 27 to Team USA's 20.
When they've been challenged earlier in the tournament, such as during the game against Team Slovakia, they struggled to find a way back and in the end, could not do so. Even though Team USA was challenged by Team Finland more than they may be used to, they showed growth as they were able to maintain their cool and hold on for the win.
The win against Finland makes Team USA the top seed in Group B. They will next face Germany in the Quarterfinals on Jan. 2.
---
---