Considering how inconsistent they've been in the first half of this season, the Buffalo Sabres should consider themselves lucky that they're currently still in playoff contention. The race in the East is remarkably tight as the 2022-23 campaign approaches its halfway point, with the Sabres and five other teams within 10 points of a playoff spot.
As of Dec. 30, the Sabres sit at 11th in the conference with a 17-14-2 record and 36 points, eight back of the eighth-place New York Islanders. Though that isn't exactly a close margin, they are still in a great position entering the new year and their playoff aspirations are very much alive. However, if this is going to be the year in which the team finally makes its return to postseason play, a couple of things are going to have to change.
Where Did This Offense Come From?
A surprisingly powerful offense has been the propulsion for the Sabres this season and one name has led the charge. Proving that his breakout last season was not a fluke, Tage Thompson has continued his jaw-dropping surge and become a sensation in the process.
The 25-year-old has 26 goals through 32 games, second only to Connor McDavid, and many of them have been highlight reel-worthy. He posted six points on Halloween against the Detroit Red Wings but somehow managed to one-up even that with a performance for the ages on Dec. 7, scoring five goals against the Columbus Blue Jackets (four of which came in the first period). His 50 points are fourth in the league and have helped make the Sabres dangerous offensively, but he's not the only member of his team who has turned heads.
Fresh off a breakout season of his own, top blueliner Rasmus Dahlin is taking his game to further heights as well and looks like a Norris Trophy candidate at midseason. His defensive play has been steady despite Buffalo's struggles in that department and his 37 points are second to Thompson on the team (and third amongst NHL defensemen).
Though he had a very strong bounce-back campaign last year, Jeff Skinner was still viewed as a one-dimensional finisher who relied on scoring chances created by others. The Sabres' $9 million man has transformed into a far more rounded contributor this season and has made himself even more of a threat in the process. In addition to 17 goals putting him on an easy pace for 30 once again, his 20 assists through 30 games have him poised to shatter his previous career-high of 32 as well.
Related: Sabres' Jeff Skinner Deserves More Credit for Breakout Season
---
Latest News & Highlights
---
Meanwhile, Alex Tuch has solidified himself as a fan favorite and has proven that he's the complete package. Showing the same consistency and work ethic that made people take note of him last season, the Central New York native has 35 points through 33 games and his leadership continues to give him the look of an almost certain future captain (from "Still 'nowhere near his potential,' Alex Tuch reaching another level with Sabres", The Buffalo News, 12/27/2022).
Though not many would have predicted that the Sabres' offense would be among the best in the NHL this season, it's taken the league by storm and has been the reason for a majority of their victories. The problem is that they've relied on it a bit too much, and on the rare off night, wins have been tougher to come by. The team has major holes in other departments, and they need to be sealed before they sink the ship.
Defense & Goaltending Need Steadying
The fact that the Sabres are only three games above .500 is baffling given that they've scored the third-most goals in the NHL (133). It serves as a testament to both their offensive firepower and poor defense and shows that a major fix is needed.
Buffalo's defensive corps is highly talented but also young and unproven, and that has been very evident this season. Dahlin has been typically excellent and Mattias Samuelsson has become a valuable stay-at-home counterpart, but the rest of the unit has struggled to find consistency. For the second straight campaign, head coach Don Granato is dealing with a logjam on the blue line that has forced him to constantly cycle players in order to find the best top six possible.
Owen Power has looked very promising but also has had his growing pains. It doesn't help the 20-year-old that his usual partner Henri Jokiharju has missed 17 games to injury. Meanwhile, Jacob Bryson, Ilya Lyubushkin, Casey Fitzgerald, Lawrence Pilut, and Kale Clague have all been shuffled in and out of the lineup at various points. As a result, Buffalo hasn't been able to achieve any defensive continuity and it's made life noticeably difficult for the goaltenders. General manager (GM) Kevyn Adams may have to look for a trade to clear the jam and allow the unit to take on a more permanent form.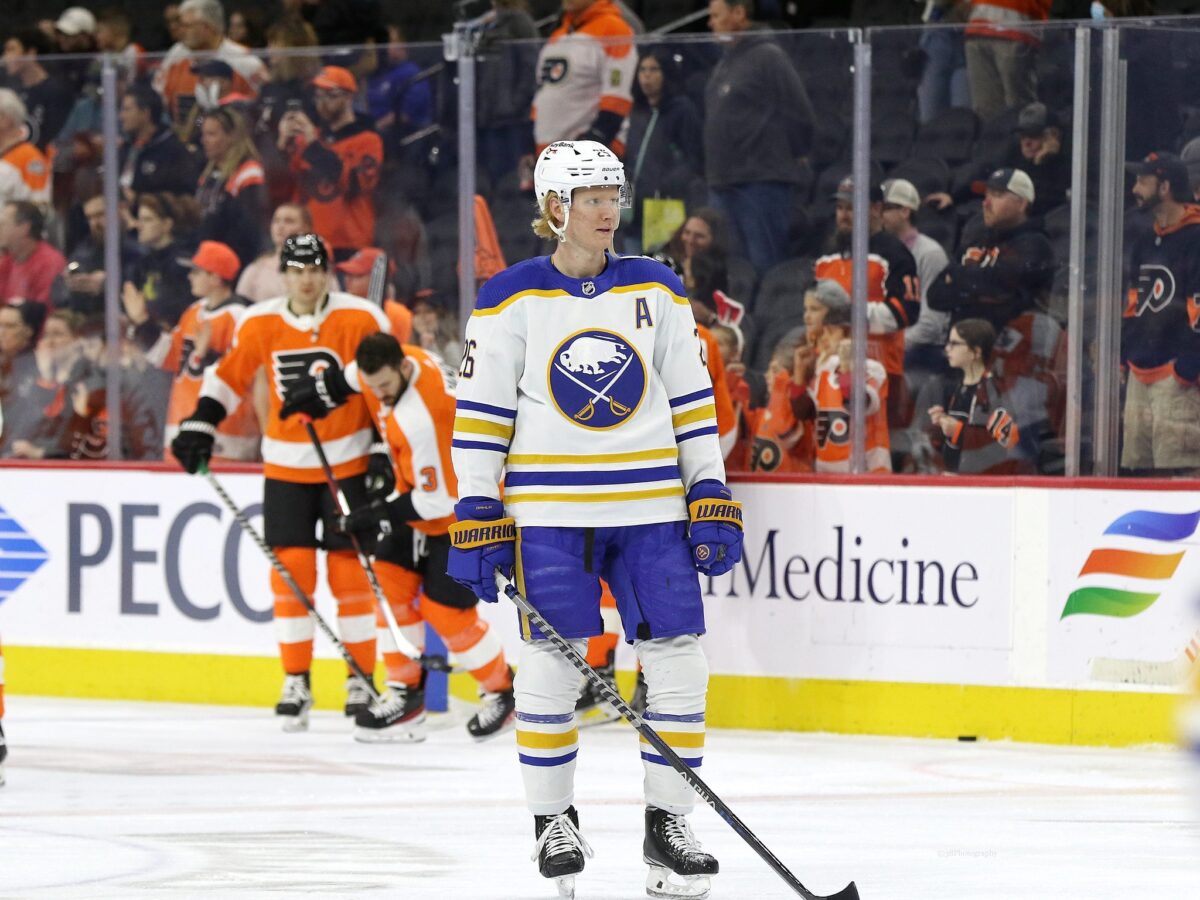 And though the shaky defense hasn't helped, the Sabres have questions to answer in goal as well. Eric Comrie was signed with the expectation of becoming the team's new number-one netminder. However, he has failed to live up to the hype in the early going and posted a 4-7-0 record and a 3.62 goals-against average through 11 games before being lost to injury in November. Craig Anderson has once again played very well, but he simply isn't a viable no.1 option anymore at age 41 and has been relegated to a backup.
Ukko-Pekka Luukonnen (UPL) has taken over the starting duties since and it looks as if he's finally found his groove. After allowing four or more goals in four of his first six outings, the Finn has steadied himself and allowed three or fewer in each of his last four. There's still no definite timeline for Comrie's return, but UPL is unquestionably the hot hand right now and the team should continue to ride his momentum. If it continues, the Sabres may finally have found their fix in net. If not, they'll have to hope that Comrie can find a way to turn it around, or else a trade may be needed here as well.
Sabres Need To Prove They Can Win When It Counts
Defense and goaltending aside, the biggest question surrounding the Sabres this season was their ability to win consistently, and to this point, it remains unanswered. The team certainly got off on the right foot, but as has been the case so often in their history, fortunes changed when the calendar moved to November. After a 7-3 start, the Sabres lost eight in a row and plummeted in the standings. Thankfully, they seem to have finally regained themselves and have won their last five in a row dating back to Dec. 13 (their longest since the dubious 10-game streak of November 2018).
Now that they're back to a winning record, the Sabres are in a position they're probably not used to being in given their recent history. In the years of their NHL-record 11-year playoff drought, they've usually been long eliminated from the race by this time of the season. This looks like a prime opportunity to finally break the hex, but for that to happen, they'll have to prove they're capable of handling the pressure and continue to piece together victories.
Having not appeared in the postseason since 2011, countless Sabres fans have grown tired of the constant mediocrity the last decade has presented. But regardless of whether this team is destined for springtime hockey or not, if they can at the very least still be vying for a spot by the time the calendar comes to March, many of those fans will be won back. But if it proves to just be more of the same, even more of them will be driven away.
It's been said that in sports, winning cures everything. It's been a long time since the Sabres have been winners, but they have as good a chance as any to change their fortunes this season.
Sabres Are In Control of Their Destiny
The second half of the 2022-23 season will be crucial for the Sabres, who appear to have assembled a coherent roster for the first time in years. The proverbial ball is in their court and what they do with it will determine whether the drought will end this year or grow to 12 seasons.
If the team can shore up its defensive play to complement its formidable offense and continue to climb the standings, their odds will only improve. It's sure to be an intriguing stretch run and Sabres fans are going to see what their team is made of for better or worse.
Will this at long last be the year the Sabres return to the playoffs?
---
---