Christopher Ralph is a hockey writer with a focus on prospects and the entry draft, as well as the Leafs' correspondent here at THW.
"Full Potential" Prospect Profile: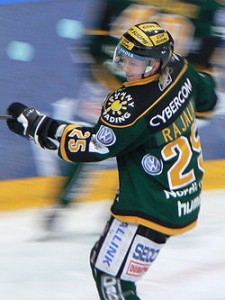 Please "Click Here" for "Notes Up Front" and the "Legend" for various topics covered below, as well as a running live updated NHL 2009 Draft rankings.
29. Toni Rajala
One-Timer:  Rajala is another enigma in this draft. There is no denying the elite level skill of this "kid", but size is the big question mark. See below in the combine and international hockey sections for more details on this intriguing prospect.
NHL Player(s) Comparison: Paul Kariya
Bio/Interview Links:
http://www.hockeysfuture.com/articles/11229/2009_prospects_toni_rajala/
Scouting Combine Performance:
TSN staff reported: "Despite the elite Swedish prospects, the most interesting player in the group may have been Finn Toni Rajala (#11 among Europeans).  While virtually all of the prospects look young, Rajala looks like somebody's 12-year-old brother. He might be 5-foot-8 or 5-foot-9 and, while he's listed at 163 pounds, it wouldn't be a surprise if that was overstated.  He mustered just four on the bench press (and even a couple of those may have been questionable), but keep in mind, he was just named the Best Forward at the Under-18 World Championships in North Dakota, after scoring 10 goals and 19 points in just six games.  No matter how small he is, he's got talent."
International Tournaments: Rajala must have scouts revelling, but perplexed at the same time after his performance at the WJC-U18s in North Dakota. Not only was he named the tournament's top forward, but he broke Ovy8's record for points with 19 in one fewer game (6 games)! Projecting how he will progress physically and how that will translate to the next level is the challenge of NHL scouts.
ETA = 4 years
Risk-Reward Analysis: Risk = 3.5/5   Reward = 5/5
NHL Potential: High-skilled offensive forward
Fantasy Hockey Potential: Offensive = 8.5/10   Defensive = 6/10
Other Rankings:
ISS: 39
CSB: 11-E
TSN:  n/a
THN: 49
This document is the intellectual property of Christopher Ralph and cannot be used or duplicated in anyway without expressed written consent. Any use of this document without the expressed written consent of Christopher Ralph will result in public exposure and legal prosecution.