The Tampa Bay Lightning will face one of the toughest tasks in all of sports this coming season and that's making a repeat trip to the Stanley Cup Final after losing in six games to the Chicago Blackhawks in June. Can they make another run? Sure. They're still built for it with essentially the same team as 2014-15, but there are multiple reasons it's so rare to see it happen.
Chicago will have a huge bulls-eye on their foreheads, as happens with the reigning champ. However, the Lightning are also a team that everyone wants to prove a point against. They proved to be the best team in the East last season, and everyone wants a piece of the best. Everyone wants to prove that they can beat the best. It's always a challenge to step back in after a shortened offseason and compete under those circumstances.
That being said, the Lightning have a young group. They're resilient and may be able to overcome those boundaries. However, there are other challenges that await.
Will Stamkos' Contract Situation Be a Distraction in Tampa?
The Steven Stamkos contract saga may continue well into the regular season. If that's the case, it will be the only thing folks want to talk about regarding the Lightning. Media availability for players, Jon Cooper press conferences, etc. will all revolve around what's happening with his re-signing.
Though they won't admit it, players will see that as a distraction. Not only due to the multitude of questions they'll surely receive on a consistent basis, but also because of the uncertainty of whether or not their prized superstar will be around for the long haul.
I dove into the conversation of whether the Tampa Bay Lightning can sustain success and revenue levels without Stamkos, and I think they can withstand it. However, I'm not sure the team can withstand a constant circus around whether or not he's staying and still focus on the task at hand, which is returning to the Stanley Cup Final and winning.
The sooner Steve Yzerman is able to wrap up discussions the better off they are. Imagine the attention on that situation if he isn't signed by the time the 2016 trade deadline comes around.
Tyler Johnson May Have a Battle on His Hands Recovering From a Broken Wrist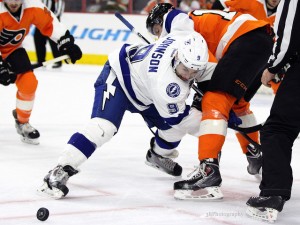 Johnson emerged as a bona fide playoff performer this past season and led the NHL in post-season goals with thirteen. However, he only netted one over his last ten games. For obvious reasons, a wrist injury of this magnitude is very difficult to overcome for a hockey player.
Consider Blake Comeau, who excelled after getting the opportunity to play second line minutes with Evgeni Malkin last season. Comeau potted eleven goals in the first half of 2014-15 before breaking his wrist on December 22nd. Over the following four months he buried only five total goals. While the two are clearly very different in terms of playing style and skill level, it's a testament to how long a wrist injury can linger and have an impact on someone's release.
I'm not counting Johnson out by any means, but the triplets are extremely important to this club and analytics say that they don't give you quite the same impact when separated. Without a 100% healthy Tyler Johnson, the Tampa Bay Lightning could be in trouble in 2015-16.
Aside From the Rest of the NHL, the Tampa Bay Lightning Are Also Battling History
Let's face it, advancing through the grueling tournament known as the Stanley Cup Playoffs and earning the honor to compete for the Cup is no easy task. To do it twice in a row? Nearly impossible.
The most recent team to do so is the Pittsburgh Penguins and they found themselves in shambles that season before firing their head coach. A team that many saw as a potential dynasty was fighting for their playoff lives just eight months after competing for the sport's ultimate prize. They found a way to battle through it, can the Lightning be the next team to do so?
Only five teams have accomplished consecutive trips to the Cup Finals since 1990. So, you can clearly see that the journey they're about to embark on is an extremely tall task. I'm looking forward to seeing if they can grind it out, but history definitely isn't working in their favor.
Pittsburgh Penguins writer for TheHockeyWriters.Com and PittsburghHockeyNow.Com. Youth hockey coach, and student of the game.