While it seems like more of a nightmare than reality, it's beginning to look like a very real possibility that the Tampa Bay Lightning and Steven Stamkos could part ways. While I stick to my guns and still fully believe that a deal will get done, it's at least a tiny bit alarming that there are no indications of talks or progress.
NHL teams have been fairly quiet this summer and leaked information is hard to come across. Most of the rumors and leaks that are traveling the web are false, or lack reputable sources. It's been an interesting offseason in that regard, as there have been a ton of deals and signings that seemed to have come out of nowhere. The Stamkos contract could very well happen the exact same way, and an announcement could be made at any point. But, what if they don't come to an agreement?
Stamkos is nothing short of a top-five NHL sniper, and some even rank him in the top-three. Aside from his shooting ability, he plays a very well-rounded two-way game and offers playmaking abilities, as well. He's obviously a talent that is extremely rare in this day and age. In seven NHL seasons, he has acquired 498 points (276g, 222a) in 492 games-played. Or, in other words, 1.01 points-per-game, which places him in rare company as a perennial point-per-game contributor.
Can the Lightning Replace Stamkos' Production?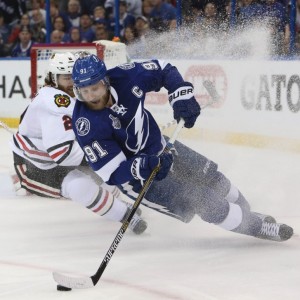 The simple answer to this question is "no." You can't replace a dominant individual like Stamkos, as first-tier NHL talent doesn't grow on trees. Stamkos is in the same conversation as players like Alex Ovechkin, Sidney Crosby and Evgeni Malkin, and you don't simply replace what they bring. However, when you're stacked with young talent like the Lightning, it's possible to continue improving, despite losing a generational talent.
The key to Tampa Bay overcoming a loss of this magnitude is the triplets line. Last season, the Lighting scored a total of 199 even-strength goals. While Stamkos was responsible for 30 of those, the triplets line also combined for 48, or roughly 25 percent of even-strength scoring.
The dark horse in this conversation is what you can acquire for Stamkos in a trade, mainly due to no one wanting to discuss this as a real possibility. If it seems that no progress is being made by the 2016 trade deadline, Tampa Bay management will surely consider moving him rather than potentially losing him via free agency.
[optinform]
The return for Stamkos would likely be a top-six forward, bottom-six forward, and mix of picks/prospects. Teams will obviously pay a high price for him, especially a contender looking to make a final push for a Stanley Cup run. Combined with the depth that Tampa Bay already has, the return in a deal of this magnitude would allow them to sustain their on-ice success for the foreseeable future.
Hockey is a Business, So What Would Losing Stamkos Do To Tampa's Revenue?
The Tampa Bay area is loaded with Stamkos jerseys, as you'd expect. However, in overall sales, Stamkos hasn't breached the top-10 and was actually outsold by Ryan Callahan in 2013-14, which I found to be pretty surprising. While he's obviously a superstar in this league, he flies somewhat under the radar in product sales and revenue. As Greg Wyshynski of Yahoo's Puck Daddy blog stated, "Once again, we're left wondering why people don't want to rock those sweet Tampa Bay Lightning Stamkos jerseys".
Another question would be how well the Lightning can sustain attendance numbers without Stamkos. And, despite the fact that many around the league group Tampa in with Sunrise, Fla. as a non-hockey hotbed, the Lightning have proven otherwise in their attendance rates.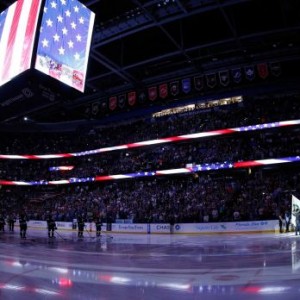 Let's look at the last ten seasons…
2005-06 – Average Attendance of 20,509 (2nd in NHL)
2006-07 – Average Attendance of 19,876 (3rd in NHL)
2007-08 – Average Attendance of 18,692 (8th in NHL)
2008-09 – Average Attendance of 16,497 (21st in NHL)
2009-10 – Average Attendance of 15,497 (21st in NHL)
2010-11 – Average Attendance of 17,268 (18th in NHL)
2011-12 – Average Attendance of 18,468 (13th in NHL)
2012-13 – Average Attendance of 19,055 (8th in NHL)
2013-14 – Average Attendance of 18,612 (10th in NHL)
2014-15 – Average Attendance of 18,823 (9th in NHL)
The interesting trend here is that the Lightning actually recognized a large dip in attendance during Stamkos' first two seasons. So, while it isn't surprising that higher attendance numbers followed more successful seasons, it is surprising that they didn't follow Stamkos' arrival to Tampa Bay.
No team wants to discuss, or even think about losing a generational talent such as Stamkos. However, if the dominos don't fall correctly and he ends up leaving Tampa Bay, the Lightning can indeed continue to sustain success with the talent they've built around him. They also wouldn't necessarily see a huge impact on revenue. Considering the return they can get, does that mean moving him might be a good idea?
I won't go that far. I'll just say that they're built to withstand a shake-up of this caliber and have the talent in place to continue making playoff runs for the foreseeable future. Nikita Kucherov will need locked up of course, but that wouldn't be an issue cap-wise if Stamkos doesn't re-up.