The Steven Stamkos contract saga seems to have taken on a life of it's own recently and the Tampa Bay Lightning faithful are getting anxious. Especially considering the rumors that the Toronto Maple Leafs may be gearing up for a run at the super star. What's the delay in getting a deal completed? Why aren't both parties participating in more aggressive talks?
Well, it's because they don't have to…yet.
Stamkos becomes an unrestricted free agent on July 1, 2016. Normally, with a player of his caliber, you'd at least hear rumblings that the two sides are close to a deal. In this case, however, there's no indication that the two sides are even talking yet. I would think the Lightning would want to lock up Stamkos as soon as possible, and avoid the obvious distraction that these conversations can cause throughout the season. However, the fact that we haven't heard leaked information about his deal being completed doesn't mean there's reason to panic.
Or, maybe there is.
FWIW, after that Stamkos piece went up, a good source said he really thinks Stamkos could go to Leafs in '16 & said it'd take a max contract

— Adam Proteau (@Proteautype) July 12, 2014
The above statement from Adam Proteau was a follow-up to Stamkos favoriting a tweet that compared his possible departure to Toronto with Lebron James re-signing with the Cleveland Cavaliers. Stamkos grew up in Markham, a city that lies within the Greater Toronto Area of Southern Ontario. The connection is obviously there, but all of that is irrelevant according to Stamkos, as he made it clear that he plans on staying with the Tampa Bay Lightning.
Unwanted Salary Dumps Are a Necessary Evil For the Tampa Bay Lightning
I'm extremely confident in this deal getting done. So, assuming that Stamkos and the Lightning agree on a deal that will kick in next season, who becomes the cap casualty? Will it require more than one player being moved?
The eventual annual salary that is agreed upon will likely fall in the $10.5 to $11 million range, similar to what Jonathan Toews and Patrick Kane received from the Chicago Blackhawks. Braydon Coburn and Mattias Ohlund will come off the books next summer and clear up approximately $8.1 million in cap space, but the Lightning also have to re-sign Nikita Kucherov, as his entry-level contract will expire next summer as well.
Also, Alex Killorn, J.T. Brown, and Cedric Paquette will also become restricted free agents in need of a new deal. The best way to clear up that space and not impact your forward depth is to move Ben Bishop.
The idea of trading a top-tier goaltender like Bishop sounds crazy until you really look at the performance gap between him and Andrei Vasilevskiy. Or, the lack there of. With Bishop primarily at the helm in 2014-15 the Tampa Bay Lightning ranked 19th in even-strength save-percentage with a 91.98%. Hardly a stellar number by any means.
Bishop finished the regular season with a 2.32 GAA and .916 SV%. Vasilevskiy, though in a limited capacity, posted a 2.36 GAA and a slightly higher .918 SV%. The playoffs exhibited a stark difference between the two as Bishop was clearly the better goalie, but Vasilevskiy will continue to improve.
Andrei Vasilevskiy is What's Best for Business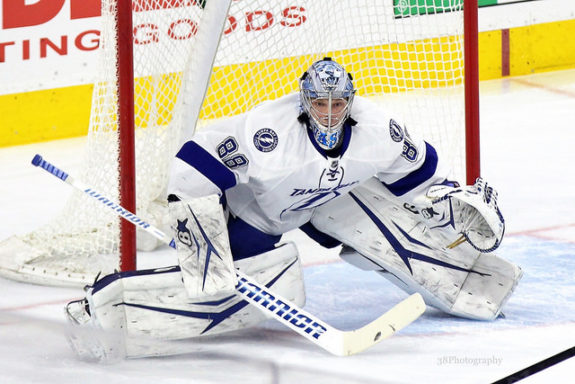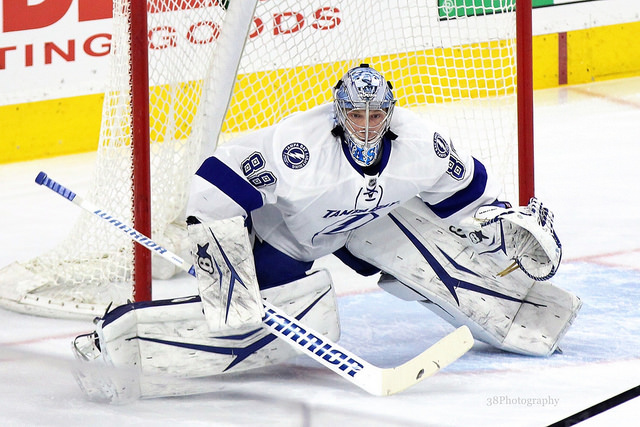 When you're in a position like Tampa Bay and you have to lock up your franchise player, it's important that you take advantage of contracts like that of Vasilevskiy. His salary cap is a measly $1.475 million while Bishop carries a $5.9 million AAV. Considering that Ben Bishop carries a $5.9 million cap hit through 2017, which is the same summer that Vasilevskiy's entry-level contract expires, it's clear that moving him is the best option.
At this point, Bishop will also bring a very good return. The Lightning could potentially move Bishop at this season's trade deadline and address any needs up front that they see fit. By moving him for a rental and picks or prospects, you're still using that money effectively this season but creating wiggle room for when Stamkos' new deal kicks in.
Vasilevskiy also needs to have every chance to grab the starting job this season. You'll want him developing and going through his growing pains before the post-season begins. In a situation where a team is leaning toward a younger, cheaper goaltender, it won't hurt Bishop's trade value much, if at all.
Similar to what the Pittsburgh Penguins and Chicago Blackhawks have experienced over the past five or six years, there is always a trickle down effect when extending your franchise players for big money. The key, which the Blackhawks have done so well, is understanding the business side of things and moving the right players to allow for your youth to take over. The Tampa Bay Lightning are approaching that crossroads, and I for one trust Steve Yzerman to make the right decision.