The NHL summer-signing season and the open-player market means teams, and more so their fans, are always trying to find ways to improve their roster. While most signings don't make a team better overnight, and many hyped players often never live up to it, there's always some that manage to do just that for an organization. Whether it's expected or not, short term or long term, there are select players that really do make an NHL management team look a whole lot smarter.
Since 2005, there's a group of these players that make the Vancouver Canucks no exception. Albeit some have had more prolonged success with the team than others, here's counting down the seven best free-agent signings for the Canucks in the last decade.
7. Anson Carter
Canucks GM Dave Nonis signed journeyman winger Anson Carter to a one-year, $1 million deal in 2005 following the full-season NHL lockout, and was rewarded with a one-hit wonder in Vancouver.
Carter slotted in the Canucks second line with the up-and-coming Sedin twins, and scored a team-high 33 goals, totaling 55 points in 81 games. Carter had a 22.6 shooting percentage that season and scored 45 percent of his goals on the power play, and his 33 goals were a career high. That season was the highlight of Carter's career and the first year offensively that the Sedins were on the map in the NHL. Henrik posted a career-best 75 points while Daniel had 71, who's best point totals prior were 42 and 54 in the 2003-04 season, respectively.
Carter clearly expected a raise that offseason after his success with the Sedins, and after being reportedly low-balled by Nonis and the Canucks, he signed a one-year, $2.5 million contract with the Blue Jackets. Carter went on to play 54 games for Columbus before he was traded to the Hurricanes, where he played only 10 games, and totaled only 11 goals in what turned out to be his final NHL season.
6. Mikael Samuelsson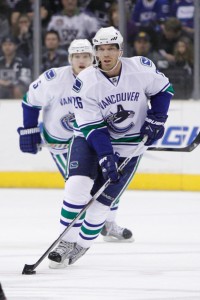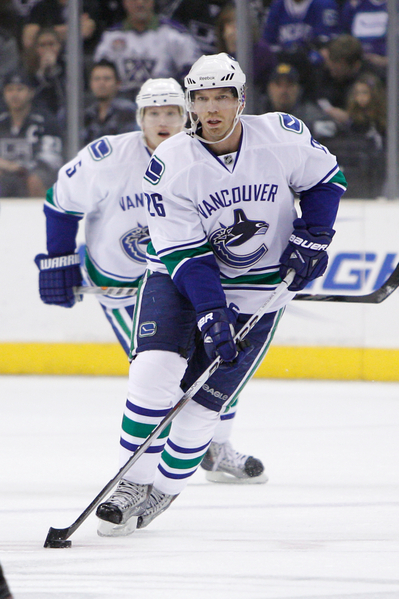 Similar to Carter in 2005, Mikael Samuelsson was a cheap free-agent pick up for the Canucks and found a home in their top-six forwards unit.
Samuelsson signed a three-year deal with the Canucks worth $7.5 million in 2009 and proceeded to have the most productive seasons of his career in Vancouver. Samuelsson scored a career-high 30 goals and 53 points in 2009-10, and recorded at least 50 points in back-to-back seasons. Coming off two consecutive Stanley Cup Final appearances with Detroit, Samuelsson had a remarkable run in the 2010 playoffs for Vancouver, scoring 8 goals and 15 points in 12 games. His seven goals in Rd. 1 tied Pavel Bure for most goals in one series by a Canuck, and with goals in the Canucks' first five playoff games, he matched Cliff Ronning's longest playoff goal-scoring streak.
As good of a fit as Samuelsson was in Vancouver for most of his tenure, he had a falling out which began in the 2011 playoffs. This led to the Canucks trading him to the Panthers at the beginning of the 2011-12 season and saw him criticize Canucks management on the way out.
5. Willie Mitchell
Willie Mitchell signed a four-year, $14 million deal in the summer of 2006 with Vancouver. In his four years with the Canucks, Mitchell was among league leaders and Canuck leaders in blocked shots, time on ice and shorthanded time on ice. He was a lug on the Canucks' back end, and battled through a number of serious injuries, including a fractured vertebra, concussions and post concussion syndrome which almost ended his career.
Offensively, Mitchell totaled 10 goals and 48 assists in 264 games with the Canucks over four seasons, as well as three assists in 22 playoff games. The Canucks had all but moved on from Mitchell after 2009-10 when they acquired Keith Ballard and Dan Hamhuis that offseason, following a season where Mitchell was limited to only 48 games due to post concussion syndrome. Mitchell went on to sign with Los Angeles that summer, where he won Stanley Cups in 2012 and 2014. He now serves as the captain of the Florida Panthers, where he signed a two-year deal last summer.
4. Chris Tanev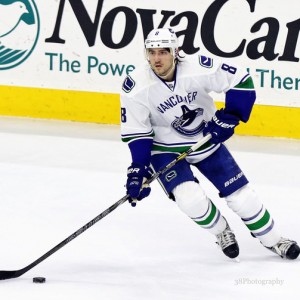 Chris Tanev signed with the Canucks as an undrafted free agent in 2010, and likely no one could have projected the undersized blueliner would develop into one of the NHL's top defensive defenseman. Tanev was signed by Vancouver after one year of NCAA hockey, and in five seasons with the Canucks, he has steadily developed into a top-pairing defenseman.
Tanev is listed at 6-foot-2 and 185 pounds, and while he doesn't overpower opponents physically, he's a responsible defensive player who displays great mental toughness and plays an excellent transition game. In the 2014-15 season, he finished 11th in NHL D-men with 170 blocked shots, and led the league blocking over 14.5 percent of total shot attempts from opponents. Over the past two seasons, Tanev has been among the league leaders in times-hit and hit absorption at five-on-five, and has still compiled a plus-20 rating.
In 226 NHL games for Vancouver, Tanev has 10 goals, 37 assists and a plus-34 rating, and has taken only 16 minor penalties in his career. Clearly signing Tanev was an unexpected gem for the Canucks, and with five more years on his contract, following a contract extension earlier this year, the 25-year-old Tanev will be a lock on the Canucks' blue line for many years to come.
3. Radim Vrbata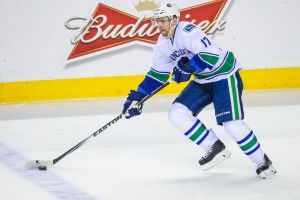 Canucks GM Jim Benning made a bold move signing 33-year-old Radim Vrbata to a two-year, $10 million deal last July. While many anticipated Vrbata to play with the Sedin twins, probably not as many expected how well he would compliment the twin's style of play, and Vrbata likely had the biggest impact of any 2014 free agent signing on any team last season.
Vrbata led the Canucks in goals (31), power-play goals (12), game winners (7) and shots (267). His powerplay goals and shot totals were career highs, and Vrbata also set career-highs with 32 assists and 63 points. He also helped Henrik and Daniel Sedin have a resurgent season after a down 2013-14 campaign. After only combining for 97 points a year earlier, Daniel and Henrik combined for 149 points last season, and tied for 9th and 10th in league scoring, respectively. The Canucks' trio together scored 32.6 percent of the team's total goals.
While being one of the league's most productive goal scorers last season, Vrbata won the Canucks' MVP and Most Exciting Player awards, and proved to be a valuable asset who could fit on either the first or second line. With his exceptional stats and accolades last season, it's hard to picture the void that the Canucks might have had in their lineup without Vrbata. But Vancouver can count on the world-class Czech sniper to be a large part of their offensive core for at least another season.
2. Dan Hamhuis
Dan Hamhuis spent his first six NHL seasons with the Nashville Predators, the team that drafted him 12th overall in 2001. In Nashville, he was stuck playing behind Shea Weber and Ryan Suter, and it was clear at the end of his tenure he was ready for a bigger role. Hamhuis was a hot commodity when July 1, 2010 rolled around. In fact, 10 teams offered deals to the Smithers, BC native, some reportedly up to seven years and worth $5 million per year. Fortunately for Vancouver, Hamhuis elected to sign with the hometown Canucks, to a six-year deal worth $27 million.
Hamhuis has been a key player on the Canucks' back end in the past half decade, playing a sound defensive game while logging big minutes and contributing in all roles on the ice. In his first two years with the Canucks, the team won the Presidents Trophy both times and appeared in the 2011 Stanley Cup Final – boasted by a defense that featured the top two pairings of Hamhuis and Kevin Bieksa, and Christian Ehrhoff and Alex Edler. Hamhuis has averaged at least 21:32 in time on ice every season with Vancouver, topping out at 23:57 per game in 2013-14, and has a plus-80 rating in five years with the Canucks.
Offensively, Hamhuis has appeared in 331 games with Vancouver, tallying 20 goals and 109 assists for 129 points, as well as 12 points in 34 playoff games. He's twice been voted as the Canucks top defenseman (2012-13, 2013-14), and during his time with Vancouver, he has won an Olympic gold medal (2014) and World Hockey Championship (2015) while representing Team Canada.
1. Alex Burrows
Alex Burrows has spent his entire 10-year career in Vancouver, and despite a decline offensively in the past three seasons, he has had one of the biggest impacts of any Canucks player in the last decade. Burrows was signed by the Canucks as a free agent in November 2005, with an average annual value of $525,000. He cracked the Canucks roster as a checking forward with his energetic, hard-working and agitating style of play.
The heart and soul forward has totaled 175 goals and 162 assists in 688 career games, as well as a plus-122 rating and 964 penalty minutes. Burrows has scored 26-or-more goals four times in his career, his best being 35 in 2009-10, which led the Canucks that season. The 6-foot-1, 188-pound Burrows has also had more than 100 penalty minutes three times in his career, topping out at 179 in 2007-08 –  a year Burrows was voted by fans as the Most Exciting Player (which he also was voted in 2009 and 2010) and Unsung Hero in the Canucks organization.
Much of his offensive success has translated from his prolonged role playing with the Sedin twins on the top line, but the Sedins have also benefited greatly by Burrows' style of play. Henrik and Daniel went from point-per-game players to top scorers in the NHL with Burrows on their line for a number of seasons.
Burrows has only scored a combined 36 goals in the last three seasons and has had a lesser offensive role on the team. The 34-year old still has two years remaining on his contract, and although his future may be unclear, his legacy as a Canuck isn't.
Filled with highlight moments in his Canucks tenure, Burrows' best is likely from his performance in the 2011 playoffs, when he propelled the Canucks to a Game 7 win in overtime over the Blackhawks in Rd. 1, after losing to them in the second round the two previous years. Burrows' heroics bumped the Canucks to the second round in a year where they went to Game 7 in the Stanley Cup Final.
Canucks contributor for The Hockey Writers. Maple Ridge, BC native. Contact: coltondavies95@gmail.com or @ColtonnDavies on Twitter.