They say that lightning never strikes the same place twice. Well, ironically for the Tampa Bay Lightning it struck three times with Tyler Johnson, Ondrej Palat, and Nikita Kucherov.
If I were to tell you that there would be three linemates playing together in the AHL that will grow into such a force that they'll play a major role in a run to the Stanley Cup Finals, you'd likely ask me to seek professional help. However, that's exactly what happened with the triplets line.
First, how does a forward trio get a nickname like that?
Shortly after the three of them were united in the NHL, Jon Cooper discussed how they seemed to be on the same wavelength. "It's like they're triplets", according to Cooper. The name stuck with them, and so did their chemistry and production.
When you play together for as long as these three, you're bound to make it work. But, normally it doesn't come as natural as this. Also, Jon Cooper deserves credit for keeping Johnson, Palat, and Kucherov together with the Tampa Bay Lightning, as it's common for a coach to do too much experimenting. Cooper did the right thing, and the numbers say that he needs to continue to do so.
Inseparable and Irreplaceable – The Lightning Have to Keep the Triplets Together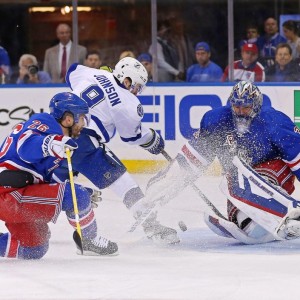 Some folks tend to make chemistry too complicated. It's simple, if you have a combination of players that are producing, you take full advantage of it. Let them fight through their growing pains and continue to build on their successes. When you have a trio that is dominating like the triplets, you hold on to that magic for as long as humanly possible.
Consider their overall points. Tyler Johnson, Nikita Kucherov, and Ondrej Palat finished with point totals of 72, 65, and 63 respectively. Those are impressive enough on their own, but what they did as a trio is mind-blowing.
GF/60 (Goals-For Per 60 Minutes) – 4.28
CF/60 (Corsi-For Per 60 Minutes) – 65.54
GA/60 (Goals-Against Per 60 Minutes) – 2.05
CA/60 (Corsi-Against Per 60 Minutes) – 48.69
Simply put, they more than doubled their opponents in scoring and averaged approximately seventeen more shots per sixty minutes of play. They're an overwhelming group that kills you with speed, and they own the puck. Another notable statistic is their offensive zone faceoff percentage which was 32.5%. Combined with the fact that another 45.8% of their faceoffs took place in the neutral zone, it's easy to see that they rarely spend time in their own zone. With some players you can say that it's due to how they're deployed. But, with these three it's because they're one of the best possession lines in the game.
It's also important to note that their underlying numbers are cut almost in half when separated. Hence the importance of keeping this group together. Despite pretty big issues facing the Lightning due to their grim cap situation, Kucherov needs to remain a part of this team, and this line. I visited a similar topic when discussing Stamkos' eventual re-signing, and it's clear that Steve Yzerman will have to get creative to get this done.
Are the Triplets More Important Than Keeping Stamkos?
This sounds like a crazy question when you're talking about one of the most dynamic scorers in hockey. But, is it really far-fetched to say that this line is the most important piece to the Lightning's success after seeing their production?
Stamkos is much more than a sniper, and maintains a very good, very underrated two-way game. He makes his line mates better, and of course he makes his team better. But, unfortunately there's a pesky salary cap to worry about, and you sometimes have to consider what's most important to the long-term success of your franchise.
I think an argument can be made either way. And, in some ways it's a good problem to have. But one thing that isn't up for debate is the impact that this trio had on the Lightning last season. Jon Cooper knows what he has with this group, now it's time to ensure you maintain that potency for the foreseeable future.