There's a lot of buzz amongst Flyer's fans surrounding the upcoming seasons. A lot of that has to do with the surplus of defensive talent they have working their way up to the big club.
That's all fine and dandy, the Flyers shouldn't have to worry about defense any time in the near future.
However, there is something else that every Flyer fan should be worried about, and it is easily the teams most pressing issue. The lack of scoring.
The Flyers finished the season 22nd in the NHL in goals per game, and aside from Detroit they were the lowest scoring team to make the playoffs. That fact clearly echoed through the first round, as the team failed to score more than two goals in any single game and were shut out twice.
The Flyers need a to make a splash this offseason and bring in a free agent, specifically a scoring forward, and there are plenty of good options available.
Steven Stamkos
Make no bones about it. Steven Stamkos will be the most prized free agent available this off-season, and wherever he goes he's going to command a pretty penny. That was the Flyers' way about things in the past, but it isn't anymore. Everyone knows what Stamkos brings to the table, but is it worth the price? Probably not.
In fact, it's plausible to make an argument that the most lucrative free agent on the market isn't the best option on the market anymore. Think back to the biggest free agent frenzy in the last five years. That belonged to Zach Parise and Ryan Suter. Everyone was in on them and teams were willing to pay that pretty penny. But were they worth the hefty price tag? Probably not. They haven't even found the third round.
In today's NHL, big names that are homegrown talent will prevail 99% of the time. Take a look at the Blackhawks, Penguins, Capitals, or any other team that thrives in the NHL. It's homegrown talent at the core and an excellent supporting cast that is brought in from the outside. Then there are teams like the Rangers, who have tried to bring in outside talent, and have set themselves up for a very dark future by trading away a plethora of prospects.
That is what the Flyers need to stay away from, and that's why they probably should pass up anything that has to do with Stamkos.
There's no doubt that if by some miracle the Flyers were able to sign Stamkos that he would make a difference, but there is also a substantial amount of risk involved with a very high price tag, one the Flyers can't afford to pay. Stamkos may be the right fit in another city, but Philadelphia isn't the destination for him.
Loui Eriksson
Eriksson brings an interesting dynamic to the table when it comes to free agency.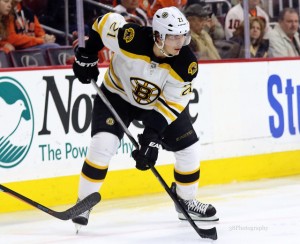 The 30-year-old free agent winger has been a very consistent player throughout his NHL career, with five seasons of 60-plus points, and has missed very limited time due to injury over the past 10 seasons. That's a huge plus when it comes to a veteran player.
Assuming the the Flyers buyout RJ Umberger, they will have somewhere in the neighborhood of $14 million to spend this offseason, that's more than enough to bring in a guy like Eriksson.
He also brings something else to the table that is overlooked in Boston, his defensive ability.
The Bruins employ three-time Selke Trophy winner Patrice Bergeron, and with a guy like that skating on the line above Eriksson, his contributions frequently become overlooked. In fact, over their careers with Boston, the two players have Corsi-percentages that are almost identical.
There is of course the fact that Eriksson can score goals as well, and that is something that the Flyers desperately need. He could easily fit in on the Flyer's first or second line, and you'd have to think that a duo of Wayne Simmonds and Loui Eriksson would be pretty lethal.
Of course one can't overlook the fact that Eriksson is still rumored to be interested in going back to Boston, and if that happens, obviously the Flyers chances at him would be no more.
Kyle Okposo
Admittedly, Okposo is my favorite of the free agent bunch, and for good reason.
The 28-year-old winger has really started to thrive in New York over the past three seasons. Over that time span he has 184 points in 210 games. That's pretty impressive from an outsiders standpoint, and even more impressive considering the Isles really lack any significant names between Okposo and Tavares.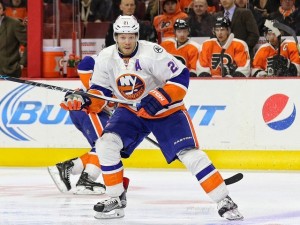 The other important factor that Okposo possesses is size. He is a meaty 217 pounds, where as a guy like Eriksson is just a mere 183 pounds, that's a very sizeable difference. That size would also come into play and compliment a guy like Wayne Simmonds immensely.
I mentioned him above, and I'll mention it here. I said Eriksson would be a good fit, but Okposo would be a perfect fit playing alongside a guy like Simmonds. They are very similar in size, but Okposo is more of a sniper who has a very potent shot. That is on top of the blazing speed he can bring to the table.
That combination would be invaluable for the Flyers to have.
He would be a very formidable free-agent for the Flyers to sign. He's younger than Eriksson, and more importantly he'll probably carry a lower cap-hit than Eriksson would. That leaves more room for the Flyers to add depth and resign players such as Brayden Schenn.
I expect the Flyers to make a significant run at Okposo, especially due to the fact that the Islanders haven't shown much interest in keeping him. He would be the perfect fit in Philadelphia.