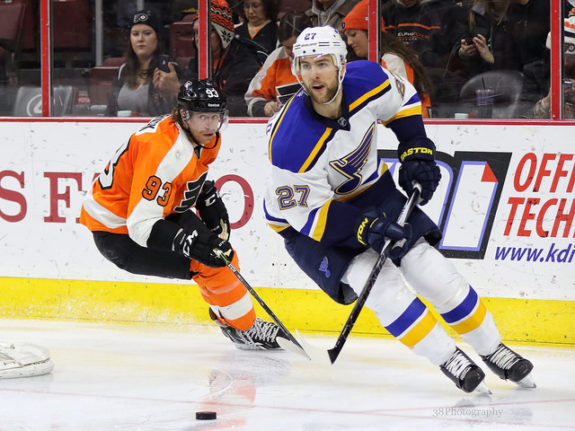 The fluky finish to the St. Louis Blues victory over division rival Winnipeg Jets last night highlighted a few things that could end up making or breaking the end to their season. Barret Jackman's "hail mary" with just over a minute left in the third period to break a 4-4 tie gave the Blues a much-needed two points in a game that never should've been close. St. Louis needs these three things to happen for a strong finish heading into the playoffs.
T.J. Oshie Needs To Heat Up
T.J. Oshie has been a fan favorite in St. Louis since his rookie season in 2008. The 24th overall pick in the 2005 NHL Draft, Oshie wowed the entire world with his shootout heroics for Team USA versus Russia in the 2014 Winter Olympics. He plays with reckless abandon, diving, crashing the boards, and generally excelling in what his coach, Ken Hitchcock, has called the "dirty areas" of the ice.
Oshie had a career year last season with 21 goals and 60 points in 79 games and has 18 goals this year with 16 games to play, but he hasn't played with the same focus he's shown in the past. He too often tries to do too much with the puck rather than rely on his instincts and take the puck toward the net. If you've watched him you know how incredible his hands are, his stickhandling ability is top-notch, and that Oshie is a guy who can dominate puck-possession.
He scored a goal in the Blues recent drubbing of the Toronto Maple Leafs (who didn't?) but St. Louis needs him to re-assert himself as a force on the ice and help the team do the things needed for a strong finish: controlling the puck and creating opportunities by playing strong defensively as a group.
Alex Pietrangelo Needs To Focus 
As (questionably) the Blues top defenseman, Alex Pietrangelo has taken on more responsibility than ever this season due to injuries in the Blues lineup. Petro and usual partner Jay Bouwmeester struggled in their own zone earlier in the season but have shored up their play more recently, but with certain guys out (more on that to come) Petro has been thrown into a role wherein he's asked to do more with the puck than just keep it away from his net.
Pietrangelo's strength lies in his ability to out-position opposing forwards and protect the puck while moving laterally. As a point man on special teams he's good at directing traffic, moving the puck up high in the zone and firing shots on net looking for a deflection. Where he does not excel is in joining the rush or moving the puck up the ice. Petro will score his goals from up above the circles, but too often this season he's down along the goal line, or trying to cut through traffic in the Neutral Zone. Too often this season he's coughed up the puck or caused missed scoring opportunities because of errant shots.
This is not to say Alex Pietrangelo is bad at his job. He's been asked to do things outside his comfort zone and stepped up as best he can, but for a strong finish the Blues need him to refocus on defense and leave the highlight reel offense to the forwards. My last point will go a long way toward that.
The Blues Need Kevin Shattenkirk Back
This may be the understatement of the season, but the St. Louis Blues need a healthy Kevin Shattenkirk back in the everyday lineup. Shattenkirk is the quarterback of the Blues power play and is adept at moving the puck out of his zone and up the ice. He was also, prior to his injury, the most consistently solid defenseman on the St. Louis roster! Small wonder he was selected to the NHL All-Star Team this season and is still tied for 10th overall in power play points despite missing nearly six weeks (so far) of hockey.
Shattenkirk went on IR after an ankle injury sustained February 1 but has recently been skating again and is on track to return relatively soon. Getting him back in the mix will (hopefully) allow guys like Pietrangelo to shore up their defensive game and also recharge the Blues special teams heading into the playoffs. Adding another defensive minded blue liner in Zybnek Michalek, also close to returning from injury (concussion) will solidify the St. Louis game even further.
If these three scenarios come to fruition the Blues will have the strong finish needed to make their deepest run yet towards the Stanley Cup.
Sean is a native St. Louisian and long time Blues fan. A doting father, boyfriend, son, brother, friend, sports fan, computer geek, technology consultant, listener, philosopher, writer, and music lover. He works for a local business supply company.