For the Arizona Compotes, challenges just keep on coming.
For a team starved to score goals and desperate from allowing opponents to score, the Coyotes are limping to the finish line of this NHL season poised to retain some dignity.
For a team which has dropped 12 of its last 13 coming into Thursday night's home game with Chicago, and scored only 17 goals in that period, the Coyotes find themselves of the bottom of the NHL heap. Like brothers piling on during a pillow fight, the search for breathing room and recovery are as much a challenge as the next shift.
With the Blackhawks visiting a sold-out Gila River Arena (a few standing room-only tickets remains as of Wednesday), the task becomes that much for formidable. The building will be packed with snowbirds, along with Cubs fans and White Sox fans here for spring training. The volume will be off the charts, and the Coyotes are safe to assume they might be playing this one in the United Center.
With the influx of younger players, dumping of high-priced veterans with only certain skill sets and attempting to mesh existing players into an cohesive unit, the task ahead for Arizona coach Dave Tippett is as daunting as any escape undertaken by Indiana Jones.
Counting on a plethora of talent now in juniors or in the minors for relief, that wait will not come until next September and the advent of training camp.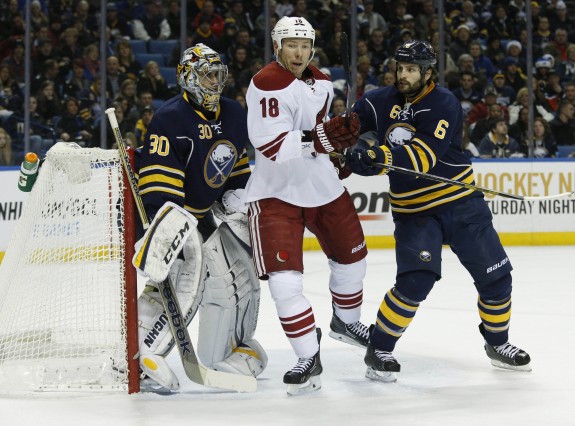 For the Coyotes to leap-bound back to respectability, two things need to happen.
First, Tippett, regarded as an excellent coach and teacher, must instill the ability to play with a lead, and to acquire the talent, when playing with a lead, to put teams away. At this point, that may be easier said than done. That's because this team does not score.
lack of scoring
With those 17 goals in their past 13 games, Arizona has been shut out nine times and scored one goal in a game 17 times.
Consider some other numbers.
In 67 games prior to Thursday night's game with Chicago at home, the Coyotes scored 143 goals. That averages out to 2.1 goals per contest. The 143 goals is the second lowest in the NHL, and only the Buffalo Sabres (126) scored fewer.
On the minus side, the Coyotes have allowed 224 goals in their 67 games and that ties the Sabres. Only the Oilers have allowed more and that's 227.
"We need to work on getting a lead, first," Tippett said after this past Monday's 2-1 loss to Nashville in overtime. "Scoring has to be a priority, and we're not finishing plays around the net."
With the influx of new faces in the dressing room, Tippett is currently experimenting putting certain players together in roles he sees in the future.
With the Nashville game tied a 1-1, Coyotes' forward David Moss was called for slashing at 18:37 of the third period. Immediately, Tippett put out Andrew Campbell and Klas Dalhbeck, a pair of rookie defensemen,  who were not here just over two months ago.
Still, the franchise seems to be encouraged by the increased team speed and energy lifted by several new players.
Once camp commences this fall, and Tippett can began to create pairings based on roles and abilities of Max Domi, Anthony Duclair, Brendan Perlini, Christian Dvorak and possibility their two, first-round selections in the 2015 draft.
"Teams develop a culture of winning and that's what we need to do," said assistant captain Kyle Chipchura. "As a group, we play with energy but that has be with a purpose. We need to find how the parts fit together."
Follow Mark Brown on twitter, @journalist193