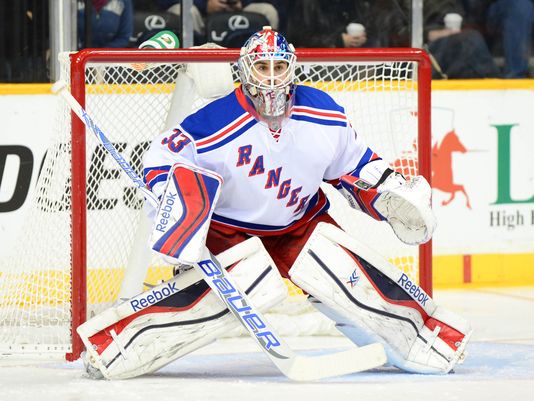 When the New York Rangers lost star goaltender Henrik Lundqvist back in February due to a vascular injury there was one question on everyone's mind. Can Cam Talbot handle the pressure of being a number 1 goalie? Since February 4th, Talbot has gone above and beyond our expectations posting an 11-2-3 record in place of King Henrik.
Talbot is 6-1-1 over his last 8 games with a 1.61 goals-against average, a .946 save percentage and 2 shutouts in his last 8 games. Over his past 4 games, Talbot has been nearly impossible to beat. He is 3-0-1 with 0.99 goals-against average, a .966 save percentage and one shutout.
During Talbot's last 4 games he has backstopped against some of the leagues best teams – Nashville, Detroit, Chicago and the Islanders and has only allowed 4 goals.
#NYR @ctalbot33 is 3-0-1 with a 0.99 GAA, .966 SV%, and 1 SO in his last 4. He's 6-1-1 with a 1.61 GAA, a .946 SV%, and 2 SO in his last 8.

— New York Rangers (@NYRangers) March 11, 2015
Making History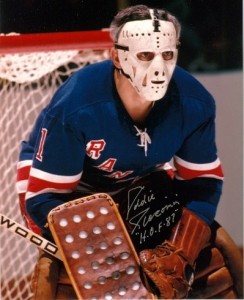 Talbot is exceeding expectations in place of Lundqvist. During his past 16 games played he has managed to shutout the Chicago Blackhawks. Something that has not been done by a Rangers goalie since January 25th, 1969, when Eddie Giacomin was in net.
Adding to his historic accomplishment of shutting out the Blackhawks in Chicago, Talbot and Lundqvist are now the first 2 goalies in franchise history to post 5 shutouts in a single season.
The Back Up to the Back Up
Every goalie needs his backup and the Rangers found one in 20-year-old, Abbotsford native, Mackenzie Skapski. Skapski is also making history for himself, becoming the 3rd-youngest goaltender in team history to win in his NHL début and the youngest to record a win in his NHL début since Dan Cloutier on January 3rd, 1998.
In his début Skapski made 24 saves after a rocky start in the first period, allowing a goal 14 seconds into the game. Skapski kept his composure and lead the team to a 3-1 win over the Sabres.
Congratulations to #NYR @Skaps29 on his first career NHL win!!! pic.twitter.com/UHiTe09U1V

— New York Rangers (@NYRangers) February 21, 2015
Talbot's Future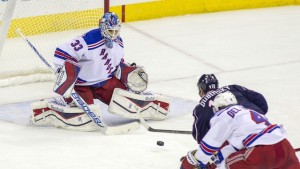 Talbot has done nothing more than impress in his role as starting goalie for the New York Rangers and it is no question that without him the team would not be in contention to take first place in the Metropolitan Division and work their way to first place in the entire NHL with 2 points separating them from the current league leading Montreal Canadiens.
Rest assure there will be teams in need of a starting goaltender reaching out to The Rangers seeking Talbot. With cap space being an important matter for the team, it seems likely that Talbot could be playing somewhere other than New York. The smart move would be to move Talbot while he is playing his best hockey and backing up his reasoning for a higher asking price.
The transition of going from starting goalie to backup will be hard for Talbot but other teams with surely keep an eye on him and perhaps move him into a more permanent role as a starting goalie.
It isn't easy to fill the shoes of a Vezina winning,  all-star, franchise goaltender such as Henrik Lundqvist but Cam Talbot, 'The Goalbuster' has shined bright in his début as a starting goaltender and showed the New York fans that they have nothing to fear when Talbot is in net.
Michael is in his first year with the Hockey Writers covering the latest news on the New York Rangers. Michael is employed by the Madison Square Garden Company, having worked with the New York Rangers Hockey Administration Department and with the New York Knicks organization.