I cover both men's and women's Division I college hockey, I would like to break down a few of the differences between men's and women's hockey.
First, women's hockey is a relatively young sport and has only had an NCAA championship since the 2000-01 season.
WCHA is best
There are 35 schools in women's NCAA Division I College Hockey. There are four conferences in NCAA Division I women's college hockey: College Hockey America, ECAC Hockey, Hockey East and the WCHA.
Historically, the WCHA has been the dominant conference in women's college hockey winning 12-of-13 National titles. Last season, Clarkson University became the first eastern school to win an NCAA title.
The University of Minnesota-Duluth won the first ever NCAA title and has won the most Women's NCAA Division I College Hockey championships with five. Minnesota and Wisconsin have won four titles each.
There's no body checking allowed in women's hockey
Unlike men's college hockey, body checking is not allowed in women's hockey. Checking is rewarded with a two-minute minor penalty for body checking.
That being said, it's incorrect to say that there isn't hitting or checking in women's college hockey. In fact, it's re-occurring misconception about women's hockey. Again, while it's illegal to hit an opposition player in the open ice, body contact "is" allowed along the boards. It's not uncommon to see an opposing player rub out the puck carrier next to the boards.
This past weekend, I attended the women's WCHA Final Face-off there was a lot of body contact and hitting. Especially in the offensive zone on the side wall.
The Patty Kazmaier Award
In men's college hockey, the Hobey Baker Memorial Award is given to the best player in Division I men's college hockey.
In women's college hockey, the Patty Kazmaier Award is awarded to the top division I female college hockey player.
Per the Patty Kazmeir Award site
Patty Kazmaier represented the spirit, character and on- and off-ice excellence upon which The USA Hockey Foundation national women's ice hockey award is based. A gifted scholar-athlete, Patty battled a rare blood disease for more than a year before passing away in 1990 at the age of 28. A loving mother and wife, she left behind her husband, Mark J. Sandt and an infant daughter, Serena.

Athletic excellence ran in the Kazmaier family, as her sister, Kathy, played college ice hockey at the University of New Hampshire and her father, Dick Kazmaier, a graduate of Princeton University, won the Heisman Trophy in 1951, beating out Pro Football Hall of Famer Frank Gifford.
Since the award was established, there has been only one repeat winner, Jennifer Botterill of Harvard University (2002, 2004).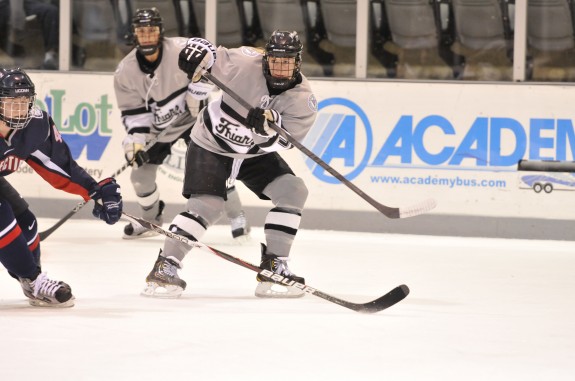 Women's NCAA tourney
The NCAA Women's Ice Hockey Championship is comprised of eight teams. Four teams are given bids for winning their conference tournament. The other four other teams are picked via at-large bid, based on the Pairwise Rankings. To get into the NCAA tourney as an at-large bid, your team needs to be a sixth or seventh in the Pairwise Rankings.
The NCAA tourney first round games are hosted by the higher seeds. The following week, the winners advance to the Frozen Four at a host site.
Finally, these are just a few of the differences in women's division I college hockey.
Eric is a 1996, 1999 graduate of the University of North Dakota. Eric covers the University of North Dakota Hockey and Division I college hockey. Eric is the Contributing Editor for Inside Hockey.