After a torn bicep ended Mark Giordano's season, it appeared that Nashville Predators defenseman Shea Weber would have the Norris Trophy, given to the best defender, locked up. However, Weber's biggest competition for the Norris may not be too far away from him. The captain's defense partner Roman Josi has quietly put together an excellent case for winning the award this season.
Though numbers do not tell the whole story, Josi has surprisingly had a better year than Weber. Among NHL defensemen, the 24-year-old is sixth in scoring with 47 points (11 goals, 36 assists), fourth in time on ice per game (26:34) and second in blocked shots (181). In comparison, Weber is tied for tenth with 43 points (15 g, 28 a), fifth in time on ice per game (26:00) and fifteenth in blocked shots (134).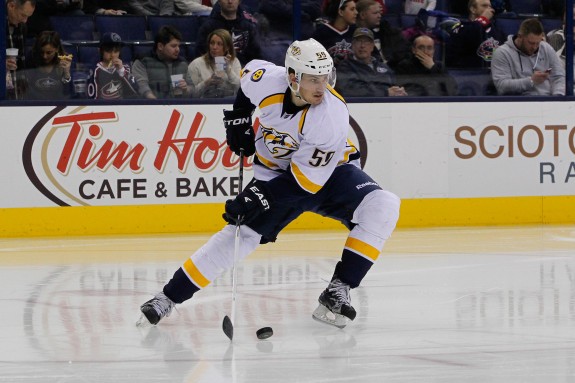 Replacing Suter
Since losing Ryan Suter in free agency in 2012, the Predators have been grooming Josi to fill Suter's void as Weber's defense partner. After two seasons — one of which was 48 games due to a lockout, Josi has developed into everything Nashville has wanted and more.
From John Glennon of The Tennessean:
"We've played together for so long, it's getting to be just like it was with Ryan and myself," Weber said. "When you play together with someone for that long, you just get used to each other and you almost know what one another is doing beforehand."

Said Pekka Rinne: "You can't help but think about those days. … We've got a similar thing. (Josi) is the guy who carries the puck and handles the puck, and can skate up and down like the wind, so it's the same kind of situation."
Though Nashville will continue to boo Suter every time he comes to town with the Minnesota Wild, they have to believe Josi is an upgrade for less money. Suter is in the third year of a thirteen year contract that has an annual cap hit of $7.5 million, while Josi is locked up through 2020 to a $4 million cap hit per year contract, giving the Predators $3.5 million extra to spend.
International Turning Point
The first season Josi and Weber became a pairing was in the 48-game 2012-13 season, so neither could get well accustomed to each other. After the season ended, the native of Bern, Switzerland represented his country at the 2013 IIHF World Championship. Josi was outstanding for the Swiss, leading them to a silver medal. In 10 games, he posted 9 points (4 g, 5 a), enough to win MVP and best defenseman honors.
Since that tournament, Josi has hit another gear, making him one of the most underrated defenders in the League.
Will Josi Win the Norris This Year?
Probably not.
Montreal Canadiens' P.K. Subban and Pittsburgh Penguins' Kris Letang lead the Norris race due high point totals and their respective teams' successes this season. Subban has just two more points than Josi, while Letang has four more points and leads all defensemen in scoring.
Though the scoring gap from the front-runners is not large, Josi is not yet a household name in hockey homes throughout the world. Being overshadowed by Weber will make it difficult for Josi to get the credit he deserves.
Subscribe to our Predators stories to get email updates every time a new story is published.
Colin Fitts is a Nashville Predators staff writer for The Hockey Writers. You can follow him on Twitter, @FittsTHW.
Colin Fitts is a Nashville Predators staff writer and is a credentialed media member of the Chicago Wolves. From Nashville, Tennessee, Colin majors in journalism and public relations at Columbia College Chicago. Follow him on Twitter, @FittsTHW. Email: 22fitts [at] gmail [dot] com.