Don't poke the bear. Well, at least for one more week.
The Boston Bruins are ready to leave their rollercoaster offseason behind and take their talents onto the ice. One week from Thursday, black and gold will fill the confines of TD Garden for the 2015-16 season opener against the Winnipeg Jets. Bruins Nation will be eager to finally watch the end product of an offseason filled with roster turnover, changes in the front office and left many questioning what direction the franchise is heading in.
New faces like Matt Beleskey and Boston-native Jimmy Hayes will make their debuts donning the iconic Black and Gold while veterans like Patrice Bergeron and David Krejci will do their part to ensure the club doesn't suffer the same fate from a season ago.
Boston faces an interesting October slate of games with 10 contests (five home, five away), including a three-game homestand to begin the year; all against playoff teams from last year. They will be tested right from the get-go, so a good start is crucial to ease some of the fears fans may have about this season's squad.
Here's a look at some other notable matchups for the Bruins during the League's first month of business in 2015-16.
October 10 vs. Montreal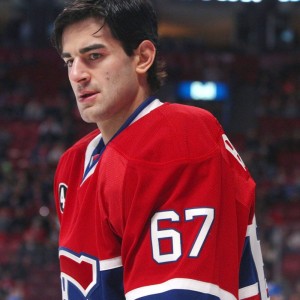 Boston versus Montreal on Hockey Night in Canada. Need I say more?
This may not be the official home opener but it'll sure feel that way. The Bruins and Canadiens will do battle for the one and only time on Garden ice this season on Saturday, October 10. These age-old rivals will be set to write the latest chapter in a story that spans the better part of four generations.
Recently, this matchup has been a serious problem for Boston. The Bleu, Blanc et Rouge owned the Black and Gold with a four-game series sweep last year in the regular season, outscoring the Bruins 16-6. Montreal's new captain, Max Pacioretty, was a large part of their success last season scoring four goals and seven points in four games against Boston. It also doesn't hurt to have PK Subban and reigning Hart and Vezina Trophy holder Carey Price as teammates, too.
The Bruins' defense will be tested early and often by the speed and skill the Canadiens possess. It will serve as an early season measuring stick for Boston in terms of their outlook going forward.
October 21 v. Philadelphia
The Philadelphia Flyers, who were the visitors to Causeway Street on opening night last year, will return to Boston for their first appearance on NBC's "Wednesday Night Rivalry" series. The Bruins have enjoyed recent success against Philly, sweeping the season series last year and winners of five straight against their Metropolitan Division foes.
It is a time of transition in the City of Brotherly Love after hiring University of North Dakota men's hockey coach Dave Hakstol to guide the Flyers in May. The 47-year-old is the first NHL coach in over 30 years to jump straight from the college to pro ranks.
He takes over a Philly roster stacked with offensive talent in Jakub Voracek, Wayne Simmonds and captain Claude Giroux with young guns Brayden Schenn, Sean Couturier and Michael Raffl behind them. Much like the Bruins, their defense remains a big question mark while goaltender Steve Mason will look to rebound after an injury-riddled campaign limited the 27-year-old to just 51 appearances last year.
It will be a very intriguing battle between two teams that may find themselves in a season-long struggle around the playoff bubble.
October 23 @ New York Islanders
Two nights later, the Bruins will make their maiden voyage into the new home of the New York Islanders.
A rare Friday night date in the Big Apple will mark Boston's first trip to the Barclays Center in Brooklyn after the Isles bid farewell to the Nassau Veterans Memorial Coliseum last year. Old friend Johnny Boychuk helped revitalize the Islanders last season, playing a major role in securing a playoff berth and providing much-needed blue line stability.
Up front, New York's brigade of Orange and Blue is led by superstar captain John Tavares with Kyle Okposo, Brock Nelson and rookie sensation Anders Lee providing a solid, stout supporting cast. The forwards blend a good mix of physicality and skill to the table; something the Bruins may have a tough time dealing with.
Nevertheless, Boston will have the honor of being the first Eastern Conference foe to grace their presence in New York's new home. Hopefully for Bruins fans, their new goal horn will be kept quiet.