The Detroit Red Wings played their first three preseason games of the 2014-15 season, including their first one at Joe Louis Arena on Thursday.
Like any sport, anything you see in the preseason has to be taken with a grain of salt. Players who will be sent down to minor clubs or who may not see a lot of playing time could exceed expectations, but it doesn't mean they will play that way against regular NHL talent.
With that being said, jobs are won and lost in the preseason, and you can see glimpses of possible future contributions as these players develop in the minors.
Here are three observations from the first three Red Wings preseason games.
Penatly Kill is Perfect
In three games this season, the Red Wings are a perfect 12 for 12 on the penalty kill, and this isn't with the regulars like Drew Miller and Luke Glendening on the penalty kill. This is with Nick Jensen, Dan Cleary, Brian Lashoff, Kevin Porter, Aaron Rome and Colin Campbell — four of the six won't even be on the Red Wings when the regular season starts.
Even more impressive, the Red Wings held the Chicago Blackhawks to one shot on the power play in four opportunities. I don't care who you are or what league you play in, that is impressive to hold a team to one shot on eight minutes of power play time.
Now, there is the fact the Blackhawks arrived to Joe Louis Arena late and had to scramble to get the game started by 8:18 p.m., but we'll give the Red Wings penalty killers the benefit of the doubt.
Assistant coach Tony Granato was tasked with improving the Red Wings' PK, which wasn't that bad at 83.1 percent last year, good for 12th in the league. However, if he can continue to improve on an already good penalty kill, it'll make the Red Wings that much better and able to weather nights of too many penalties.
Mrazek is NHL Ready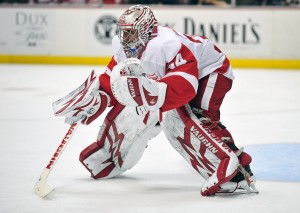 I was hoping Petr Mrazek would be backing up Jimmy Howard this year, but the Red Wings decided he needed another year in the minors before bringing him to the big club full time.
So far in the preseason, Mrazek has proven he is NHL ready. He stopped all 10 shots he faced in the third period against Pittsburgh on Monday, five of which came on the power play, and he stopped 6 of 7  against Chicago on Tuesday, the lone goal coming off a shot from the point by Duncan Keith and deflected by Jonathan Toews in overtime.
In his limited time in the NHL during the past two seasons, Mrazek has a losing record of 3-5, but he also sports a 1.80 GAA and a .926 save percentage. You can't ask for much better than that from your backup.
Mrazek is the future of the Red Wings. Howard is signed through the 2018-19 season, but I wouldn't be surprised if the goalie situation became more of a 65-35 split with Howard getting the majority of the starts.
With Howard's recent injury history, it would be good for him to give Mrazek a good chunk of games to start, especially knowing Mrazek is a more than competent goaltender.
Grand Rapids Griffins Will Be Stacked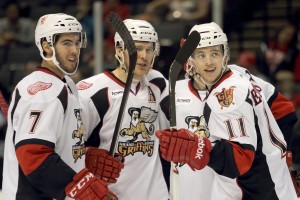 With Anthony Mantha most likely joining the Grand Rapids Griffins, we knew the team already was going to be better than last year. However, other recent signees, as well as some veterans, should make the team even more dangerous than they were last year.
Tomas Nosek and Andrej Nestrasil impressed coach Mike Babcock in the team's 2-1 win against the Blackhawks on Thursday. He told MLive.com's Brendan Savage:
Nosek was really good, and Nestrasil is getting better. Those guys in particular were really good. (Nosek is) a man. He's smart, he's confident, he's a good player, he's got skill, he does good things. Big body, I really like him a lot.

Nesty's a guy that struggled when he first started here and he's really got himself in shape and looks like he's going to be a player. Nosek is a player.
Nosek signed with the Red Wings this summer after spending last year in the Czech Elite League, where he was the youngest top-10 scorer with 19 goals and 25 assists in 52 games.
Nestrasil has spent the past three seasons in Grand Rapids after being drafted in the third round during the 2009 draft. He had 16 goals and 20 assists in 70 games for the Griffins last year.
With those two coming into their own in addition to Teemu Pulkkinen, Landon Ferraro, Mitch Callahan, Martin Frk, Mrazek, Ryan Sproul, Xavier Oulett and Mattias Backman, the Griffins are going to be making a deep run in the Calder Cup playoffs for sure.
The question marks begin when the Red Wings start calling up their prospects. They had to do so a lot last year due to injuries, but coach Jeff Blashill managed to keep his team competitive and got them to the second round of the playoffs, where they lost to the eventual Calder Cup champion Texas Stars.
The Red Wings are loaded in the prospects department, and it will be fun to watch them grow and develop in Grand Rapids.