The winds of change are blowing in Toronto. After another disappointing season Brendan Shanahan has his work more than cut out for him. He started by purging the organization of its general manager, almost twenty of its scouts and the majority of its coaching staff. Those are holes that Shanahan will fill as the summer goes along.
There was somewhat of a silver lining in the Maple Leafs lost season. They were granted the fourth overall pick in the upcoming draft, a draft that many believe is one of the deepest in recent  years. The Buds have stockpiled some good young players in recent years including Morgan Rielly, William Nylander and Connor Brown. It is imperative that they draft smartly and choose a player that can be successful in the coming years.
Dylan Strome: Center, Erie Otters
Dylan Strome has been  a force for the Otters the entire season. The 18-year-old led the entire OHL in scoring and racked up an impressive 129 points in only 68 games. Strome, who is the brother of New York Islanders forward Ryan, appears to have all the right tools to not only survive but thrive in a Leafs uniform.
He already has the size and is listed at 6-foot-3 and 185 pounds. He's known as a skilled player who makes the others around him better. He possesses a long reach and is competent on both the offensive and defensive side of the puck.
Mitch Marner: Center, London Knights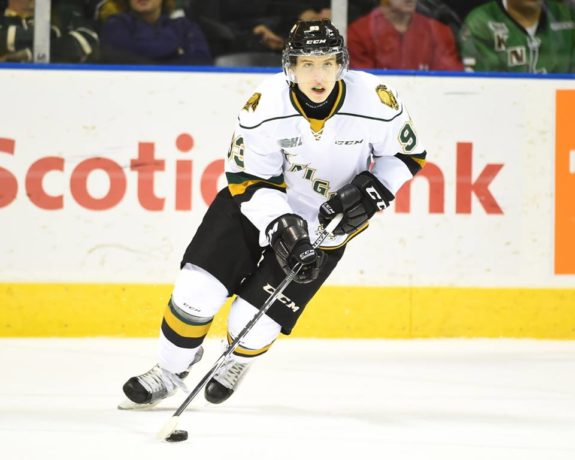 Marner is a very interesting prospect. His size, which is listed at 5-foot-11 and 155 pounds, may cause some scouts to be wary. The larger picture however, holds much more promise. Marner is incredibly skilled. That can be directly referenced by him finishing second in OHL scoring this past season with 126 points in 63 games.
He's shifty in the offensive zone and has the vision that allows him to make a stellar plays and either score or set-up a teammate. His play-making ability, combined with his speed and tendency to never quit, make him a prospect that would be well worth the risk.
Noah Hanifin: Defenseman, Boston College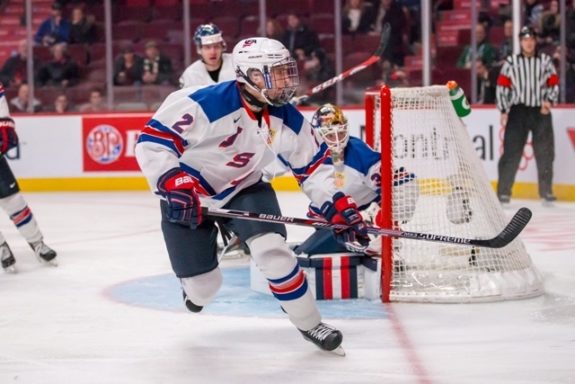 Much has been said of Hanifin this past season.  He is widely considered the consensus pick to be the best defenseman in the draft. The Massachusetts native owns many qualities that teams love to see. He already has adult size and stands at 6-foot-3 and 205 pounds.
He is a smooth skater that is able to see the whole ice and move the puck quickly and efficiently. His hockey sense is unparalleled and is definitely one of his biggest strengths. Hanifin also has another unique advantage over some other top ranked players. He played in the NCAA, which means he routinely played against men that were sometimes five or six years older than he was. Being able to thrive in that environment has surly helped his development.
The Toronto Maple Leafs know they need to score a slam dunk with their fourth overall pick in the coming draft. Strome and Marner are offensive dynamos, while Hanifin is a steady and tough defenseman. All three of these prospects would help the Leafs in different ways. If the Maple Leafs want to put a real stamp on their rebuild, making a smart pick at number four is crucial.
My name is Anthony Fusco. Through school, I completed a joint degree involving an Honours B.A. in Journalism from Wilfrid Laurier University and a Videography and Broadcasting degree through Conestoga College.
I currently work for the University of Toronto as a Varsity Sports Announcer and for the Toronto Maple Leafs as part of their game presentation squad.
I'm also the play by play voice of the Kelowna Falcons, a baseball team located in British Columbia.
My goal is to one day be a hockey broadcaster.