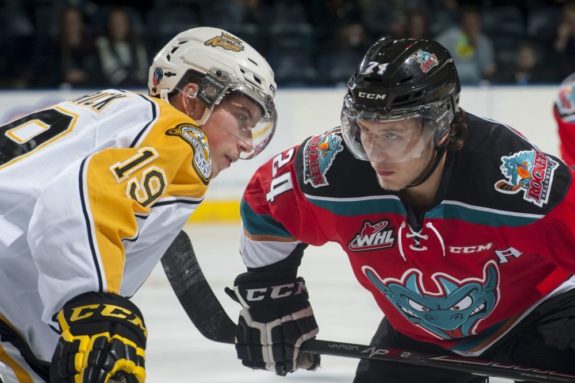 My one and only prediction for the WHL final: This is going to be epic!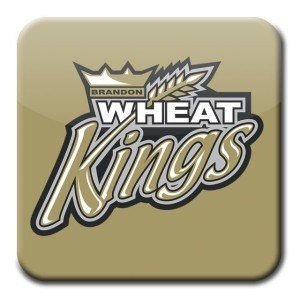 On a collision course all season, the Brandon Wheat Kings and Kelowna Rockets will clash in the championship series, starting tonight in Manitoba. They have been ranked Nos. 1 and 2 among WHL teams since the puck dropped in September and their statistics have been nearly identical throughout the campaign. Brandon earned home-ice advantage and the Scotty Munro Memorial Tro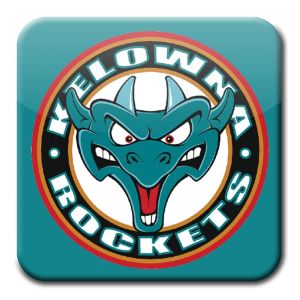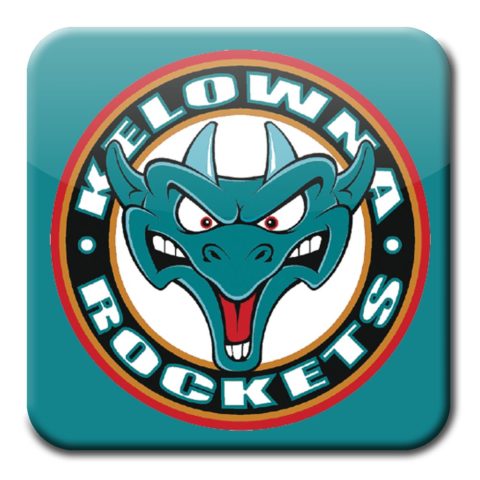 phy for the best regular-season record, overtaking Kelowna by a mere two points down the stretch. But both teams won 53 of 72 games, and both are sporting 12-3 records in these playoffs, though Brandon's goal differential is slightly better with 65 for and 34 against to Kelowna's 64 and 39. Those numbers were split in the regular season, the Wheat Kings scoring a league-high 340 times while the Rockets allowed a league-low 183 goals against and were second in goals for at 305.
Despite their dominance from start to finish, neither team rested on its laurels and both general managers — Brandon's Kelly McCrimmon and Kelowna's Bruce Hamilton — made blockbuster trades to bolster their rosters. The Wheat Kings struck first, landing Reid Duke and Macoy Erkamps from Lethbridge on Sept. 30 for an underwhelming package that raised eyebrows across the league. Hamilton also drew the ire of his peers over the Rockets' acquisition of Leon Draisaitl from Prince Albert on Jan. 6, a deal that had behind-the-scenes directives from then Edmonton Oilers general manager Craig MacTavish, a close friend of Hamilton's. Kelowna's other prized addition was stud defenceman Josh Morrissey, whose rights were obtained on Dec. 10, also from Prince Albert, just prior to him partnering with Rockets captain Madison Bowey in helping Canada capture gold at the world juniors. Brandon, perhaps anticipating the Draisaitl deal amid speculation, brought in scoring forward Morgan Klimchuk from Regina on Jan. 2 and offensive defenceman Reid Gow from Spokane on Jan. 5.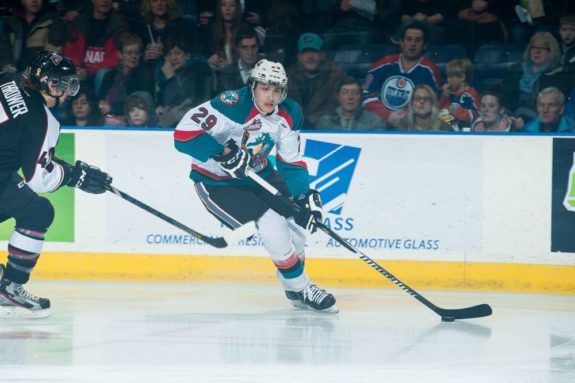 It has certainly been a chess match on and off the ice, and all those moves have paid dividends to date in putting both clubs over the top en route to claiming their respective conference titles. With the unbalanced schedule, they only faced off once in the regular season — a shame, really — with Kelowna scoring a 6-1 blowout at home back on Oct. 25. But don't put much stock into that result because Brandon was playing its third game in four nights on a B.C. road trip while the Rockets were resting the previous night. That lone meeting also came before much of the aforementioned overhauls, so both sides will look significantly different for tonight's rematch in the series opener with the Ed Chynoweth Cup at stake over the next 11 days.
The Wheat Kings will presumably enter as the healthier team, with the Rockets expected to be without feisty forward Tyrell Goulbourne (leg laceration) and leading goal-scorer Rourke Chartier (undisclosed). The latter practiced on Thursday upon arriving in Brandon but is still considered doubtful for tonight, while Goulbourne is a long-shot to suit up at any point during this series. Those are big losses for Kelowna, but it is coming off a huge win over Portland, avenging three prior playoff defeats by reeling off three straight victories — all without Chartier — to prevail in six games. Brandon got the best of a banged-up Calgary squad in just five games, but the Hitmen were also missing top forward Jake Virtanen to suspension for the final three contests.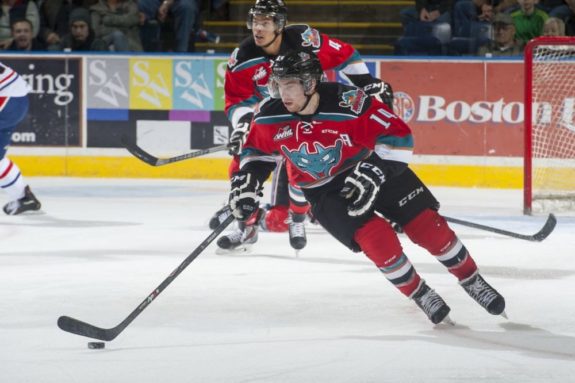 You can compare and contrast roster depth at great length, but the long and short of it is that these are two evenly matched teams on paper. Draisaitl is the top scorer among still active players with 21 points, but Brandon's Jayce Hawryluk and John Quenneville are tied for the most goals with 10. Kelowna's Chartier and Tyson Baillie are right behind with 9 each. The Wheat Kings have spread their offence around a little more in the playoffs with 9 players boasting at least 10 points to Kelowna's 6 above that benchmark. Brandon also had the upper hand there in the regular season, with 9 players eclipsing 50 points — led by Tim McGauley's 105 points — to Kelowna's 6 again, topped by Nick Merkley's 90 points. Chartier had 48 goals in the regular season, more than anybody from Brandon — McGauley had 42 — so his potential return is key for Kelowna. If Chartier misses the first few games, the Rockets will need continued offensive production from rookie Dillon Dube, a still 16-year-old centre who was scratched against Victoria but was an emerging force against Portland. Likewise, Brandon will count on WHL rookie of the year Nolan Patrick to play beyond his years after becoming only the third 16-year-old in the last 20 years to score 30 goals during the regular season.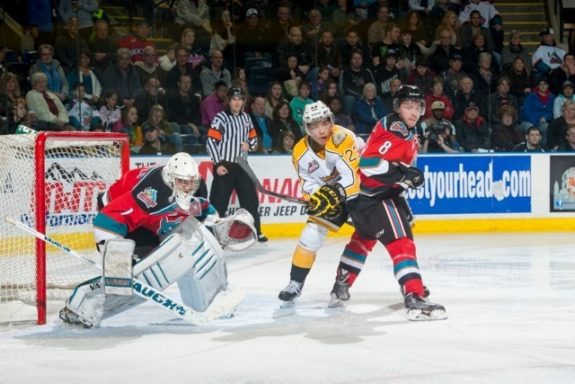 The Rockets have the bigger names on defence, with Morrissey and Bowey, but Brandon counters with a couple of up-and-comers in Russian import Ivan Provorov and Ryan Pilon, both projected first-round picks in this June's NHL draft. The Wheat Kings also have Gow, Erkamps, Eric Roy and Colton Waltz as 20-year-old veterans on the back end — Gow turned 21 last month — while Kelowna rounds out its blue-line with over-ager Cole Martin, Detroit prospect Mitch Wheaton, draft eligibles Joe Gatenby and Devante Stephens, plus Lucas Johansen, the younger brother of Columbus Blue Jackets centre Ryan Johansen. Worth noting, Stephens and Riley Stadel have been converted to forwards in the absence of Goulbourne and Chartier.
Between the pipes, Brandon's Jordan Papirny has been lights-out good — .932 save percentage and 2.17 goals-against average — but he hasn't faced an offence as potent as Kelowna's. The Rockets will likely go back to season-long starter Jackson Whistle, who has three shutouts in these playoffs but has also been pulled four times — he's a perfect 3-0 so far in the next game after getting yanked. Ironically, the Rockets have rallied behind backup Michael Herringer in each of their series-clinching wins over Tri-City, Victoria and Portland. Herringer's numbers, in limited action, are even better than Papirny's — .934 save percentage and 1.96 GAA — while Whistle's are .914 and 2.60. Going back to the regular season, Papirny appeared in 59 games, winning 44 of them with 5 shutouts, a .910 save percentage and 2.74 GAA. Whistle missed a few weeks in February after an appendectomy but still managed to make 50 appearances, with 34 wins, 4 shutouts, a .909 save percentage and 2.55 GAA.
Both Brandon and Kelowna so strong offensively they can at times completely break down your def zone structure..comes down to goaltending ??

— Bill Wilms (@BillFairway) May 8, 2015
McCrimmon is the more experience bench boss, but Kelowna's Dan Lambert was the Western Conference's nominee for coach of the year in his first season at the helm, losing out to Regina newcomer John Paddock at Wednesday's annual awards banquet that also saw McCrimmon edge out Hamilton for executive of the year.
On Thursday, the Spokane Chiefs — thanks to the Saskatoon Blades — selected Ty Smith first overall in the 2015 bantam draft, a mobile defenceman drawing favourable comparisons to Morgan Rielly of the Toronto Maple Leafs and former Spokane standout Brenden Kichton, now in the Winnipeg Jets' system. The bantam draft is always fun to follow in the future, but the present is all about the pending showdown between Brandon and Kelowna.
This is going to be a barnburner and whoever advances to represent the WHL at the Memorial Cup tournament in Quebec City will be a strong contender to bring major junior's holy grail back west for the second year in a row after the Edmonton Oil Kings won in London, Ont., last spring.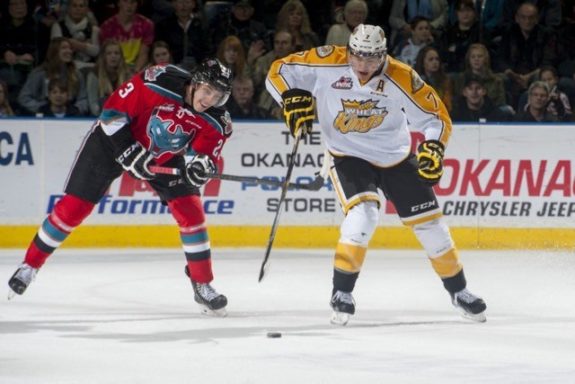 Wait, you actually want a prediction? OK, fine, I'll give you two. If Chartier returns for (or before) Game 3, Rockets in 7. If he's out longer than that, then Wheat Kings in 6.
Larry Fisher is a sports reporter for The Daily Courier in Kelowna, British Columbia, Canada. Follow him on Twitter: @LarryFisher_KDC.
Larry Fisher is a senior writer and head scout for The Hockey Writers, having been an at-large contributor for THW since August 2014. Fisher covers both the NHL and the WHL, specializing in prospects and NHL draft content, including his annual mock drafts that date back to 2012. Fisher has also been a beat writer for the WHL's Kelowna Rockets since 2008, formerly working as a sports reporter/editor for The Daily Courier in Kelowna, British Columbia, Canada from 2008-2019. Follow him on Twitter: @LarryFisher_KDC.