The off season has been especially busy for teams all across the league. Many players were shipped off to new homes across North America. Others signed with a new team after not receiving a  new contract offer. Whatever the reason for the move, there will be a bevy of players in new uniforms come next season.
Some of these skaters are primed for huge seasons. The combination of playing with new teammates and the pressure to make their mark and succeed in a different market will rocket these players to the forefront of the NHL's elite.
Brandon Saad, Columbus Blue Jackets
The addition of the young forward was a stroke of brilliance for the Jackets, a team that should compete for the playoffs if they remain healthy this season. The addition of Saad provides them a new and dangerous weapon with a very high offensive ceiling.
Saad has already been pegged to play with premier players Ryan Johansen and Nick Foligno on the teams top line. That should translate into instant success for the Jackets.  Over his 208 games with the Blackhawks, Saad put up 126 points including 56 goals. The 22 year old also has two Stanley Cups on his resume and is only going to get better.
Milan Lucic, Los Angeles Kings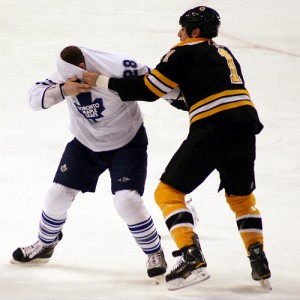 The Kings made a big move at the draft and acquired the heavy forward to bolster their team. The Kings are already a powerhouse, and the addition of the former Bruin makes them bigger and harder to play against. The former second round pick is slatted to play some big minutes with superstar Anze Kopitar and the speedy Marian Gaborik.
Lucic has scored 20 goals three times in his career. He's solidly built forward who will provide the Kings with a nasty and physical edge. He plays the perfect style for the western juggernauts and should make an immediate and very noticeable impact.
Evander Kane, Buffalo Sabres
It was a blockbuster deal that saw seven different players moved. Chief among them was Evander Kane, the power forward and former fourth overall pick in the 2009 NHL Entry Draft.
The move to Buffalo will be extremely beneficial for Kane. He was subject of some off-ice drama with his former Jets teammates and a change of scenery will give him a chance to refocus and come out firing on all cylinders. He's a dynamic skater, he can put the puck in the net and his tough as nails.
Barring unforeseen circumstances, Kane will see playing time with the recent second overall pick Jack Eichel. It is a beneficial partnership, as Kane will teach the youngster some moves and Eichel gets the chance to play with the rejuvenated former Jet. The Sabres are going to be much improved next season. Kane will no doubt be a huge part of that revitalization.
My name is Anthony Fusco. Through school, I completed a joint degree involving an Honours B.A. in Journalism from Wilfrid Laurier University and a Videography and Broadcasting degree through Conestoga College.
I currently work for the University of Toronto as a Varsity Sports Announcer and for the Toronto Maple Leafs as part of their game presentation squad.
I'm also the play by play voice of the Kelowna Falcons, a baseball team located in British Columbia.
My goal is to one day be a hockey broadcaster.