Each season, a number of NHL players with elite potential meet that and become superstars in the league.
Last year, it was the likes of Vladimir Tarasenko, Tyler Johsnon and Nick Foligno who broke out of their shells and had tremendous seasons, vaulting themselves into an elite group of players.
It's definitely not easy to predict which players will breakout, because they have yet to show promise of being elite. They may have strong potential, but for some, that potential is reached after one year, while others need five years to develop their talents.
Usually, future superstars would be expected to break out by the time they are 23- or 24-years old. But as was shown in 2014-15, where the three aforementioned players were 23, 25, and 27, respectively, there's no determining when a player will break through.
Anyhow, we will take our best shot at trying to predict which players looked most poised to breakout in 2015-16 and become elite talents in the NHL.
Ryan Strome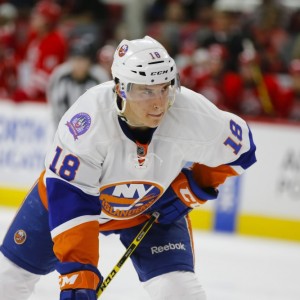 Current Progress: Strome played two more years in the OHL after being selected fifth overall in 2011 by the New York Islanders. In both years, his offensive production was much lower than the Isles management had hoped it would be. But, he split the following year between the AHL and NHL, scoring 49 points in 37 games for the Sound Tigers and 18 in 37 games for the Islanders. He was rewarded with a full-time NHL gig in 2014-15, where he would score 17 goals and 50 points in 81 games.
Reasons For a Breakout: After a very strong 2014-15 campaign, there is no reason to suggest that Strome won't continue to grow and develop again this year. Playing on what should be an extremely offensively gifted Islanders team will definitely help his cause. Not to mention, his ice time should see a significant increase from the 15:23 he received last year, which would include added power-play time, a given for a boast in the points department. Of course, playing behind John Tavares also takes off quite a load of pressure from the opposition he will face.
2015-16 Prediction:
Strome could definitely score 21 goals and 42 assists for 63 points this year.
Ryan Nugent-Hopkins
Current Progress: The 2011 first overall pick by the Edmonton Oilers began his career very strong, scoring 18 goals and 52 points in 62 games during his rookie season. Unfortunately, the lockout-shortened season seemed to hinder his progress, as he would score just four goals in 40 games. He has since put up 56 points in each of the last two years, scoring 24 goals in '14-15, his first 20-goal campaign.
Reasons For a Breakout: There is new-found optimism in Oil Country heading into the 2015-16 season. They hired Peter Chiarelli as their new general manager and Todd McLellan as their head coach. Of course, they also drafted Connor McDavid. What all this means for Nugent-Hopkins is that he will finally be under the guidance of an experienced coach with a winning resume. He will also receive a healthy push from McDavid in the depth chart. After finding his inner goal scorer last year, Nugent-Hopkins looks like a prime candidate, along with the Oilers, to breakout in 2015-16.
2015-16 Prediction:
Nugent-Hopkins could realistically score 26 goals and 41 assists for 67 points this year.
Mikael Granlund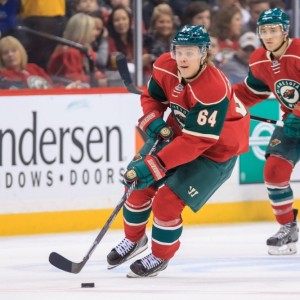 Current Progress: Mikael Granlund had been destroying the SM-Liiga in his teens, playing at a point-per-game rate through the ages of 17-19. After being drafted by the Wild ninth overall in 2010, Granlund finally made his NHL debut in 2012-13, playing in 27 games during the shortened season. The past two years have been similar for him, scoring eight goals in each and potting 41 and 39 points. He has dealt with injuries, namely concussions, which have certainly delayed his development thus far.
Reasons For a Breakout: After missing a month due to injury in 2014-15, Granlund returned in late January and rattled off 24 points in the final 36 games, a 20 percent increase in his points per game from the first half of the season. He also began to find success playing on the first line between Zach Parise and Jason Pominville, a very promising potential first line. If Granlund can finally play a full season healthy, he should be on the verge of breaking out offensively. He also failed to score a single power-play goal all year, despite playing 2:09 per game. If the Wild power play can improve from a 15.8 percent rate, Granlund will immediately be better.
2015-16 Prediction: 
Granlund should be able to score 13 goals and 46 assists for 59 points, if healthy.
Who do you expect to have a breakout year in 2015-16? Let us know in the comments below!
Contributor for the Toronto Maple Leafs and Prospects. Scout with the Oakville Blades of the OJHL. For questions, concerns, or comments, contact me at devinslawson123@hotmail.com or on twitter @SlawsonTHW.