The Boston Bruins' offseason featured more twists and turns than an amusement park roller coaster.
Missing the playoffs led to several notable changes. A new general manager, significant roster turnover and a month-long "will he stay or go" debate regarding coach Claude Julien were some of the highlights on Causeway Street this summer.
Now that the offseason winding down and training camp is set to open next week, it's time to reflect on some of new general manager Don Sweeney's dealings since April. Some of them were pretty good for the Bruins.
Others? Well, not so much. Here's a look at the moves that left many in Bruins Nation scratching their heads.
Trading Dougie Hamilton
Sweeney kicked off his agenda for the 2015-16 Bruins by shocking the NHL world.
The debate had raged on regarding the future of defenseman Dougie Hamilton. Will he be signed? What should his contract be? Is he worth the money?
BREAKING: Bruins acquire 2015 1st round pick (#15) & two 2015 2nd round picks (#45 #52) from CGY for Dougie Hamilton: http://t.co/7TmPoYevOu

— Boston Bruins (@NHLBruins) June 26, 2015
Well, it never really mattered. That's because he was shipped off to Calgary in a draft-day trade in which Boston acquired three draft picks (15, 45, and 52) from the Flames. The ninth-overall pick in 2011 then signed a six-year contract a week later for $34.5 million.
Why It's Bad: Regardless of whether Hamilton wanted to be here, his departure leaves a gaping void on the blue line, which will take some time to fill. The Toronto native may not have been the best defensive defenseman, but he could transition the puck well and give the Bruins much-needed offense and youth on the blue line.
Now, two of Boston's top-four, Zdeno Chara and Dennis Seidenberg, are getting older and aren't fleet afoot. It'll force players like Torey Krug and Adam McQuaid to play in roles that they may not be all too familiar with.
In addition, Sweeney got a poor return. Three draft picks does nothing to help this year's team. Trading away a player with great potential to be an elite defenseman for years to come for three unknowns is not acceptable. It begs the question of whether he should have fetched a better offer elsewhere if he knew Hamilton would not come back under any circumstance.
Trading for Zac Rinaldo
If the Hamilton trade wasn't puzzling enough, Sweeney one-upped himself with the acquisition of a Broad Street Bully.
Zac Rinaldo's career has been defined by controversy. Three suspensions, a fine and a reputation for dirty play have earned the former sixth-round pick and bad rap around the league. However, that didn't stop Sweeney from sending a third-round pick in 2017 to Philadelphia in exchange for him.
Why It's Bad: It's a bit ambitious of the Bruins to trade a third-round pick for a guy that has been suspended three times in his NHL career and even called out by fans in Philly, as told by Travis Hughes of Broad Street Hockey.
"After four years, we know what kind of player Zac Rinaldo is. He's not an effective skill player, and he can't keep himself under control enough to be an effective agitator. And he clearly doesn't [care] when he injures an opposing player. He's an embarrassment to the Flyers and to the NHL, and that'll be the case as long as he's in the league."
Ouch. Not exactly beaming praise from the City of Brotherly Love.
Rinaldo has only has eight goals in 223 games with 572 penalty minutes in his career. In addition, he's not a great possession player either (45 percent career Corsi-For at even strength).
There isn't much to like except for the fact he's under contract for the next two seasons.
Re-Signing Adam McQuaid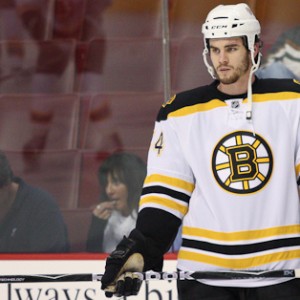 The "forgotten" transaction on draft day was bringing back one of their own.
Defenseman Adam McQuaid was re-signed for four more years at a total cost of $11 million days before he was scheduled to hit the open market. The 28-year old from Prince Edward Island has spent his entire career with the Bruins after being drafted by Columbus back in 2005.
Why It's Bad: The injury-prone blue liner has been battling various malaise for the better part of the last three seasons. Since the 2012-13 season, McQuaid has only played in 59 percent of Boston's 212 games, missing 87 of them due to injury.
Given Hamilton 's departure, he could be looking at top-four minutes this season. It's not a very good look to be paying a third-pairing defenseman $2.75 million for the next four seasons. The pressure will be on McQuaid to prove that Boston did not make a mistake in offering his contract.
The Verdict
As bad as the Rinaldo trade was, it's impossible to ignore the poor return Sweeney received for Hamilton. Even if he didn't want to play here, the Bruins brass could have held out for a better deal on a player that will just continue to get better in the coming years. Instead, it seems that Boston has been fleeced on their third major trade in the past 10 years, following along the lines of Joe Thornton and Tyler Seguin.
What do you feel was the Bruins worst move this summer? Leave your thoughts below or find me on Twitter!
Joe is a writer covering the Boston Bruins. He is a lifelong native of Massachusetts and is currently a content writer/manager for a newsletter at a Human Services Agency. Joe can be found on Twitter: @JoeCherryTHW