Fresh off of their third Stanley Cup victory in the past six seasons, the Chicago Blackhawks are truly deserving of the distinction as an NHL dynasty.
However, a short time after hoisting the Cup, Blackhawks management, players and its fans were all well aware of and contemplating the major changes which would undoubtedly be undertaken to a seemingly consistently dominant roster. Similar to the seasons following their 2010 and 2013 Championships, the Blackhawks were forced to once again trade, or not re-sign key players who were essential to the teams success, strictly in order to comply with the annual salary cap, an issue exacerbated this coming season with both Jonathan Toews and Patrick Kane retaining cap hits of $10.5 Million.
Arguably the most notable of such players to depart the Blackhawks this off-season is young star Brandon Saad, who simply could not be re-signed to a cap hit reflective of his production, and was subsequently traded to Columbus. Further, Patrick Sharp and his $5.9 Million cap hit was sent to Dallas in order to give the Blackhawks greater financial flexibility.
Yet despite these major losses, which also include Kris Versteeg, as well as Brad Richards and Johnny Oduya to free agency, the Blackhawks remain one of the most lethal threats in the highly competitive Western Conference, thanks largely in part to the magical ways of General Manager Stan Bowman. Although a number of core players no longer remain in Chicago, Bowman did a tremendous job of securing competent and highly skilled players to replace said losses. Trevor Daley was acquired in exchange for Sharp in order to fill the gap left by Oduya, and should provide great offensive depth on the blue-line. Up front, Artem Anisimov will center the teams second line, while Marko Dano, a young player with tremendous potential, could be a tremendous surprise given his offensive skills.
In all, despite a number of major losses both up front and on defense, the Blackhawks appear poised for yet another deep playoff run in 2015-16. The 'Hawks will be considerably younger than in years passed, and as a result some inconsistency should be expected, however, the current roster remains tremendously talented, meaning a playoff birth is almost a virtual guarantee.
2014-15 Record: 48-28-6 (3rd in the Central Division, Stanley Cup Champion)
Key Additions:
Artem Anisimov
Marko Dano
Trevor Daley
Ryan Garbutt
Key Losses:
Brandon Saad
Patrick Sharp
Johnny Oduya
Brad Richards
Kris Versteeg
Forwards:
Projected Lines:
Panarin-Toews-Hossa
Teravainen-Anisimov-Kane
Bickell-Shaw-Garbutt
Desjardins-Kruger-Dano
Artem Anisimov
A torn triceps muscle limited Anisimov to a mere 52 appearances this past season, while in those games he managed to produce seven goals and 20 assists. Although he is not known primarily for his offensive play, both the Blackhawks and Anisimov himself hold higher expectations in 2015-16, especially so considering Anisimov signed a five-year, $22.75 Million contract extension this off-season. Anisimov scored a career high 22 goals in 2013-14, indicating his potential to contribute, however, his career high point total of 44 in 2010-11 indicates that he should not be counted on to carry the load offensively. Further, at 46% in the faceoff dot for his career, Anisimov is one of the weakest faceoff men on the current roster. For the Blackhawks, it is hopeful that a stronger supporting cast will bring the out best in Anisimov and make him and his 6 foot 4 frame a truly valuable player.
Marian Hossa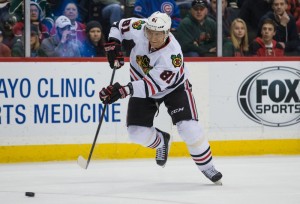 A model of consistency, Marian Hossa enters into his 17th NHL season, and 7th with the Blackhawks in 2015-16. Despite being set to turn 37 years old this season, age has done anything but slow Hossa down, who remains one of the strongest and most productive players on the Blackhawk roster on a yearly basis. In 2014-15, Hossa once again reached the 20-goal plateau, for the 15th time in his career, leaving him a mere 14 goals shy of the 500 goal milestone, a mark which Hossa will undoubtedly reach in 2015-16. With six years remaining on his current contract, Hossa will be a significant player in Chicago for years to come while showing no signs of slowing down, evident in his 82 games played this past season.
Patrick Kane
Quite possibly the most skilled player in the NHL today, Partick Kane was eyeing the Art Ross Trophy in 2014-15 before a broken clavicle sidelined him for the remainder of the regular season. Despite this injury, Kane returned in time for the playoffs and was in fine form, scoring 23 points in 23 games, including 11 goals and was essential to the Blackhawks' post-season success. Set to begin his 9th NHL season in 2015-16, much of the same is expected from Kane, who is a consistent and lethal playmaker. With his eight-year contract extension beginning this season, alongside a considerable bump to a $10.5 Million cap hit, motivation should be plentiful for Kane, who is hoping to put aside his off-season issues in hopes of landing another Stanley Cup championship.
Jonathan Toews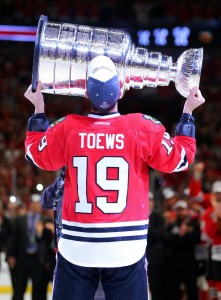 One of the greatest leaders in the NHL today, 'Captain Serious' is well deserving of his nickname considering he has led the 'Hawks to three Stanley Cups and has yet to miss the playoffs in seven seasons since being named the 34th captain in Blackhawks history. An unrelenting competitor, Toews, like Kane, is well deserving of his eight-year, $84 Million contract which begins in 2015-16. Not only did he lead his team in scoring this past season with 66 points, but he reached the 20-goal plateau once again, the eight consecutive season he has done so, in an eight year career. Further, Toews was dominant in the faceoff circle in 2014-15, winning 56.5% of the 947 draws he took and was once again amongst the best in the league. In 2015-16, it is safe to expect more of the same, dominant play from Toews, play which the NHL has become accustomed to. Another 20-plus goal season is seemingly already in the books for Toews, whose biggest challenge this season will likely be acclimating the many new comers to the Blackhawks organization.
Defence:
Projected Pairings:
Keith-Seabrook
Daley-Hjalmarsson
van Riemsdyk-Rundblad
Trevor van Riemsdyk
Despite playing in a mere 18 regular season and four playoff games this past season, much more will come to be expected from Trevor van Riemsdyk in 2015-16. A standout defenseman in his three years at the University of New Hampshire, van Riemsdyk enters the final year of his two-year contract with the Blackhawks looking to a leave a lasting impression, and one that will hopefully land him another NHL contract. A sound puck mover whose decisions impact the development of play, van Reimsdyk is a solid skater at 6 foot 2, 190 pounds who records loads of assists as a result. However, with the departure of both Johnny Oduya and Kimmo Timonen this off-season, the Blackhawks will look for van Riemsdyk to play a greater defensive role in more significant on-ice situations.
Trevor Daley
Acquired by the Blackhawks in exchange for Sharp, Trevor Daley is a 31 year-old defenseman who had spent the past 11 seasons of his NHL career with the Dallas Stars. Brought in effectively as a replacement for Oduya who is now a member of the Stars himself, Daley is well known for his offensive production on the blue-line. Although he has averaged roughly 25 points per season throughout his career, the 'Hawks are hoping Daley can reproduce his 2014-15 season in his first year in Chicago, as he recently scored a career best 16 goals and 38 points. Although Daley has an offensive edge, his defensive play could come into question as the season progresses, however it is an issue which could be minimized if paired with a stingy defender such as Niklas Hjalmarsson.
Brent Seabrook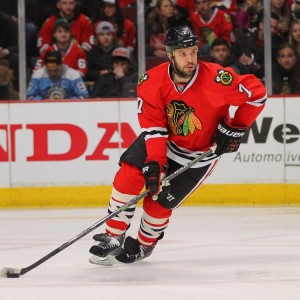 Entering the 11th season in the NHL, all of which with the Blackhawks, Brent Seabrook is arguably one of the Leagues most competitive players who brings his best on a nightly basis. A standout on the 'Hawks blue-line alongside fellow star Duncan Keith, Seabrook is not only an incredibly tough defender, but he can also contribute offensively, as illustrated by his career 0.41 points per game mark. In the final season of his five-year, $29 Million contract with the Blackhawks, Seabrook could be the target of ferocious trade rumours as the season progresses if not signed to a contract extension, a feat which could prove difficult given the Blackhawks' cap situation.
Duncan Keith
Similar to Seabrook, Duncan Keith is one of the NHL's greatest defenders on a yearly basis who was phenomenal in 2014-15, particularly in the playoffs. A two-time Norris Trophy winner, Keith added the Conn Smythe to his trophy cabinet after an exceptional post-season run in which he recorded 21 points in 23 games while averaging nearly 26 minutes of ice time per game. Indisputably one of the NHL's best, nothing but should be expected of Keith in Chicago come 2015-16, where the Blackhawks are fortunate enough to retain Keith for the next eight seasons before he likely heads off to the Hall of Fame.
Goaltending:
The situation in the Blackhawks crease remains relatively unchanged since 2014-15 other than Antti Raanta's departure to the New York Rangers. Having led Chicago to a second Stanley Cup, Corey Crawford appears to have finally silenced his critics for good, and in doing so has cemented himself as one of the greatest playoff goaltenders in recent history. Entering his ninth season with the Blackhawks organization, Crawford has been a model of both consistency and stability in the Chicago crease, having played nearly 60 games in each of the past four seasons. Despite playing for nine different professional hockey teams at various levels, Scott Darling's laborious journey to the NHL finally came to an end in 2014-15 when he appeared in 14 games with the Blackhawks in the regular season and another five in the playoffs, where he was spectacular. Despite his lack of NHL experience, the 'Hawks were clearly confident in Darling's abilities moving forward, and as a result felt secure in moving Raanta. The duo of both Crawford and Darling should provide the Blackhawks with tremendous skill in the crease come 2015-16, who will aim to ensure Chicago is once again one of the best defensive teams in the NHL.
Breakout Player:
Marko Dano
Despite landing a talented young star in Saad, the Columbus Blue Jackets will likely come to regret passing Marko Dano on to the Blackhawks. At the young age of 20 years, Dano played in 35 games with the Blue Jackets in 2014-15, his first stint in the NHL and was extremely impressive. In his first taste of the NHL, Dano scored eight goals and added 13 assists, good for 21 points. A first round pick, 27th overall in the 2013 NHL Entry Draft, Dano is small in stature at 5 foot 11, 180 pounds, but more than compensates for this slight deficiency with his high energy level and elite skating. Somewhat surprisingly, Dano is in no way afraid to play a physical brand of hockey and enjoys engaging in board battles and consistently fights for loose pucks in the crease. Although he will likely begin the 2015-16 NHL season on the Blackhawks' fourth line, Dano could quite easily work his way up the depth chart as the season progresses, as his raw talent could allow him to shatter expectations in his first full NHL season.
Player With Most to Prove:
Bryan Bickell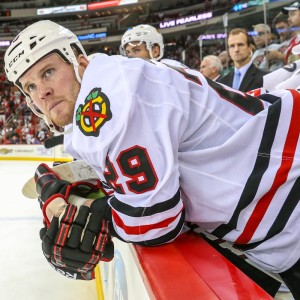 The Blackhawks appeared to have made a tremendous signing following their 2013 Stanley Cup championship, locking up post-season star Bryan Bickell to a four year, $16 Million contract extension. Instrumental to the Blackhawks success in 2013, Bickell scored nine goals and eight assists in 23 post-season games, and parlayed his success into a significant contract extension. However, in the two seasons since Bickell received his extension, he has failed to live up to his pay grade, failing to produce offensively while finding himself in the press box on multiple occasions. With a $4 Million cap hit over the next two seasons on a financially challenged team, the Blackhawks need greater production out of Bickell, who has scored a mere 43 points in his past 139 regular season games, while scoring just 15 points in his past 37 playoff games. Given his supporting cast, it is quite possible for Bickell to have a solid, bounce back season, in fact, it is almost necessary in order justify his place on the roster.
Season Outlook:
Despite the multitude of changes made to the Blackhawks roster this off-season, post-season hockey in Chicago appears to be yet again a virtual certainty. Although a number of key players from past championship winning teams were forced to pack their bags due to cap issues, the players brought in to replace these losses will ensure yet another successful NHL season in the Windy City.
However, as always, there remains a number of questions yet to be answered as the 2015-16 NHL season rapidly approaches. Can Daley effectively replace Oduya defensively? Are the Blackhawks strong enough down the middle, or do they require a true second line center? Will an influx of young players hamper Chicago, or provide a much needed and refreshing boost of energy? Although they do not appear as strong as in seasons passed, the Blackhawks ultimately remain a legitimate Cup contender; as a result, should be expected to make a deep playoff run.  But with the ever improving Central Division rivals in the Winnipeg Jets, Nashville Predators and Minnesota Wild, the Blackhawks will certainly face more difficult competition than in recent history. Will they capture a second consecutive Stanley Cup title? Likely not. Nevertheless, they will, as seemingly always, be an extremely competitive team in 2015-16.
Brett Slawson is a four-year veteran of The Hockey Writers who covers the Toronto Maple Leafs, NHL prospects, and the OHL's Mississauga Steelheads.
Contact Brett on Twitter @brettslawson92, or by email at brett_slawson@hotmail.com.