The history of ice hockey is defined by small towns and tight-knit communities. This goes doubly in Canada, where the long, cold winters saw youngsters stay warm and make friends the old-fashioned way – by spending their days on frozen ponds, playing hockey.
Nova Scotia has a unique place in hockey, both in a present-day and historical sense. Not only is it the home province of recent first-overall NHL Draft picks Sidney Crosby (2005) and Nathan MacKinnon (2013), it also is historical claimant to the title of birthplace of hockey – based upon references in Thomas Chandler Haliburton's writings from 1844 detailing locals playing "hurley"on ice in Windsor.
Regardless of the reasons, Nova Scotia has been one of the most quietly productive provinces in terms of producing NHL players, despite being one of the country's smallest provinces in terms of both population and hockey registration. For reference, Hockey Canada's registration numbers reveal Nova Scotia to be as big a hockey-playing province as neighbouring New Brunswick, but much more productive at sending players to the big leagues.
Nova Scotia's productivity may come as a bit of a surprise; the province has fewer major-junior teams than New Brunswick (ever since the 2005 arrival of the Saint John Sea Dogs), and is relatively isolated from the rest of mainland Canada. However, this isolation may have contributed to the competitiveness of local leagues, and the tight-knit nature of the province's hockey community. Truth be told, when you run into an NHLer from the province, odds are they can bend your ear for awhile with tales of their counterparts on other teams; every NHLer from Nova Scotia seems to know each other quite well.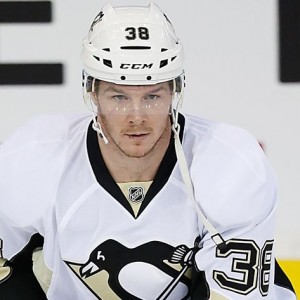 Philadelphia Flyers defenseman Andrew MacDonald, who hails from the Cape Breton town of Juduque, credits the organizations that run the province's minor hockey for the quality of play for youngsters.
"There wasn't many teams," recalled MacDonald. "That's the thing about out east, there's not a ton of teams, but I think the organizers of the minor hockey do a great job with finding kids to play, putting together competitive teams and having good coaching. It's not easy, but they find a way to get it done."
During the 2014-15 NHL campaign, nine Nova Scotia-born players suited up in hockey's top league. While the most high-profile Nova Scotian players often hail from "the City" – the area encompassing Halifax, Dartmouth and suburbs such as Cole Harbour and Lower Sackville – the province has also been strongly represented by those from its more rural areas. Perhaps due to the strength of the teams from the Halifax area, a constant rivalry has brewed between the urban centre and their rural counterparts.
"Those were the guys that I played against growing up – James Shepard and [Brad] Marchand – those guys were the guys on the city teams and we were one in the boons, so we always had to bring our A game whenever we played those guys," said Zach Sill, a Truro native who signed with the Washington Capitals this past summer.
"The Halifax teams are always strong," said MacDonald. "For us in smaller areas, we had to work hard to keep up and compete. There's always the summer camps that you go to and the hockey schools and that really help out, as well. It was a great experience growing up, coming from small areas. Everyone's pretty tight-knit and close, and it helps in a team atmosphere as well when you have a lot of guys you're really close with."
Despite its isolation, or perhaps because of it, Nova Scotia seems to perpetuate a type of community that keeps bringing people back to it, particularly in the hockey community. Sill still lives in Nova Scotia in the summer, as do several other current (and former) NHLers from the area.
"There's no place like home," declared Sill.
Ryan Pike has covered the Calgary Flames and the NHL Draft extensively since 2010 as a Senior Writer for The Hockey Writers and Senior Contributing Editor of FlamesNation.ca. A member of the Professional Hockey Writers Association, he lives in Calgary.