It may be Labor Day in the United States, but that hasn't stopped the news from rolling in. Here's what's going on in the NHL:
Reports suggest rookie Connor McDavid will live with Taylor Hall this coming season. [Pro Hockey Talk] Here's the rankings for Oilers players, including McDavid, in NHL 16. [Oil on Whyte]
Taylor Hall will reportedly have a new roomie in Connor McDavid this season. http://t.co/UEgjvM7RGw pic.twitter.com/tFOszHBFfv

— theScore (@theScore) September 6, 2015
Flyers fans are trying to buy the Penguins using GoFundMe. [Puck Daddy]
Mike Babcock admits that it is scary to be moving into the Leafs' job. [Toronto Sun] Babcock's former player, Henrik Zetterberg, feels it was time for Babcock and the Wings to move on from each other. [Red Wings Front]
Mike Green is excited to suit up for the Red Wings. [The Score]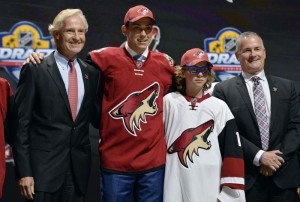 Coyotes' newcomer Dylan Strome could potentially make the push to the NHL this season. [Go Erie]
Jake Virtanen may also be a mainstay in the NHL this season. [Today's Slapshot]
An interesting read on Brandon Gawryletz, a former pro hockey player turned referee. [News Miner]
Who is the likely winner for the Selke Trophy right now? [HockeyBuzz]
Predicting NHL standings at this juncture is extremely difficult. [The Hockey News]
I am a former NHL media member and reporter for the St. Louis Blues, working for various media outlets. Currently, I am an NHL News Writer and Editor for The Hockey Writers. I live in St. Louis and work as a freelance copywriter in numerous industries.