The Minnesota Wild have an obvious strong suit headed into the 2015-16 season. Not only do they have a talented back-end, but it is also one of the deepest in the league.
Heading into training camp, the Wild will have eight NHL calibre defencemen all fighting for a spot in the opening night lineup. The top four is virtually locked up, but after that is anybody's guess.
Battling for those final two spots include several young talents by the name of Matt Dumba, Christian Folin, and newcomer, Mike Reilly. Nate Prosser, who played 63 games last year, will be the veteran among the challengers at the ripe age of 29.
---
Top Pairing
Ryan Suter
Of course, Suter will be the horse of the group once again in 2015-16. He led the league in time on ice per game last season, averaging 29:03 each night. He plays responsibly in all situations of the game and is a leader in the locker room. Some suggest that limiting Suter's time on ice would make him a more effective player, and the Wild certainly have the depth to do so if they wish. Suter is a consistent 35-45 point scorer, but it was his goal totals last year which had fans scratching their heads. His two goals were the lowest total since his rookie season. Regardless, Suter is a lock to be one of the top defencemen in the NHL next year.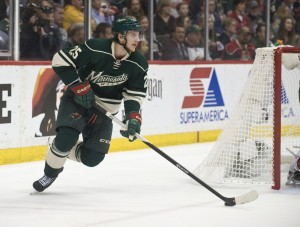 Jonas Brodin
Jonas Brodin began to take over the role beside Suter in '14-15, providing an excellent shutdown pairing, with some hidden offensive upside. He saw his ice time slightly increase from 23:54 in 2013-14 to 24:10 last year. Although his goals and points both dipped, Brodin noticeably improved the defensive aspect of his game. He earned further trust from coach, Mike Yeo, who began using him in more intense situations. The 22-year-old is extremely mature for his age and often looks like a seasoned veteran, although he has just three NHL years under his belt.
---
Second Pairing
Jared Spurgeon
Spurgeon is beginning to earn the reputation as the little engine who could. Standing at a 5'9, he continues to improve his game at both ends of the ice. Using his hockey IQ and excellent vision, he is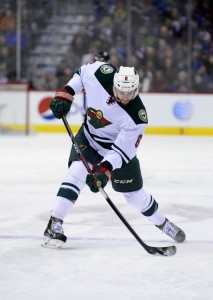 able to be a steady defender despite being smaller in stature. It's his offensive abilities that really turn heads though. Spurgeon loves to fire crisp passes through slim lanes, or get an accurate wrist shot to the net to create a scoring opportunity. His play was rewarded with 22:37 minutes of ice time per game.
Marco Scandella –
As with Brodin, it's difficult to believe that Scandella is as young as he is. The 25-year-old plays the game with great poise and is able to make defending spectacular players look easy. Scandella led Wild defencemen in goals scored last year, potting 11. He and Spurgeon create a pairing that give opposing teams something to worry about, as they come loaded with tremendous offensive instincts. His play was accommodated with 21:43 minutes on ice each game.
---
Third Pairing
This is where things get hairy. There are four players all deserving off ice time in the NHL, but only two will get what they want. Dumba should be a lock in one of the spots, but after that may come down to who looks the best throughout trainmen camp and preseason.
Matt Dumba
After a disappointing 13 game debut in 2013-14 which resulted in a demotion back to the Portland Winterhawks of the WHL, Dumba really impressed the Wild brass in his 58 games last year. He looked confident and much more responsible in his own zone. He stopped trying to make the highlight-reel play, instead opting for the simple one. In the offensive end, he became and absolute force. He has a cannon for a shot, which got him eight goals, and was able to find some time on the second power play unit. Many experts are predicting a breakout year for Matt Dumba in '15-16.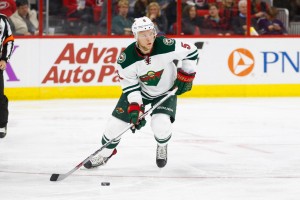 Christian Folin
Although Mike Reilly will definitely expect to be an everyday player this year, some time in the AHL definitely wouldn't hurt his future. Colin certainly showed that he was NHL ready in his time with Minnesota last year. In 40 games, he scored two goals and 10 points, averaging a solid 15:12 per game. He was calm and steady on the back-end, and showed much more confidence with the puck as the season grew on. Folin looks primed for a his first full-time NHL season.
---
Alternates
Mike Reilly
The 2011 4th round pick by the Blue Jackets decided to sign elsewhere, and went to his home state team in Minnesota. The 22-year-old scored six goals and 42 points in 39 games for the University of Minnesota last year. He definitely expects to play in the NHL, but some AHL time may be better for him to get more accustomed to the NHL style. If, and when, Reilly proves that he is ready for the show, the Wild will be in a tough situation trying to find time for all of their defencemen.
Nate Prosser
The Elk River, Minnesota native played the most games in his career last year, but averages just 12:47 per game. There's no doubt that he has the ability to be successful in the NHL, but there simply may not be room for him with the Wild any longer. With very little playing time available, it may be in his best wishes to look for a new home, unfortunately.
---
The Minnesota Wild have an extremely talented blue line which is deeper than the majority of those in the league. With how impressive it is, it's hard to believe that the average age of their top seven defenders is just over 24 years old. The Wild are definitely set defensively for quite some time, and with a very promising future in store once these potential stars are in their prime. Their very admirable problem for this season will be choosing who gets the ice time they deserve. Two of them will be left very disappointed, but must keep the future in their mind and work even harder to become an everyday NHL'er. It's a great time to be a Wild fan.
Who do you believe will be in the Wild's opening night lineup? Let us know in the comments below!