Randy Carlyle has reached his best-before date, and as such he should be fired immediately. There are three reasons to can him and they are as follows
1. He Already Kind-of Has Been Fired
When you are an NHL head coach, you get to pick your assistants.  Last year, after most observers noted that Carlyle had "lost the room," the Leafs brought in Shanahan, who then, it seems, realized that the team was in a state of flux, but chose to be patient about how he rebuilt it. As such, Nonis and Carlyle were retained despite the fact that all of their assistants where fired and replaced with guys they did not get to hire.
I don't imagine Carlyle particularly liked having his hand picked guys let go. I also doubt he is a fan that the team brought in a head-coach from another team  in Peter Horachek who is said to have characteristics – like good communication skills with players, and a more 'new aged' progressive outlook on the game – that Carlyle is said to lack.
While it may be too easy to buy into these narrative dichotomies, it can't be easy to maintain your leadership of a team when they basically hire your potential replacement as your assistant. Not to mention that there are zero people who think Carlyle will be back next year.
The consensus seems to be that the Leafs want Mike Babcock and if he isn't' available will make Horachek the coach. I think it's a huge mistake to wait a year for Babcock, and I think it's a wasted year to leave Carlyle in charge while you do.
The reason is, knowing that in a best case scenario he is fighting for his job, Randy Carlyle is coaching a team that should be focused on development with a "win now" philosophy.  This will only hurt the long-term future of the team and extend the rebuilding process and as such, he needs to be removed right now.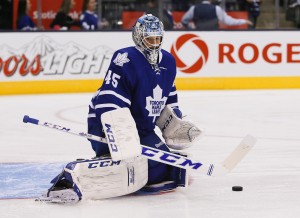 2. Starting Reimer over Bernier
The Leafs have two pretty good goalies and that is a good thing. A decent backup should spell your starting goalie for about 20 odd games during the season and still give you a chance to win. Carlyle is hurting the Leafs by over using Reimer. It's as simple as that.
James Reimer doesn't have half the talent that Jonathan Bernier has. The Leafs have a potential Vezina winning superstar goalie and not using him properly should be  a fireable offense.
OK, I get that starting Reimer in the second game of a back-to-back makes sense. But why did Bernier start against an injury weakened Columbus team then? I know the tendency is for people to look at this and say "so what, we won the games."  Yes, that is true, but the short-term results don't really matter. Of course Reimer can play great in a random game, which he did on Saturday, but generally, Bernier is going to give you a better chance to win on most nights, so in spite of the favorable results, it was still a terrible move.  When a coach makes a bad move and still wins, i call this the "Broken Clock Effect."
Trying to outsmart everyone, Carlyle makes the bone-headed move of going back to Reimer to start the road trip. Study after study has shown that "streaks" and "being hot" are more a function of confirmation bias than reality, and as such, even though he won Saturday, the smart move is to go back to Bernier, since he is clearly the more talented of the two and clearly gives you the best chance to win. Carlyle, ostensibly trying to outsmart everyone, goes to Reimer, which may affect Bernier's game later and have a domino effect throughout the lineup.
Honestly, this is Nonis' fault too. Why is a team up against the cap paying a 2.6 million cap-hit to a back-up goalie? This is idiotic. Back-up goalie is the easiest position to fill and they should be paying no more than 900k on one.
Bernier should be playing 60+ games and the Leafs should be happy if the return on Reimer breathes. In the meantime, playing Reimer over Bernier last night in Phoenix should be enough to fire Carlyle, even if there weren't literally dozens of other ones.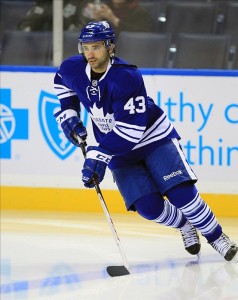 3. Skating Bozak over Kadri 
OK, I am a fan of Bozak, but can we just be honest here for a second?  Bozak is 28 and has already hit his peak: cashing in on playing with an elite NHL superstar.  Right now the Leafs pay him a cap hit of 4,2 million, which is absurd considering their cap situation. They could move Kadri into the 1C spot, swap Holland out for Bozak, use the 6 million saved by jettisoning the ridiculous contracts of Bozak and Riemer to get a #1 defensmen and be ten times the team they are right now.
This is a move so obvious it hurts me to know it's sitting right there while the team won't do anything about it.
Carlyle splits up his best line, which he should have done a  year ago, and then continues to give the Bozak line the most minutes. It's inexplicable. Bozak, as has been noted in the past, is extremely overrated when it comes to his defensive abilities. His offensive abilities do not come anywhere close to kadri's.  You could argue, I would disagree, but you could argue, that right now, Bozak is the more complete player. Let's say I concede that, (for argument's sake) then you would have to admit that Kadri is the player with higher upside.  Since the Leafs are not going to be competing for the Cup with this roster, it makes sense to treat this season as a developmental one.  This means you give all the ice-time in the world to Kadri, Rielly and Gardiner and you live with their mistakes.
Carlyle continues to skate Bozak an average of 3 minutes more per game than Kadri, and on most nights, it's more like 7. This is ridiculous. Kadri should be playing the most minutes of any forward outside Kessel. He needs to be given enough rope for the Leafs to truly see what they have in him, and by playing Bozak more, it just keeps the Leafs stuck in neutral – not developing at all and not  moving closer to the goal of winning.
At this time, Kadri is a far superior talent to Bozak and if Carlyle won't recognize this, he should be fired.  Even when the lines were split up – which didn't seem to last – Kadri played on the second PP unit, which is ridiculous, since, if there is one place where is indisputably superior to Bozak  already, it's the power-play.
The obvious move for the Leafs should be to put their young players in a position to succeed. Right now, that means moving on from Bozak and Reimer and getting a top flight defenseman with the cap savings. It means that until a #1C is brought to town, you proceed with Kadri and Holland up the middle, which I actually think could prove to be a really useful duo.
But most of all, it means firing Randy Carlyle right now and realizing that the timing for the Babcock thing just isn't going to work because the opportunity cost is just too high.