This past weekend, the University of North Dakota Fighting Hawks swept the University Alabama-Huntsville in a non-conference series. With the win, UND improves to 9-1-2 in non-conference play and 18-2-2 overall.
Here are three things that stood out this past weekend.
Chargers Never Quit
The Chargers aren't the most talented hockey team and they don't have any players that have been drafted by NHL teams. They do play with a lot of heart and I was impressed with their compete level. The Chargers never quit.
One of the Chargers that stood out was junior goaltender Carmine Guerriero (2-10-2, 2.83 GAA, .911 save percentage).
If Guerriero hadn't started in net for the Chargers, this series would have been more one-sided than it was. In both games, UND peppered the Chargers net only to have their changes kicked aside.  Guerriero's effort frustrated the Fighting Hawks players all weekend long.
During the weekend, Guerriero was (0-2-0, 2.01 GAA, .947 save percentage). The Montreal, Quebec native stopped 72-of-76 shots many of them high-quality, grade "A" scoring opportunities. During Saturday's game, Guerriero stopped 23 shots from the slot in the second and third periods alone.
Drake Caggiula Shines Again
Fighting Hawks senior forward Drake Caggiula is a dynamic player that has a knack for bringing the fans out of their seats with his highlight-reel goals.On Saturday night, Caggiula did it again with his game-winning short-handed goal. Caggiula's game-winning goal ended up being the play of the day on ESPN's Sports Center.
After Saturday's game Fighting Hawks head coach Brad Berry couldn't say enough about Caggiula.
"He keeps one-upping himself all of the time," UND head coach Brad Berry said. "He's a dynamic player. He makes plays and you can call that a game-breaking play. Again, he's a competitive guy that took the team on his back on that play."
Cam Johnson sees his Shutout Streak End
All good things much come to an end.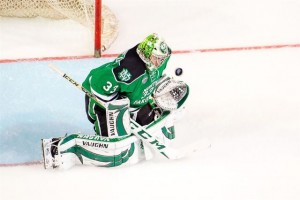 On Saturday night, Cam Johnson entered the game having held the opposition scoreless in 278:38. That streak spanned parts of five games against three different teams. That was also the second-longest streak in NCAA history. Johnson would add another 19:47 to that historic streak before Chargers defenseman Richard Buri would slip one past the red-hot goaltender.
Johnson took it all in stride. During the streak, the junior goalie from Troy, Michigan, had stopped 137-of-137. Shot number 138 ended up in the back of the net.
Johnson is currently the top ranked goalie in division I college hockey (9-0-1, 1.07 GAA and .957 save percentage). Since returning from injury, Johnson is (8-0-0, 0.50 goals-against average, .981 save percentage).
Yesterday, Johnson was also named the NCHC Player of the Month for December. Today, Johnson was named the Hockey Commissioners' Association (HCA) National Division I Player of the Month for December.
#NCHCHockey December monthly award winners: @UNDmhockey's Johnson & @WMUHockey's Molino https://t.co/qazFKs3AFi pic.twitter.com/cZ3zckWYfr

— The NCHC (@TheNCHC) January 5, 2016