This past weekend, the University of North Dakota split (5-1 W, 1-3 L) their conference series with Western Michigan. This was the last conference series before the Christmas break. Here are three things that stuck out this past weekend. After the split, UND is sixth in the National Collegiate Hockey Conference standings.
Next Man Up
Prior to Saturday's game against the Broncos, UND freshman forward Tyson Jost left Grand Forks to join his teammates on the Canadian World Junior team. The next man up was sophomore forward Mike Gornall. Obviously, Jost's absence on Saturday left a huge void in the Hawks lineup. Without Jost, the Hawks struggled mightily on the power play.
That being said, Hawks fans shouldn't blame team Canada. According to Brad Schlossman of the Grand Forks Herald, of the 32 players that were invited to Canada's World Junior camp, 31 of them had games scheduled for Saturday night. None of those 31 players dressed for their games on Saturday.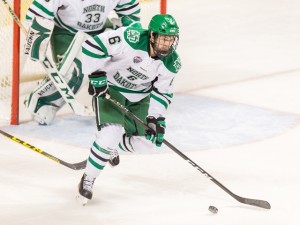 During Saturday's post-game press conference, UND head coach Brad Berry wasn't pleased with the performance of the guys that were in the lineup.
"Hockey Canada wanted all their guys," Berry said. "Tyson (Jost) has been a hard-working ambassador for our program. "When they have their 32-man roster come in, that's what it is. Again, it's not about the guys that are not in our lineup. It's about the guys in our lineup. We have 26 guys that can play at our level and we didn't get the job done tonight."
The Fighting Hawks players weren't making excuses for their performance either.
"The mentality here at the North Dakota is the next man up," junior defenseman Tucker Poolman explained. "No excuses and find a way to get it done. It's not an excuse for us. We should have found a way to get it done."
"Just not good enough," sophomore forward Joel Janatuinen said. "After last night's game, we knew what it was going to take today. We just weren't ready (to play)."
The highly-skilled Jost won't return to the Fighting Hawks until Canada is finished with their WJC run. Looking at the IIHF World Junior Hockey Championship schedule, that's January 5, 2017. UND was already missing sophomore forward Brock Boeser due to a wrist injury, he's also set to join team USA's WJC team. Looking at the WJC schedule and UND's schedule, there's a very good possibility that Jost and Boeser won't be back until UND's series against Miami. During their absence, someone is going to have to step up and contribute for the Hawks.
UND's Powerless Play
During Saturday's game, the Broncos beat a path to the penalty box. During the third period, the Fighting Hawks had 12:35 of power-play time, but they were unable to get anything past freshman goalie Ben Blacker. Franky, it's hard to win a hockey game if you have two five-minute majors and don't score on the power play.
Bronco's senior defenseman Taylor Fleming was the game's villain. Fleming took a pair of minor penalties earlier in the game and was assessed two five-minute majors in the third period (one for kneeing and one for checking from behind). In the end, none of this mattered, because the Hawks failed to cash in on the man advantage.  For the game, UND was 0-6 on the power play. On the weekend they were 1-9 on the man advantage.
Ironically, Fleming leads the NCHC in penalty minutes with 44, there are four players tied for second place 19 penalty minutes. Fleming added 24 penalty minutes to that total in Saturday's game.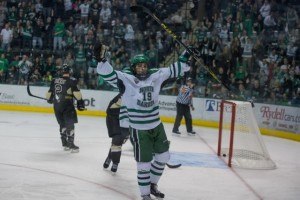 Overall, the Fighting Hawks players aren't happy with the way they play on Saturday.
"It was the lack of execution," junior defenseman Tucker Poolman said. "Just not playing together, as far as making the little plays that make a power play successful – as far as getting it deep – little passes and pops, (we weren't ) moving our feet.  As a team, including myself, it wasn't good enough."
"Just not good enough," UND sophomore forward Joel Janatuinen said. "After last night's game, we knew what it was going to take today. We just weren't ready."
The Fighting Hawks are off for the Christmas break and will have two weeks to let this one stew. If they want to make a run in the second half of the season, they're going to be more consistent and improve their special team's play. UND is ranked 32nd nationally on the power play and 46th on the penalty kill.
Shane Gersich Shines
So far this year, Fighting Hawks sophomore forward Shane Gersich has been red-hot. The Chaska, Minnesota native leads the Fighting Hawks in goals (13), assists (11), shots on goal (59), and points (24).
Gersich also leads the NCHC in goals and is tied for fifth in assists. On Saturday, he scored his team-leading 13th goal of the season. After 18 games, Gersich has scored 13 goals and 24 points and is a plus-12.
Right between the wickets. pic.twitter.com/FN531UkOo9

— North Dakota MHockey (@UNDmhockey) December 11, 2016
Finally, Gersich is ranked ninth in the nation in points and is averaging 1.33 points per game. Four of his 13 goals have come on the power play. Gersich also has seven multi-point games.