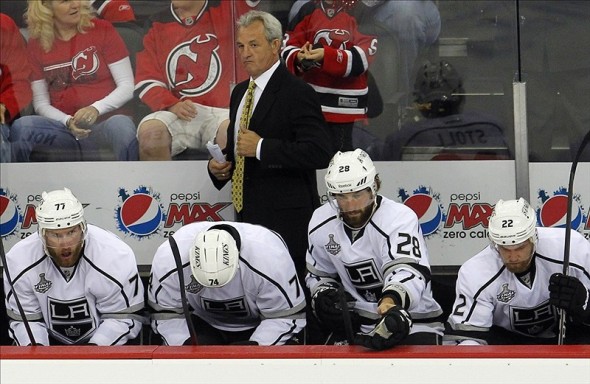 The Los Angeles Kings missed the playoffs for the first time since 2009, which could have been a blessing in disguise for several reasons. Soon after the Kings were eliminated from playoff contention fans came to terms with their team's fate and looked forward to the offseason, the Kings first extended offseason in quite some time.
Now with 16 teams still battling for a chance to lift the Stanley Cup, and the Kings not being one of them, we have no choice to but to look towards next season and what needs to be addressed during the summer.
1. Free Agents, Who Returns And Who Says Good-Bye?
Let's start with the musts. Tyler Toffoli and Martin Jones will both become restricted free agents this summer. They should probably be dealt with in that order. Toffoli has asserted himself as one of the league's future stars and should get paid accordingly. Jones has proven himself as a quality back up and could potential be a starter at some point of his career, but for now he'll likely stay in Los Angeles as he gets deeper into his young career.
Onto the unrestricted free agents. Andrej Sekera is a must, he is probably the most important re-signing that needs to happen this summer. With Robyn Regehr's retirement this makes bringing back Sekera even more important. If Sekera is lost to the free agency, that is two big holes to fill. Second, is Justin Williams. Williams is due for a pay-day, a pay-day the Kings likely can't afford. So the ball is very much in his court. Does Williams cash in, or take a pay cut to stay in Los Angeles?
Outside of those already mentioned, others set to become free agents this summer include Jarret Stoll (UFA), we'll get to him later don't worry, Andy Andreoff (RFA), Nick Shore (RFA) and Jamie McBain (UFA). All were regulars in the line-up this season.
2. The Legal Troubles.
As a General Manager there are a lot of things to look at during the offseason. Why didn't we win? Who do we want to draft? Who comes back and who doesn't? These are all things that run through a GM's head during the offseason. This summer Kings General Manager, Dean Lombardi is going to have to worry about the usual questions with the addition of the legal troubles of a select few of his players.
Slava Voynov's case has been a blotch on the Kings' season since it was reported by TMZ back in October. This was likely the first domino in what kept the Kings out of the playoffs this season. Their second best defenseman was suspended just weeks into the season and didn't play a game the rest of the year. How will this all play out? Will we see Voynov in a Kings jersey again?
Now to the most recent King having trouble with the law. Just a few days ago TMZ again released a report highlighting a Kings' run in with the law.  This time it was Stoll who was arrested after he was found trying to bring a baggy of cocaine and molly into a Wet Republic pool party in Las Vegas.
Stoll's return to the Kings was already up in the air. If he returned he was likely to take a pay cut. But with the recent turn of events he may be taking more of a pay cut than he originally expected, as in a complete pay cut.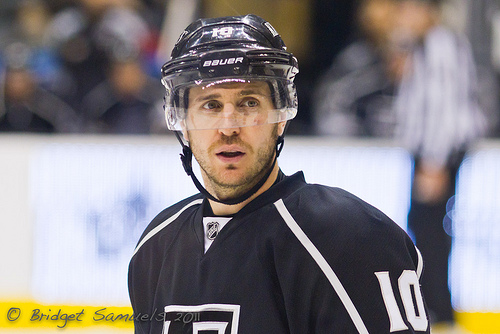 3. The Mike Richards Saga.
Richards has earned praise during his time in Los Angeles. The fans understand what he has done and the vital role he played in the two Kings' two Stanley Cup wins. But Richards' steady fall in production over the last few seasons has caused a fall from grace in the eyes of the Kings faithful and Kings management.
This season Richards' decline hit an all time low when he was demoted to the AHL, where his production wasn't much better. However, needing veteran presence for a late-season playoff push the Kings recalled him. How did Richards do? He was scratched for five of the 11 games he was called up for, and in his six games played he registered one assist and a minus three rating. Not the help the Kings were looking for, I'm sure.
Now Lombardi has hinted at the fact that buying out the remainder of Richards' contract is a possibility. But, depending on how the Stoll situation plays out, the Kings might need to keep Richards longer than they expected in order to fill a hole left at center by Stoll.
Eric received his BA in Journalism from California State University, Northridge. Eric has contributed to RinkRoyalty.com, Buffalowdown.com and California Rubber Magazine.