As many hockey experts expected the Colorado Avalanche regressed from their surprise success in the 2013-2014 season.  Instead of winning the Central Division title and finishing with over 100 points the Avalanche finished last in the division and missed the playoffs.  Most players came up short in production compared to the previous season and Nathan MacKinnon was no different.  When his season ended due to a broken foot, MacKinnon had 10 fewer goals and 15 fewer assists then his previous season that resulted in winning the Calder trophy for the leagues top rookie.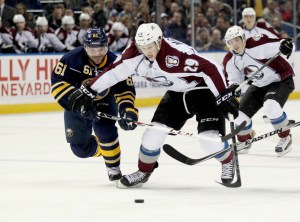 February 22nd, 2015
The highlight of the young stars season and maybe his career would come on the night of February 22nd at home against the Tampa By Lightning.  With the Avalanche down 1-0 and fighting for their playoff lives, MacKinnon rose to the occasion.   MacKinnon used his speed to come breaking into the zone before putting a backhand shot far side to tie the game.  The goal would send the Avalanche into the first intermission tied, instead of down by a goal.  When the second period began MacKinnon picked up where he left off.  Excellent positioning in front of the net allowed for MacKinnon to tip home a Ryan O'Reilly shot which put the Avalanche up 2-1 for their first lead of the game.  As the period played on the teams swapped goals, both off offensive zone turnovers, and MacKinnon felt like extending his teams lead.  A pass at the blue line sprung MacKinnon on a partial break away and he fired a wrist shot that beat the Tampa Bay goalie completing the first career hat trick.  Hats littered the ice from Avalanche faithful.  It was the only hat trick for the Avalanche all season.

The 2014-2015 season did not end as any Avalanche player, executive, or fan would have liked but different situations throughout the season show great promise.  Nights like the one MacKinnon had in late February, at only age 19, shows why the Avalanche drafted him first overall in 2013 and leads people to believe he is part of the long term plan for the Avalanche.
The Avalanche have some serious contract issues to sort out over this off season with players like O'Reilly and young defenceman Tyson Barrie.  After the avalanche take care of these contracts look for the Avalanche and MacKinnon to start discussing a new deal probably within the year.
I am a University of New Mexico journalism student who has been watching NHL hockey since 1996 and I started playing hockey myself in 2003. I have covered both college soccer and volleyball in the past and I also contribute to a NASCAR news website.