There are roughly 42 days until the University of North Dakota hockey team kicks off the 2015-15 season. On October 9-10, 2015, UND travels to Portland, Maine, to play in the 2015 Ice Breaker Tournament.
Looking at the roster, this season, UND is going to be a much younger team. UND will start the 2015-16 season with 10 incoming freshmen.
The older players on the team are going to have to pick up the slack until the freshmen get up to speed.
Counting graduation and early departures, UND lost 45% of their scoring from last season's team that went 29-10-3. If UND is going to make a return to the Frozen Four, someone on UND's roster is going to have to step up and fill the void.
Here are three UND players set to have big years in 2015-16.
Paul Ladue
After the 2014-15 season was over, the L.A. Kings wanted Paul LaDue to sign an entry level deal. After pondering the Kings offer for a couple of weeks, LaDue decided to return to UND for one more season. According to LaDue, it wasn't an easy decision for him to make.
"It was tough," LaDue said. "Obviously, L.A. is a good organization, it's nothing against them. I am excited to be working with them in the future. That was a dream since I got drafted. I feel like there's a lot more left for me here. Once I made the decision I never looked back."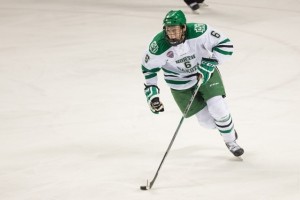 You can imagine that the UND coaching staff is pleased to have the veteran LaDue back in the lineup. During the summer, LaDue was elected to assistant captain and is the elder statesman on the UND blue line. The UND coaching staff will look to LaDue and the other upperclassmen for leadership.
Last season, LaDue had a career year in points scoring (5g-17a—22pts), that was good for seventh on the team in scoring, sixth among NCHC defensemen. Look for LaDue to add to those numbers, and if the stars align, this "could" be a breakout season the junior defenseman.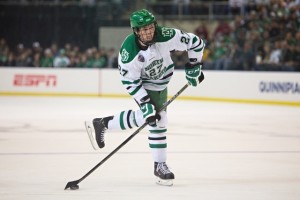 Luke Johnson
Last season, UND forward Luke Johnson had what you could classify as an up and down season. Even  though the Grand Forks native had a career year in points (11g-13g—24pts), he also held scoreless in 22 games. In the plus column, Johnson also posted four multipoint games and had two five-game scoring streaks. Johnson also has the propensity to take undisciplined penalties.
On the positive side, Johnson finished the year strong, scoring three goals in the last three games.  If Johnson can continue to play consistent, smart hockey he should add more points to the box scores.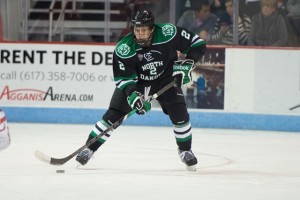 Troy Stecher
During Troy Stecher's two seasons at UND, he's been a steady, solid performer.  Stecher is an offensive minded, smaller bodied defenseman that plays smart hockey in all three zones.
This past summer, he had an opportunity to sign a professional deal but decided against it. Stecher was also listed by the USA Today as a college free agents who'd draw NHL interest.
Lucky for UND, Stecher is back with UND for another year.
One of Stecher's strengths has been his play on the penalty kill. Last year, Stecher scored three of his 13 points on the penalty kill.
Last season, Stecher scored (3g-10a—13pts) and that total would've been higher if he hadn't missed eight games due to a lower-body injury.
If Stecher had been healthy there's no doubt he would've had a higher point total. Look for Stecher to breakout season if he can stay healthy.
Eric is a 1996, 1999 graduate of the University of North Dakota. Eric covers the University of North Dakota Hockey and Division I college hockey. Eric is the Contributing Editor for Inside Hockey.