The long summer months are almost over and training camp is just on the horizon. The Arizona Coyotes have been waiting to get back on the ice and bounce back from a terrible 2014-15 season. There is excitement in the desert air as the younger talent in the organization starts to form the core of the team. A few of these players have already made their presence known at the NHL level, while several more await their opportunity to potentially earn a spot on the roster.
Oliver Ekman-Larsson
Oliver Ekman-Larsson has quickly transformed from a young prospect into a rising star. The Swedish defenseman has already become a key player on Arizona's roster and has proven to be one of the league's biggest offensive weapons on the blue line. The Coyotes were starving for goals all last season and Ekman-Larsson was behind a number of clutch scores, with seven of his 23 goals being game-winners. He also provided a scoring boost for Sweden during the IIHF World Championship back in May. If he can find a way to improve on last year, Ekman-Larsson might put himself in consideration for a Norris Trophy nomination this season.
Tobias Rieder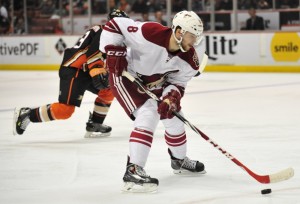 Tobias Rieder quietly had a decent rookie year in 2014-15. Rieder was sent down to the AHL before training camp ended last year, but he was called up in November and proved he was worthy of staying in Arizona. He put together 13 goals in 72 games, which was rather significant considering that no forward had more than 15 goals with the Coyotes last year. He also notched three short-handed goals, which was the most among all NHL rookies. Following an offseason that included participation in the IIHF World Championship for Germany, Rieder enters his sophomore campaign hoping to improve on his performance last year.
Max Domi
While the Coyotes floundered last year, Domi was making highlight reels in both the Ontario Hockey League and the World Junior Championships. Together with fellow Arizona prospect and London Knights teammate Christian Dvorak, Domi cracked the OHL's top 10 in scoring. He also helped Team Canada capture gold in the 2015 World Junior Championship along with Anthony DuClair, another Arizona prospect who was with the New York Rangers organization at the time. Now, Domi is looking to bring his scoring talents to the pros. He was invited to training camp last year before being sent back to his junior team. With another year of playing experience this time around, Domi is looking to earn a spot the opening night roster. It will be interesting to watch how Domi develops this season, whether it be with the Coyotes or down in Springfield or Rapid City.
Charles Woodall-Pike is a journalist who writes about the Arizona Coyotes for The Hockey Writers.