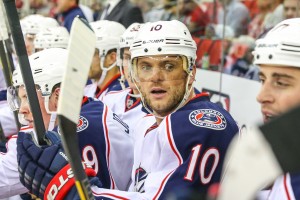 The Columbus Blue Jackets are ten games in to their 2013-14 season and so far they look very much like an average team. They are 5-5-0, owners of a 4th place spot in their 8 team division, and pretty much perfectly blah in every way: they certainly are not giving up too many goals, but they just are not scoring enough either to register as more than an also ran right now.
Now the Jackets have 10 games in a row against playoff teams from a year ago with 6 of them at home at Nationwide Arena. Although it might seem hasty to say so, these next 10 games might very well define whether the Jackets are true contenders or whether they will be looking at a lottery pick yet again. What follows is a series of mini-headlines that have defined the Jackets' season so far with a look towards the future.
Possession and Fancy Stats are Great, But Goal Scoring is Better
For many advance statisticians the Jackets were easy to dismiss as a playoff contender entering the season simply because they were so bad at possessing the puck last year (literally finishing 27th in Fenwick For % and 26th in Corsi For %). That's not without justification. The reason why we measure advanced statistics like Fenwick and Corsi is because they help us explain how teams actually come to win games: when teams possess the puck they score more, and when they score more, they win games, when they let the other team possess the puck, then they don't win games.
The team has made marked strides so far this year, although they have slunk back down to the bottom third of the league in their last pair of games entering Friday's contest with the Maple Leafs (both of which the Blue Jackets won handily thus enabling the team to let off on offensive pressure and play sound in the defensive zone) the team has posted a Fenwick % of 47.6% and a Corsi % of 48.5%, a significant 2% improvement. Of course, in all statistical analysis there is the concept of regression: extreme scores are unlikely to be sustained, as such they will regress towards the mean. You probably don't need me to tell you what the mean score is.
Although the Jackets have looked better at clearing their own zone and have been able to maintain a little bit of offensive zone time, it is unclear if they have actually turned the corner on possession or if the team is just sliding back to the mean after their unbelievably bad totals last year. Winning the possession battle over the next 11 games could do a lot to turn this team into a legitimate challenger.
Is Jack Johnson Becoming a Problem?
When we look at the Blue Jackets' possession stats so far nobody seems more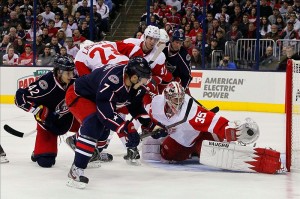 detrimental to the team than Jack Johnson. Generally regarded as the organization's best defenseman, Johnson has accumulated a poor -4 plus/minus rating this year, only boosted by a +3 against the Leafs on Friday. To make matters worse, he has not earned his awful rating because he's gotten all of his minutes with the team trying desperately trying to nurse one goal leads, in fact, by the narrowest of margins, the Blue Jackets have actually maintained positive possession with Johnson on the ice.
This only makes Johnson's Swiss Cheese rating that much worse. There's no question that when Johnson takes the ice during even strength bad things happen to the Blue Jackets (remember Corsi and Fenwick stats are typically only relevant in 5-on-5 conditions, players who go out for the power play are expected to outshoot their opponents at an insane rate while penalty killers are expected to have horribly low possession numbers while penalty killing, further, on average, for players who play both the PP and PK, as Johnson does, the two conditions should cancel each other out). Make no doubt, Johnson has long been a player who looks to play better hockey than his advanced statistics suggest, however, there are no advanced statistics needed now in order to understand that he, legitimately more than any other Blue Jacket player, needs to be better. Head Coach Todd Richards is going to seek to match Johnson against the likes of Corey Perry and Ryan Getzlaf, and Sidney Crosby or Evgeni Malkin in the next three games alone. If Johnson is going to continue to hemorrhage even-strength goals, it is hard to see the Jackets escaping with many wins against those teams.
Camsanity Captivating Columbus
Despite the lingering questions surrounding the Jackets' possession numbers, there are some very exciting takeaways from the first handful of games. Cam Atkinson in particular has been an absolute dynamo for the team. He's quickly earned a reputation for creating instant offense and his personal highlight reel has pretty well defined the highlights of the Jackets' season so far. With a little more consistency Atkinson could emerge as one of the most exciting players in the NHL.
http://www.youtube.com/watch?v=fxz9RqnyWPI
Marian Gaborik Playing Like Marian Gaborik
When the Blue Jackets made a trade for Marian Gaborik at the 2013 Trade Deadline, Gaborik was in the midst of the worst season of his career, statistically he was averaging his fewest points per game since his rookie campaign and no longer looked like the pure goal scorer who had twice previously posted 40 in a season. He looked to be slowing in his skating and forcing the puck without the same level of skill and finish that he possessed in the past. Nonetheless, this was the kind of marquee talent acquisition the Blue Jackets had never been brave enough to make in the past.
Now, 10 games into the new season, Gaby looks to be back to his old ways: he's totaled 10 points in the 9 games in which he's played including a team leading 5 goals. He's carried the offense while other players like Ryan Johansen and RJ Umberger have been somewhat slow to get into gear. Gaby's presence should only continue to pay dividends as he'll continue to draw top defensive assignments while allowing other players an opportunity to grow.
The Jackets have been a different team in their last 3 games: it will take efforts like the past 3 games to rise above the pall of mediocrity, if the team continues to play smart and in control, and get contributions from exciting offensive players, the team has a real chance to make this an interesting season indeed.
Andrew is a professional student earning his Masters at WVU. He enjoys craft beer and watching open wheel racing. Find him on Twitter: @andrewroman.