The Calgary Flames have made it official: rookie sensation Sean Monahan is here to stay.
The decision not to return Monahan to the juniors was based on his consistent play and maturity on and off the ice. Flames general manager Jay Feaster referred to Monahan:
"He's a 19-year-old going on 29 years old." – #Flames GM Jay Feaster on @Monahan20's maturity

— Calgary Flames (@NHLFlames) October 23, 2013
The conditions from Flames management includes Monahan agreeing to stay with billets. He's currently living with Jiri Hudler and his family. The last junior league player the Flames kept for an entire season was Kevin LaVallee way back in 1980.
MONAHAN'S STATS
Monahan is third in ice time among forwards and second in scoring behind Hudler. He already has six goals and three assists for nine points and 23 shots on goal in only ten games. At 6-foot-2 and 185 pounds, Monahan has the size to play with the big boys.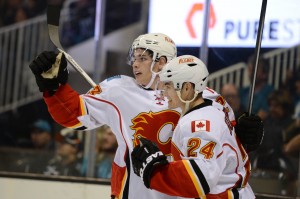 Coach Bob Hartley has played a big role in Monahan's success by giving the rookie plenty of ice time – an average of 14-16 minutes a game with a high of 21 minutes in Los Angeles. Hartley also puts him in key situations. Unlike many rookies, Monahan remains a centreman instead of being shielded on the wing as is often the case with rookies. In Phoenix, Monahan won 41 percent of his faceoffs.
MONAHAN: A HOCKEY DECISION
The Flames made the decision to keep Monahan without worrying about salary-cap implications or sliding contracts. It was a hockey decision first and not about burning the first year of his entry-level contract. Flames management and coaching staff made the call based on what is best for the development of Monahan and the team regardless of contract issues.
Monahan may be loaned to Team Canada for the World Junior Championship in December. That decision will be made after the Flames see how the rookie performs and where the team is in the standings.
Monahan's unexpected success and quick adaptation to the big leagues has made Calgary's future a little brighter. He will make mistakes but is eager to learn and improve. Many believe he has the skills and attitude to become a future captain of the Flames.
NEW ERA FOR FLAMES
Monahan may be the youngest Flame but he's not alone in the youth brigade. The Flames are finally injecting youthful blood into their lineup with up to eight players under the age of 25, a noticeable change from the past decade. Mikael Backlund, Sven Baertschi, Lance Bouma, and Joe Colborne join Monahan on the forward lines while T.J. Brodie is being paired with new captain Mark Giordano on the first line of defense. Forward Roman Horak and defenseman Chris Breen have also seen some game action.
There are plenty of solid prospects in the junior ranks or on the farm team in Abbotsford. Centers Max Reinhart and Corbin Knight, left-winger Michael Ferland and defensemen Patrick Sieloff (currently injured), Tyler Wotherspoon, John Ramage and Mark Cundari are just some of the young players waiting for a trip to the big league.
There will be growing pains in Calgary but allowing players such as Monahan to prove they belong in the NHL is a step in the right direction for the Flames.
The NHL regular season schedule was released on Friday. Check out our partners at TiqIQ for the best deals on Calgary Flames tickets for all 2013-14 games.
Mario now covers the Los Angeles Kings and writes other hockey features. He is an experienced journalist who has covered sports and entertainment in daily and weekly newspapers, magazines and online, including thedigitalbits.com/columns/inside-cinema. He is also the co-creator of The Gaffoos, www.gaffoos.com