The 2015 NHL Entry Draft is rapidly approaching and each team's war rooms are undoubtedly entangled in a mess of analytics and scouting reports as they try and sort out their respective futures. As the St. Louis Blues are seeking to shed some of their bulky contracts in favor of younger talent, the draft will present an opportunity to secure a promising future that will cost substantially less.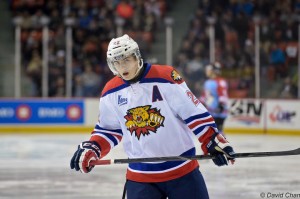 The Blues currently have the eighth-oldest roster in the NHL, and they are plagued by the fact that a number of underachievers on the team have cap hits in excess of $3.5 million. And while trades and calling up promising young prospects such as Ivan Barbashev should open up more than a few doors, the organization will have to make good use of the draft to solidify their future.
St. Louis is hurt slightly by the fact that their first round selection was transferred to the Sabres in the 2013 trade for Ryan Miller and Steve Ott, and Buffalo later bounced the pick to Winnipeg in exchange for Evander Kane. But while missing out on a pick in the most prominent round of the draft stings, the franchise will still have the opportunity to target a litany of promising young players who could fill in the roster in the coming years. It would be unreasonable to assume that all of these options will be available when the Blues' second round pick, number 56 overall, rolls around, but if any of them are present, they could make a near-immediate impact for St. Louis.
---
Nikita Korostelev – RW
Before the Ontario Hockey League season began, this Russian-forward for the Sarnia Sting was initially slated by outlets such as Hockey Prospect to go in the late first round. Through the end of 2014, he continued to boost his draft stock. In the first month of Sarnia's season, Korostelev tallied eight goals and nine assists for a total of 17 points across 12 games. He ultimately finished the season as the team leader in goals and points, with 24 goals and 53 points.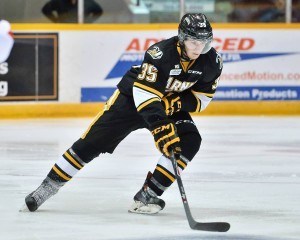 But his draft stock took a substantial hit in January when he suffered a
shoulder injury
 that knocked him out for the majority of the month. Upon his return in late January, he only mustered 17 points through the two full months of the season. Subsequently, most mock drafts have him
sliding into the second round
and almost into the
third
.
But this ultimately appears to be little more than a blip on the radar and has, if anything, enabled teams like the Blues a better chance at enlisting his services. Korostelev has remarkably strong puck possession skills, surprising speed and agility, and a natural scoring touch. He needs to develop more awareness on the ice when he is without the puck, but that is part of the natural development of a young scoring forward.
If this talented winger is to drop far enough so as to allow St. Louis a chance at taking him, it would be hard to argue otherwise. Watch the highlight video below for a lengthy look at his skill set.
---
Filip Ahl – LW
Standing at an imposing 6'4″ and weighing in at 214 pounds, this hulking Swedish winger has a game that could make an immediate splash in the big leagues. Ahl possesses an explosive shot "that on more than one occasion has seen a goalie ducking to get out of the way of it," according to Future Consideration's Scouting Director Dan Stewart. Coupled with his tremendous physical presence that allows him to steamroll defenders, this Swede has a desirable set of tools for any NHL club.
During his time HV71, a team in the J20 SuperElit, Sweden's highest level junior league, netted 20 goals and tallied 22 assists for a total of 42 points over the course of 34 games. He hurt his draft stock a bit following his promotion to the Swedish Hockey League, where he only managed two assists across 15 games. He continues to be slotted for selection in the second or third round.
But considering that he had earned a slot in Sweden's premier league at just 17 years of age and had performed so exceptionally against 20 year olds in the SuperElit, drafting Ahl would seem to be a sound investment. His size, physicality, and ice presence, coupled with a thunderous shot and skillful passing abilities, would make him a quality selection.
---
MacKenzie Blackwood – G
Vying for the services of MacKenzie Blackwood, the enormously talented goaltender of the OHL's Barrie Colts, will be a bit more of a long shot for the Blues. Odds are that a trade would be necessary in order to facilitate such a maneuver. However, this could be an ideal situation for the team.
Blackwood is the number one North American goaltender available in the upcoming draft according to NHL Central Scouting. This recognition has not been cheaply earned. The 6'4″ goalie has developed a reputation has being extraordinary quick and acrobatic. His aggressive style moves him to the edges of the crease, but he rarely finds himself out of position.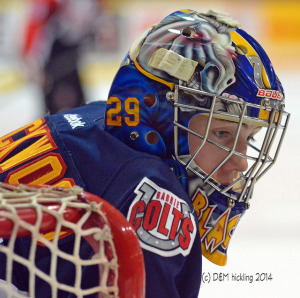 Furthermore, his mobility and sound technique allow him to snatch up rebounds that others might let leak out. For any team in need of a goaltender, Blackwood's name will certainly be near the top of the list. One team's name that has been listed alongside his quite often is the Edmonton Oilers, who have been plagued by weak goaltending for many seasons.
The Blues, however, could have a chance to lure the Oilers' 33rd overall selection away from them in the hopes of adding Blackwood. Using the 30-year-old Brian Elliott, who is coming off one of the strongest seasons of his career, and his $2.5 million cap hit as the primary bait, St. Louis could try and pawn a goaltender and a forward, potentially T.J. Oshie or Patrik Berglund, in return for the Oilers second round selection. This would allow the Blues to perform the much needed task of dumping some salary and solidifying the rights to an exceptional goaltender of the future, while delivering the Oilers with a goaltender that can succeed in the present in addition to a scoring forward to compliment their ever-improving roster. Both teams would seem to come out on top.
This move would, however, force St. Louis to have to resign and invest a lot of trust into Jake Allen for the near-future, but neither of those would seem to be unreasonable requests for the 24-year-old goaltender. He has proven to be solid for sections of the season, but he must be tested with a full-season at some point if he ever hopes to become an upper-echelon NHL goalie.
While this transaction would be significantly more possible if the Oilers were still in the hands of the infamously inept Craig McTavish, Chiarelli may still want to take a shot at making his team a more immediate winner. In that case, Blackwood could potentially be donning a Blues uniform in the near-future and the team's goaltending future will look exceptionally bright.
---
Ryan Pilon – D
With Jay Bouwmeester turning 32 in the fall and Carl Gunnarsson turning 29 shortly thereafter, the aging of the Blues' defensive corps is becoming an unavoidable problem. Of the highly paid blue liners, Alex Pietrangelo and Kevin Shattenkirk are still relatively young, but it can never hurt to try and prepare for a few years down the line when those two close in on the ages of Bouwmeester and Gunnarsson.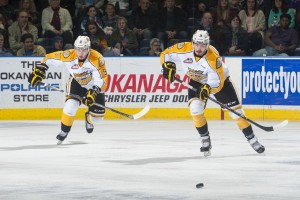 Of the realistically obtainable defenseman by the time that Blues will be on the clock, Ryan Pilon would be the franchise's best option. Widely considered to be one of the most intriguing defensive prospects available in the draft, the Saskatchewan native has excelled on the top paring of the Western Hockey League's Brandon Wheat Kings.
He is profoundly talented in defending against the rush, using his 6'2″, 212 pound frame and deceptive agility to cut off attacks with ruthless efficiency. He also can hold his own as a quarterback to an offense, thanks to his stellar ice awareness, underrated shot, and puck movement skills. His abilities in the offensive zone were highlighted throughout the 2014-2015 season as he scored 11 goals and earned 41 assists throughout the 68 games he played.
Pilon's game is not particularly flashy, but it is consistent and has its foundations in sound technical play. He is able to play a significant role on either side of the ice and would fit in well on any team, though St. Louis could be especially keen to grab a two-way defenseman who can direct their offense.
---
Who Will The Blues Choose?
The majority of projections suggest that St. Louis will be trying to select a forward with their second round selection, with Korostelev being the most frequently suggested targeted. That being said, the Blues have gaps, albeit not huge ones, to fill in almost all aspects of their roster. For this reason, it is not out of the question for the team to take a two-way defenseman or trade up for an additional pick to snag a goalie. If I had to bet, I would say that Filip Ahl is the team's best option considering his size and physicality. However, there will be almost no big surprises come draft day: this is a team that could pick in any direction.