The Toronto Maple Leafs and Detroit Red Wings have started their spring cleaning in earnest by completing a huge eight-player trade.  Principles in the deal are veteran stars Andy Bathgate, formerly of the Leafs, and Marcel Pronovost, who leaves the Red Wings for Toronto.
Bathgate, Harris move out
Toronto sends right-winger Bathgate, centre Billy Harris and minor-league left-winger Gary Jarrett to Detroit.  Coming back to the Leafs will be the veteran defenceman Pronovost, left-wing Larry Jeffery, centre Eddie Joyal, and a pair of AHL'ers,  forward Lowell MacDonald and defenceman Autry Erickson.
Andy's criticism of Imlach sealed his fate
The dealing of Bathgate by Toronto general manager Punch Imlach is no surprise.  Just a few short weeks ago Bathgate publicly blamed Imlach for Toronto's early exit from the Stanley Cup playoffs at the hands of arch-rival Montreal Canadiens.  Bathgate went on at length about how he feels that the Leaf GM, who doubles as the team's coach, is a harsh taskmaster who overworks his players.  The veteran star forward suggested that the Leafs left their best efforts wasted on the practice rink.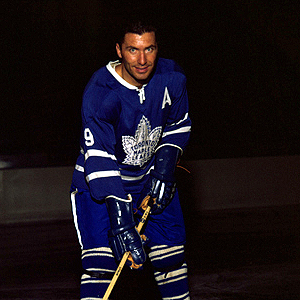 Those familiar with Imlach knew that he would not take this sort of insubordination lightly, and that Bathgate had sealed his fate in Toronto.
Bathgate performed well below his capabilities this season, scoring only 16 goals and 29 assists in 55 games.
Imlach: deal started as a one-for-on
Imlach refused to comment on whether Bathgate's criticism influenced his decision to peddle 1964's Stanley Cup hero.
"It started out as a one-for-one situation.  Then Sid and I decided we might as well make it a jim-dandy of a trade and he gave me five for three."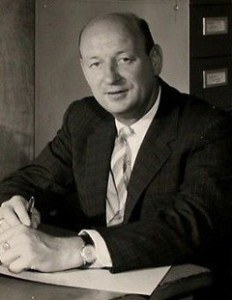 Imlach was happy to be able to give Harris a shot at regular NHL employment.
"This way he can stay in the NHL.  Also, I'm sure that we'll have the strongest roster in the NHL.   Pronovost is the fifth best defenceman in the world.  Jeffrey and Joyal are proven NHL'ers.  MacDonald could be a sleeper.  Erickson will also be useful."
Abel sorry to deal longtime friend
Abel was sorry to lose a former team-mate and loyal soldier in Pronovost. Many were surprised to see the veteran defender dealt away after only last week being named as one of a group of assistant player-coaches by Abel.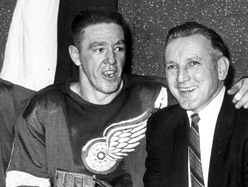 "I played with him and coached with him," Abel said.  "I had to give up a valuable player to get a player of the calibre of Bathgate."
Abel: Jeffrey never produced
"Jeffrey never produced what we expected of him but he is a good hockey player.  Joyal is still developing and when we had to give up farm hands like Lowell MacDonald and Aut Erickson, we had to pay a big price."
Abel feels that Gary Jarrett, just 22, might be the key to the deal.  He scored 27 goals and 29 assists for Tulsa of the CPHL in what was his third pro season.  While lacking in size, he is a swift skater with a good shot and a nose for the net.
Deal saved Harris' career
The deal may have saved Harris' hockey career.  "Hinky", as he is known to his team mates, had decided that he was not going to continue to play if he wasn't in the Leafs' NHL plans.  He scored only one goal and six assists in 48 games with the Leafs before being sent to Rochester of the AHL.  He scored 14 points in 11 games with the Americans.  He helped the Americans to a Calder Cup victory with 17 points in 10 playoff games.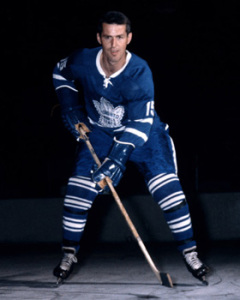 "My future in Toronto wasn't bright", said Harris when asked about the deal.  "I'd have felt that even if I hadn't been in Rochester.  I'd given up hope of ever playing regularly as long as Punch Imlach was coaching Leafs.  He'd made up his mind that I wasn't good enough.
"I understand that Detroit plans to use me and, if that's the case, I'll look forward to going there because I believe I'm capable of playing first string."
Heard trade rumours for years
Harris said that he has heard trade rumours for years, but that they always involved either Boston or New York, so going to Detroit is a bit of a surprise.
"I've observed the Detroit operation and it's a good one.  The management, I know, treats its men very well.  I like the system Wings play, using four lines and switching men around so everybody gets a lot of ice.
"Not only that, their practice schedule makes sense.  They don't work out very often during the season.  Leafs do, as you know.  Yet when I played my best hockey, I never practised hard.
"All things considered, I think I can play in the NHL for several season at Detroit,  I'd say my outlook has improved 1,000 per cent."
He agreed that the trade has likely prevented him from quitting hockey.
Pronovost big addition to Leaf blue line
Pronovost was obviously Imlach's main target.  At 34, he is the only player acquired by Toronto who is over 30, but he is by no means over the hill.  He will likely replace Allan Stanley on the Toronto blue line.  Rumblings around the league have Stanley retiring this season to consider several minor-league coaching opportunities.
Imlach sought Jeffrey for three years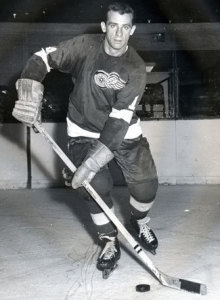 The hard-nosed Jeffrey is a player Imlach has tried to pry out of Detroit for the past three years.  He is just 24, but plays with the poise and savvy of a veteran.  He underperformed for the Wings this year with only 4 goals and 2 assists in 41 games, but he was slowed by a back injury and knee woes that had to be surgically repaired.
Speedy Joyal may surprise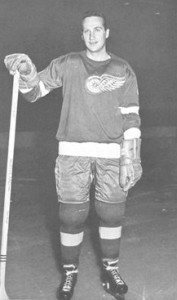 Joyal might be the surprise in the deal.  He is a speedy skater who generates scoring chances with his quickness alone. If he ever develops a scoring touch, he could easily be a 30-goal man in the NHL.  He scored eight times in 46 games with the Wings this season.
MacDonald, Erickson headed for Amerks
MacDonald was a high-scoring Hamilton Red Wing junior who hasn't been able to find himself as a pro.  He has scored well in the American League, but in trials with the Wings, he hasn't scored with any consistency.  In 64-65, he battled knee problems which slowed his game.  He'll likely start at Rochester.
Erickson, a former Bruin and Black Hawk, is a stay-at-home defenceman who was with Pittsburgh this season.  He is, like all the players acquired by Toronto, an above average skater who is destined for Rochester.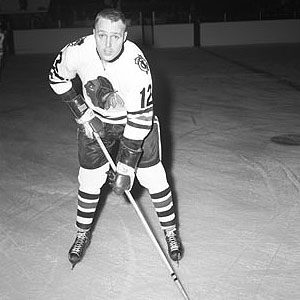 Abel not done
Abel indicated that this might be just the first of several trades he has been working on.
"Sure I want to make more trades and I've been talking to every club in the National Hockey League with the exception of Montreal.
"I'm interested in defencemen, left-wingers, and a goalie with NHL experience."
One rumour has Abel near a deal with the Bruins, who are believed to be interested in several Detroit players. The Wings were said to be looking at big winger Ab McDonald, who was a bust after being traded to Boston by Chicago last summer.