The Florida Panthers have an exciting mix of young guns and old veterans heading into the 2015-16 NHL season. Most Cats fans know the names of Jonathan Huberdeau, Aaron Ekblad, Brandon Pirri, and Aleksander Barkov, but there are more young players that could make an impact this season.
Since the Panthers didn't make a huge splash in the free agent market this time around, there will probably be spots available for younger players as the Cats head into training camp. We'll take a look at four young players who could be seeing a lot of the BB&T Center ice next year.
Lawson Crouse
We've already talked about what Lawson Crouse could bring to the Panthers. Crouse is not considered as NHL-ready as Aaron Ekblad was last year, so he's not a sure thing to make the team yet. His strong physical presence could force the Panthers to keep him, though. He could very well earn a third line spot on the team for at least the beginning of the year. If that happens, expect to see an exciting brand of high-energy hockey and plenty of glass-shaking hits from him.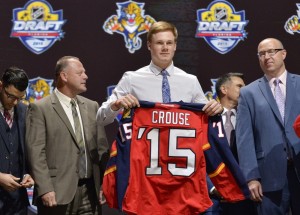 Due to his age, he cannot be sent down to the AHL's Portland Pirates–he will either be with the big team in Sunrise or back with his OHL team (the Kingston Frontenacs). If he does get sent down at any point, then the Panthers will be unable to bring him up until Kingston's season is complete. So if the coaching staff feels he's ready based on training camp, he would be more likely to stay longer compared to a player who can easily be shuttled to the AHL and back.
Quinton Howden
Center Quinton Howden has played some games with the Panthers already (18 games in 2012-13, and 16 games in 2013-14), but an injury held him to 33 games for the San Antonio Rampage in the AHL last season.
With the departure of Brad Boyes, and no contract offers coming for free agents Tomas Kopecky and Scottie Upshall, several offensive spots are now open.  If Howden is healthy, he could definitely start the season in one of those spots.
The one thing that has held him back so far is his lack of physical play. If he is able to step up his physical game, he has the talent and skill to play a second line role in the NHL. This could be his year.
Vincent Trocheck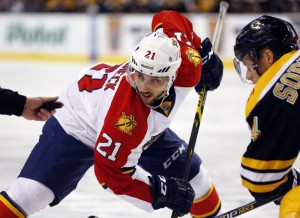 Already listed on the Panthers' official roster on their website, Vincent Trocheck did play 50 games for the Panthers last season, but wound up as a healthy scratch several games and was sent down to San Antonio for a time. Trocheck has always figured to play a big role for the Cats, though. In fact, SB Nation talked about how he compares favorably to Nick Bjugstad.
The main issue is that Trocheck is a natural center – a position where the Panthers have plenty of depth. If he wants to get more ice time in the NHL, he may be asked to shift over to the wing. Whatever position he plays, he will bring an unparalleled work ethic and a solid scoring touch.
Dylan Olsen
Defenseman Dylan Olsen is a bit of a long shot compared to the others on this list, mainly because the Panthers don't really have an open spot for him on defense any more. Aaron Ekblad and Brian Campbell will likely continue to be their first pair, and the other four spots will probably belong to captain Willie Mitchell, Dimitry Kulikov, Eric Gudbranson, and Alex Petrovic. Steven Kampfer also played his way onto the team last season, and could be the seventh defenseman on the Cats' roster.
Don't think that spells the end for Olsen, though. He underperformed last year, and it was revealed that he was dealing with unspecified "personal issues" as well. He still has a good upside, so it shouldn't be a surprise if he plays his way back onto the Panthers during training camp.
---
The next round of young guns will likely be getting their chance for the Panthers next season, and there's plenty to like here. There might be other names making a run at the NHL roster in September, though, so stay tuned.