The 2015 NHL draft is a month away (June 25th & 26th) in Sunrise, Florida.  It will be the Stars 23rd draft since moving to Dallas.  Draft day marks the culmination of a yearlong scouting effort.  While the 1st round garners most attention, often times it is a hidden gem in the late rounds that leads to organizational success.
The Stars have been fortunate to find some of their best players in the 5th round or later.  Today we will take a closer look at the 5 best late round selections in Dallas Stars history.
1.)  Jamie Benn
The Stars captain, and this season's Art Ross award winner, was drafted in the 5th round (129th overall) in 2007.  Benn certainly wasn't considered a "can't miss" prospect on draft day.  He played for the Victoria Grizzlies of the BCHL, a Tier II junior league.
Stars reporter Mark Stepneski wrote in a June 2012 article for NHL.com, "Central Scouting had Benn ranked 107th going into the draft, and that was among forwards and defensemen playing in North America. International Scouting Services, an independent ranking service, had him 154th.Another independent service, McKeen's, had him ranked 174th. The Red Line Report, which had ripped his skating, didn't have him listed among its top 300 players eligible for the draft."
"We're not sure if he's really that slow, or he just refuses to move," Red Line Report said in its 2007 Draft Guide.  To read the rest of Mark's story click here.
Shortly after Benn won the Art Ross award, THW contacted NHL analyst Craig Button to ask his opinion on why Jamie Benn went so late in the draft?
Button:  Development is important.  Jamie was raw and in early stages of his maturity. I say this all the time, vast majority of mistakes are in size. Overestimate bigger player and underestimate smaller or not physically mature player. Jamie had skill and brains & that translates to NHL. Same with Klingberg.  Have to look at attributes and not get caught up in what I call "tape measure scouting."
2.)  Marty Turco
The goalie with the most wins (262) and shutouts (40) in Stars history was selected in the 5th round (124th overall) in 1994.  He ranks 38th all time with 275 NHL career wins (just ahead of Kelly Hrudey and Bernie Parent and behind Tiny Thompson).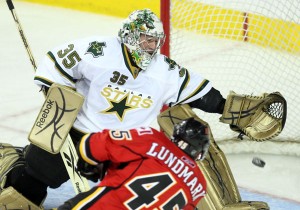 Turco was undrafted by the Ontario Hockey League.  Like Benn, it was in a lower tier league where Turco made a name for himself.  Turco played for the Cambridge Winter Hawks of the Greater Ontario Junior Hockey League in 1993-94.
Reporter Kristina Rutherford described the scene at Galt Arena Gardens where Turco shined for the Winter Hawks.  "It's where he got in his first goalie fight (he won) and where he opened the season by getting suspended (his family made the eight-hour drive from Sault Ste. Marie, only to see him booted). The long-time Stars netminder remembers walking up to the rink for the first time. "I didn't know of its historical place in this country," Turco says, "but I was like, man, this rink has so much character." The last game there was tough, he says, "leaving that team and that storied arena behind."
After being drafted, Turco continued to develop his skills at the university of Michigan.  He won 2 NCAA Championships with Michigan.
In the twilight of his NHL career, Turco also played briefly for the Chicago Blackhawks and Boston Bruins.
3.)  John Klingberg
It is hard to believe 130 names were called before Dallas drafted John Klingberg in 2010.  Another 5th round gem, Klingberg had a fantastic rookie season that somehow fell short of Calder trophy consideration.  Once the season ended, the Stars rewarded him with a 7 year contract with a $4.25M average annual salary.
John Klingberg doesn't get enough credit for how good he was as a rookie. If he played in a bigger market he'd be a household name.

— Todd Cordell (@ToddCordell) May 10, 2015
Stars scouts were actually checking in on the development of former Stars defenseman Philip Larsen when Klingberg caught their attention.  Larsen was a 5th round pick in 2008 and played on the same Swedish team (Frolunda HC) as Klingberg.
Following the draft in 2010 Richard Durrett
reported
the following feedback from the Stars scouting department-
Kari Takko, Stars European scout: "He started to come on at the second half of last year. His attributes are a lot like Philip Larsen's. He needs to fill out a little, but he's a good two-way defenseman."
Rickard Oquist, Stars European scout: "He's a two-way defenseman and he has some bite to his game. He's a good skater, mobile and moves the puck with ease. Big guy that needs some time to fill out."
4.)  Jussi Jokinen
The one time shootout specialist from Finland was a 6th round (192nd overall) pick in 2001.  As a Stars rookie in 2005-06, Jokinen made a strong impact skating mostly on a line with Mike Modano and Jere Lehtinen.  Jokinen played in 81 games (17g, 38a).  He also scored on an astonishing 10 out of 13 shootout chances as a rookie.
After spending his first two NHL seasons in Dallas, Jokinen has bounced around the league a bit (Dallas, Tampa Bay, Carolina, Pittsburgh and last season Florida), but has always been a productive NHL forward.  His career stats: 741 g (157g, 301a).
In a 2010 ESPN article E.J. Hradek put together a 2001 NHL Draft Redo which had Jokinen going 19th overall in the first round to the Boston Bruins.
Jokinen's shootout prowess has slowed down the last two seasons.  He was 2 out of 12 last season and 2 out of 9 in 2013-2014.  His career total is 35 out of 88.
5.)  Mike Smith
Smith didn't make E.J. Hradek's 2010 redo of the 2001 NHL draft.  However, I think if E.J. was doing another redo in 2015 Smith would be on his list.
Smith played for the Sudbury Wolves of the Ontario Hockey League. Smith had just concluded his first season as the Wolves starting goalie when the Stars selected him with the 161st overall pick in the 5th round in 2001.
He worked his way up the Stars minor league ranks before making the big club in 2006-07.  He backed up Marty Turco for two seasons before being traded to Tampa Bay in 2008.
Smith would make one more stop before earning a full-time starting job in the NHL. On July 1st 2011 Smith signed a 2 year deal with the Phoenix Coyotes.  In 2011-12 Smith won 38 games for the Coyotes with a brickwall-like .930 sv%. In 2013 Phoenix (now Arizona) would sign Smith to a 6 year deal worth $34M.
His career NHL stats include 161 wins 2.67 gaa .912 sv% and 27 shutouts.
Smith was the starting goalie for Team Canada's championship IIHF team in Prague earlier this month.  He also won a gold medal as a backup goalie for Team Canada in the 2014 Olympics in Sochi.
Subscribe to our Stars stories to get email updates every time a new story is published.
Ed Sarno is a Dallas Stars staff writer for The Hockey Writers. You can follow him on Twitter @Edtexmass09.