The Calgary Flames were the surprise success story of the National Hockey League in 2014-15. Despite a team lean on experience and high on youthful exuberance – and not much else except salary cap room – the club managed to make the post-season for the first time since 2009 and win a round for the first time since 2004. Excitement is high in the Stampede City, and Flames general manager Brad Treliving has quietly been working behind the scenes to keep the band together, so to speak, for the 2015-16 season.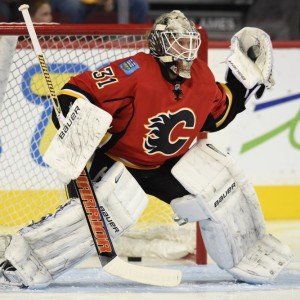 The real challenge for Treliving will rear its head next summer.
Heading into free agency are the following Calgary Flames players:
Unrestricted: G Jonas Hiller, G Karri Ramo, D Mark Giordano, D Jakub Nakadal, D Kris Russell, F Jiri Hudler, F David Jones and F Paul Byron
Restricted: G Joni Ortio, D Tyler Wotherspoon, F Johnny Gaudreau, F Sean Monahan, F Joe Colborne, F Markus Granlund, F Josh Jooris, F Drew Shore and F Bill Arnold
The four biggest names here, and arguably the guys most integral to Calgary's success, are Mark Giordano, Johnny Gaudreau, Sean Monahan and Jiri Hudler. The first three are locks for new deals from the Flames, and the team will likely do everything they can to retain Hudler – who's been a great asset on the ice as well as a tremendous mentor for his young linemates off of it.
But that means that Calgary's wiggle room, their ability to keep the band together and keep everybody happy, is going to go right out of the window. With that in mind, here are the five individuals that absolutely need to have big seasons in order to stay on Brad Treliving's radar when it comes to getting new contracts.
DAVID JONES
One of the few natural right wingers on the NHL roster, the 30-year-old Jones came over from Colorado and plays a physical two-way game. When he's been healthy, he's been very effective – his best stretch was playing on a line with Mikael Backlund and Lance Bouma. He hasn't scored a lot of goals in Calgary, and his $4 million cap hit is a product of him signing a new deal with the Avalanche right after back-to-back 20-goal seasons. With Calgary's cap structure, I can't see him making the same money for the Flames in the future. But if he's willing to take on a deal similar to Lance Bouma's recent $2.2 million-per-year extension, Jones could be a good fit.
JOE COLBORNE
It's hard to say what Joe Colborne is at the NHL level because he's been a bit erratic since joining the Flames. He's played both right wing and center, but seems more comfortable on the wing as his defensive game isn't amazing yet and his face-off numbers are inconsistent. That said, Colborne's a big player who only occasionally remembers that he's 6'5″ and north of 210 lbs. He's been a fixture on Calgary's bottom six for the past couple of seasons, but didn't look out of place in the playoffs playing a physical game alongside finesse players Mikael Backlund and Sam Bennett on the team's second line. If Colborne can bring some consistency, he's a great fit on the Flames. However, the farm system is developing several physical, right-shooting forwards, and many of them are likely to be cheaper options than Colborne going forward. It's up to Colborne to cement his spot in 2015-16.
KRIS RUSSELL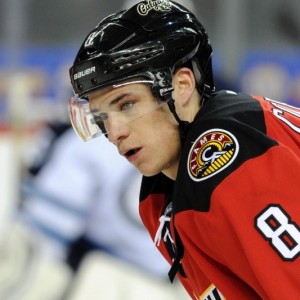 The good news is that Kris Russell set the NHL's single-season record for blocked shots in 2014-15. That's also the bad news, as he had some of the worst possession numbers on the team and spent a lot of time in his own zone. Playing with Dougie Hamilton rather than Dennis Wideman is likely to help him out, but it's also likely to make decisions tougher for the Flames. Russell is a talented, heart-and-soul player, as signified by him serving presently as an alternate captain. However, the Flames have a lot of money tied up in T.J. Brodie, Dougie Hamilton, Dennis Wideman, Deryk Engelland and Ladislav Smid currently, and Mark Giordano will almost definitely have a contract extension signed before the 2015-16 season begins. So unless the Flames can rid themselves of some salary on the blueline – and good luck with that, as it'd have to be one or more of Wideman, Engelland or Smid leaving – I cannot fathom how the Flames can afford to give Russell even the same $2.6 million deal he's enjoying right now. But I also don't foresee the team parting ways with him, either.
A situation to keep an eye on throughout the next few months.
JONAS HILLER & KARRI RAMO
The Flames caused a few head-scratches amongst their fanbase this summer by retaining both their goalies amidst speculation that one or both men could be playing elsewhere in 2015-16. Combined, the dynamic duo helped return the Flames to the post-season in an arrangement that saw Flames coach Bob Hartley riding a netminder until they got cold, then switching goalies.
Combined, the pairing amounts to an $8.4 million cap hit. With Joni Ortio waiting in the wings and NCAA stand-out Jon Gillies getting his feet wet in the AHL this season, there's a good chance the Flames will try to save some money by sending one of their veteran goalies elsewhere and moving a youngster into the NHL fold for 2015-16. They're likely hoping that both Ramo and Hiller get hot this year and give them some assets to work with next summer, but they also really would like some semblance of stability in goal going forward.