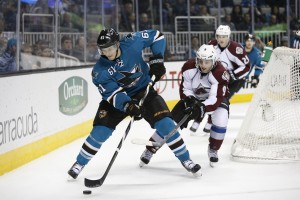 The San Jose Sharks struggled offensively and defensively in 2014-15. Missing the playoffs for the first time in 12 years was a product of both the inability to score at even strength and to keep the puck out of their own net. San Jose had a difficult time stopping opponents both at evens and on the penalty kill.
Of course preventing other teams from scoring is a team-wide issue and forwards aren't to be let of the hook. However, lack of quality defensemen is the bigger issue moving forward. San Jose saw tremendous growth from rookie forwards Chris Tierney, Melker Karlsson, and Barclay Goodrow. Plus both Tomas Hertl and Matt Nieto should be better in their third years next season. There is a lot to like about the makeup of the Sharks at the forward position.
On the blue line though there is at least one big hole in the top-four behind Marc-Edouard Vlasic, Brent Burns, and Justin Braun. Neither rookie Mirco Mueller nor Brenden Dillon played well enough to earn top-four minutes. Mueller should probably start this coming season in the AHL and Dillon on the third pair. That leaves the Sharks with two top-six defense spots to fill. One on the second pair and one on the third pair. They should look at the following free agent defensemen to fill those gaps in the lineup.
Cody Franson
Traded mid-year from the Toronto Maple Leafs back to his former club, the Nashville Predators, Cody Franson had a bit of an odd year. He was actually strong for a bad Leafs team but then got stuck in a log jam of defensemen in Nashville. His ice time and underlying numbers weren't what one would have expected but considering the Predators already had Shea Weber, Roman Josi, Ryan Ellis, Seth Jones and Mattais Ekholm on defense, it was an odd acquisition.
Considered a solid top-four puck moving defenseman, Franson is bound to get a multi-year deal in the $5-6 million range. The Sharks have the cap space to sign the soon to be 28-year-old but is he really worth that kind of money? A five-year deal takes Franson to around 32-33 which isn't old at all. Length-wise in this case isn't a huge deal but is he worth Brent Burns type money when his career high is just 37 points?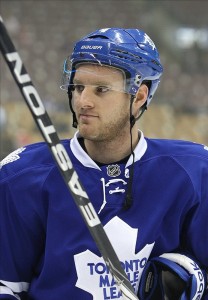 With the Salary Cap going up, a $5-6 million deal for Franson's services is actually a fair one for whomever signs him. Playing more minutes for an improved team, Franson is likely to score in the 40-50 point range. His career high may be just 37 points but Franson rarely misses games. He played in 79 and 78 games the past two seasons and 45 out of 48 games in the lockout shortened season. Not to mention he scored 29 points in those 45 games, an 82-game pace of 53 points. Unlike the other top free agent defenseman available in Mike Green, Franson doesn't have the same level of injury concerns.
As a right-handed shot, Franson would give the Sharks three strong right-handed puck movers, one for each pair. Or they could then move Burns back up to forward where he belongs.
Christian Ehrhoff
A few weeks ago I mentioned the Sharks should go after Christian Ehrhoff in free agency. The former Shark is coming off a disappointing one year stint with the Pittsburgh Penguins in which he settled for a one-year deal for $4 million. Known as a big offensive contributor, the 32-year old finished with just 14 points in 49 games with the Penguins.
Despite the low point total and low amount of games played, Ehrhoff finished third among Penguins defensemen with a terrific 57.6 goals for percentage. That was higher than both Olli Maatta and Kris Letang. Ehrhoff's Corsi-for percentage was significantly lower but still respectable at 51.4 percent. Still thought of by many Sharks fans for only being able to shoot the puck wide of the net, Ehrhoff is a quality two-way defenseman that shouldn't break the bank.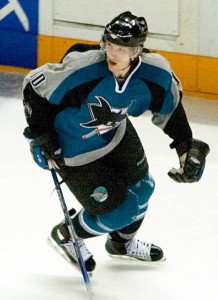 You have to be strong in your own end to have that high a goals-for percentage when only controlling slightly over 50% of the shots. Ehrhoff is underrated defensively and on paper is an excellent defense partner for Justin Braun. Both these guys can skate, they match up well with Ehrhoff being left-handed and more offensive and with Braun being right-handed and more defensive minded.
Given the Sharks want to go young and have Mueller and Jeremy Roy as top prospects, going after Ehrhoff makes sense. Signing him to a cheaper deal, in terms of both cap and length (two-year deal at $8 million total), than what they would have to give Franson would be ideal free up space for younger players down the line.
Andrej Sekera
Traded from the Carolina Hurricanes to the Los Angeles Kings at the trade deadline last year, Andrej Sekera is a highly sought after free agent to be. A swift skating left-handed puck mover would also be a great fit next to Braun on a second pair. Sekera is more like Franson than Ehrhoff though, in that he should command top dollar and term due to his recent performances. The just turned 29-year old had a career high 44 points in 2013-14 but scoring isn't the only thing he does well. Alleviating forechecking pressure and starting clean breakouts is a special skill of the long time Buffalo Sabre.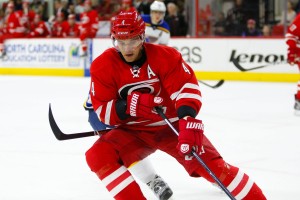 While he only scored 23 points between Carolina and Los Angeles this past season, Sekera should see big money in the $4-5 million range over four or five years. He is certainly worth that kind of money but the same thing applies as with Franson.
Do the Sharks want to commit a long term contract to a veteran looking to cash in when they have young defensemen arriving in the near future? San Jose has plenty of cap space but there is always some risk in long term deals from the team perspective. Players want extra term because of possible injuries; teams want shorter term for that same reason. Sekera would be a nice addition at the right price but the Sharks should probably go with shorter term solutions.
Johnny Oduya
Speaking of shorter term solutions, Johnny Oduya is an extremely interesting option. The 32-year-old is coming off a tremendous playoff where he was one of the top-four defenseman that carried Chicago to the Stanley Cup. Oduya was making just $3.3 million with the Blackhawks and will certainly get a pay raise this offseason. How much he will get in term and cap is hard to predict though. Teams willing to give him three to four years are probably looking to get him at around $4 million per season. That is the type of deal I would hope the Sharks stay away from since Oduya will be 33 to start next season.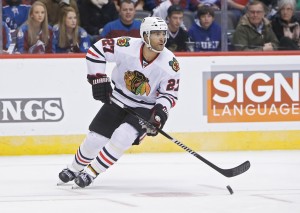 That said, with Oduya being such a highly touted top-four defenseman, the Sharks could go after him in a somewhat unique manner. They could choose to try to entice him with a huge pay raise but only a two-year deal. While signing him to four years is not the ideal team contract, he is almost a sure thing to be absolutely awesome again next year.
With San Jose having plenty of cap space, offering a two-year deal worth $10-11 million total would be a smart business move. The Sharks can afford a $5.5 million cap hit for Oduya and most defensemen continue to be pretty good at 33-34. It may sound like an overpay, but the short length of the deal makes it a win for the Sharks. Oduya would be fantastic as either a shut-down pair with Braun or as an offensive-defensive duo with Burns.
Zbynek Michalek
Like Ehrhoff, long time Coyotes defenseman Zbynek Michalek isn't highly sought after these days. The 32-year-old played in just 68 games last season between Arizona and St. Louis. After being traded to the Blues, Michalek was on their third pair, which is likely where he fits in on most teams going forward. The Sharks have the cap space though if they think Michalek is the guy they would like to have on a third pair.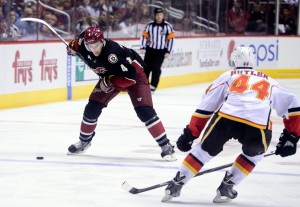 Michalek is coming off a deal with a $4 million cap hit. At most, the veteran shut down defenseman will find a suitor to pay him that same type of deal. Given declining performance and age, perhaps he will sign for a significantly lower average salary. Cap hit shouldn't be a big concern for the Sharks though, after all they were reportedly interested in giving up a high draft pick for Kevin Bieksa. The Canucks defenseman is also thought of by many as a third pair caliber defenseman at this point in his career. He comes with a $4.6 million cap hit.
If the Sharks are looking to add a solid shut down right-handed defenseman to play third pair minutes opposite left-handed guys like Dillon, Mueller, or perhaps Matt Irwin, Michalek is a better choice than Bieksa. The cap hit won't be as high and they won't have to give up a valuable second round pick. Signing Michalek probably requires a second year on the contract (one year deal would be great, but that was probably over optimistic of my previous article) but far better to give Michalek a second year than give up a second round draft choice for Bieksa.