The Nashville Predators took a leap forward in the month of February, now sitting securely in the top wild-card spot in the Western Conference. The Predators looked like they finally put it together with Pekka Rinne starting to play like his old self again and the rise of Filip Forsberg.
Nashville also rounded out the month with some important wins against divisional opponents like Chicago and St. Louis and has at least a point in 10 straight road games.
The month of March provides more pivotal games for the Predators, as they sit eight points out of third place in the Central Division behind the Blues. It may look like a tall order, but Nashville's inspired play has given the Preds an outside shot at claiming the last automatic playoff spot.
Here are five games that Nashville fans should check out in March.
March 5 at Colorado
Time: 3 p.m. ET
TV: Fox Sports Tennessee; Altitude
Season series: Colorado leads 2-0 (Won 3-2 at NSH Dec. 12; 5-3 at COL Jan. 8)
Why you should watch: The Predators were doomed by bad starts in both losses, as the Avalanche scored twice in the opening period of each game. Nashville has surged ahead of Colorado for the No. 1 wild-card spot, but Colorado has gone all-in to make it back to the postseason.
RELATED: Colorado's Deadline Day Statement
Nashville has cured itself with wins over divisional opponents but has not found a way to beat Colorado. The two teams play again in Nashville on March 28, but this game will be a good gauge to see if the Predators can continue their winning ways on the road.
March 18 at Washington
Time: 7 p.m. ET
TV: TVA, Fox Sports Tennessee; Comcast Mid-Atlantic
Season series: Washington leads 1-0 (Won 5-3 at NSH Feb. 9)
Why you should watch: It's pretty much the same reasons listed in last month's game to watch. Any time the Predators play against their former coach, Barry Trotz, it's worth keeping an eye on. The Capitals are also miles ahead in the race for the Presidents' Trophy.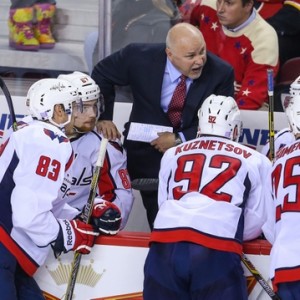 The game will also be the second of a back-to-back, with a game against the Islanders at Bridgestone Arena on March 17.
March 21 vs. Los Angeles
Time: 8 p.m. ET
TV: Fox Sports Tennessee; Fox Sports West
Season series: Los Angeles leads 2-0 (Won 4-3 in OT Oct. 31 at LAK; 2-1 in OT Feb. 20 at NSH)
Why you should watch: The two teams have played some pretty exciting games this season, as the Kings have provided the Predators with two of their league-leading 10 OT losses this season.
The first game on Halloween saw a little of everything as both teams rallied before Jeff Carter ended it late in overtime.
This could serve as a first-round playoff preview as Nashville holds the first wild-card spot and Los Angeles is tied with Anaheim for the lead in the Pacific Division on points. The Kings could come out as the division winner and set up a showdown with the Predators.
March 26 vs. Columbus
Time: 8 p.m. ET
TV:  Fox Sports Tennessee; Fox Sports Ohio
Season series: Columbus leads 1-0 (Won 4-0 at CBJ Nov. 20)
Why you should watch: This will be the first game between the clubs since the big Ryan Johansen-Seth Jones trade. The deal has helped revive the Predators' playoff hopes as Johansen has settled into the No. 1 center role. Jones has a goal, 11 assists, and a plus-2 rating in 23 games with the Blue Jackets. The young defenseman loved his time in the Music City and will get a good ovation.
Nashville was in the midst of a goal-scoring funk when Columbus pulled off that shutout, but the offense is rolling along now.
March 29 at Dallas
Time: 8:30 p.m. ET
TV:  Fox Sports Tennessee; Fox Sports Southwest
Season series: Dallas leads 2-1 (DAL won 5-1 Jan. 31 at DAL; 3-2 OT Feb. 15 at NSH; NSH won 5-3 March 1 at NSH)
http://gty.im/468687786
Why you should watch: The Predators' recent winning streak has included victories over divisional opponents. The most recent win over Dallas tied a franchise record with five consecutive wins. Another win over the Stars would be a great way to cap the month.
Other Games to Watch for the Nashville Predators in March
Vs. Vancouver (March 12 at VAN; March 24 at NSH); Vs. New York Islanders (March 17); At Pittsburgh (March 31 at PIT)
Were the games that were missed? Please comment below.
Dan Mount is a Nashville Predators staff writer for The Hockey Writers. You can follow him on Twitter, @DanMountSports.