The month of January saw a lot of changes for the Nashville Predators. The team slumped out of a Western Conference playoff spot and finally got a front line center in Ryan Johansen from the Columbus Blue Jackets.
There were injuries and concerns about whether goalie Pekka Rinne was playing too much. However, the team ended the month with a successful four-game Western Canada road trip that put them back in a wild card spot.
Nashville ended the month being part of hockey's All-Star Game, but now the business of having playoff stability is at hand. The Predators lost a 1-0 heartbreaker to the St. Louis Blues in the first game back from the break, and a 6-3 loss to the Philadelphia Flyers on Thursday.
Holding on to that spot won't be easy. Here are five games that Predators fans should watch this February.
Feb. 9 vs. Washington Capitals
Time: 8 p.m. ET
TV: Fox Sports Tennessee; Comcast Mid-Atlantic
Season series: First meeting this season
Why you should watch: Washington is one of the best teams in the league and is trying to stay in the race for President's Trophy. It's always a big moment when former coach Barry Trotz comes back to town. He got a great reception when he came back to Bridgestone Arena for the first time as an opposing coach. (He also got a lot of cheers when he came back for the All-Star Game last weekend.)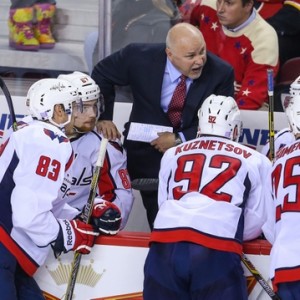 RELATED: One Year Later: Trotz, Predators Both Thriving After Separation
Last year's game in Nashville was one of the best one's of the year as the Predators held off the Capitals and won thanks to James Neal's late goal. We could be in for another treat if it lives up to last year's matchup.
Feb. 13 at Florida Panthers
Time: 7 p.m. ET
TV: Fox Sports Tennessee; Fox Sports Florida
Season series: Florida leads 1-0 (Panthers won 2-1 Dec. 3 at Nashville)
Why you should watch: This is will be the backend of a Sunshine State road trip, and the Predators face a Panthers team that's turned a lot of heads. Veterans like Roberto Luongo and Jaromir Jagr have turned back the clock while youngsters like Aaron Ekblad are ahead of schedule.
Florida finally ended a long losing streak in Nashville in the Dec. 3. A win against the Panthers would be another good measuring stick victory for Nashville.
Feb. 15 vs. Dallas Stars
Time: 8 p.m. ET
TV: Fox Sports Tennessee; Fox Sports Southwest
Season series: Dallas leads 1-0 (Stars won 5-1 on Dec. 31.)
Why you should watch: It will only be the second time this season that the two clubs will meet this season. The two teams meet three more times after this date, so the Stars and Predators will get to know each other a lot better soon.
http://gty.im/468634188
Dallas was one of the hotter teams in the league when they routed Nashville on New Year's Eve. However, Chicago has passed Dallas in the standings and the teams are very different. Nashville has more offensive skill than the last time the two teams met, and Dallas has struggled on defense last month.
Feb. 25 at Chicago Blackhawks
Time: 8:30 p.m. ET
TV: NBCSN; Comcast Chicago
Season series: Chicago leads 3-1 (Blackhawks won 4-1 Dec. 8 and Jan. 19; won 3-2 Jan. 12; Predators won 5-1 on Dec. 10).
Why you should watch: Chicago is the team that Nashville fans love to hate, and this is the last meeting between the two sides in the regular season. The team that has scored first has won all four games this season. It will be a key for the Predators to get that opening goal. Points here would help out in a potential first-round playoff preview. It's also a nationally televised game on NBCSN.
Feb. 27 at St. Louis Blues
Time: 3 p.m.
TV: Fox Sports Tennessee; Fox Sports Midwest
Season series: St. Louis leads 4-0 (Blues won 4-0 (Nov. 7); 2-1 (Dec. 17); 4-3 in OT (Dec. 29); 1-0 (Feb. 2))
Why you should watch: The Blues have a hold on the Predators by winning the first four games of the season series. However, the last three games were decided by a single goal. This will also be the last time the two teams meet in the regular season. Nashville getting a win here could help their confidence for a possible first-round series.
Other Nashville Predators Games To See in February
Feb. 12 at Tampa Bay; Feb. 20 vs. Los Angles.
Dan Mount is a Nashville Predators staff writer for The Hockey Writers. He is found on Twitter @DanMountSports.
Covered hockey since attending SUNY Oswego in Upstate New York in the early 2000s. Has written about college, major junior and professional hockey for the last five years.
Resides in Watertown, NY.