The Sharks were supposed to be an improved team this year. As noted in plenty of places, they are not an improved team. The most notable place they are not improved is their record. Still, there is good news and it is worth covering as we enter the heart of the season. In getting to the top five, there were a couple of close calls. Joel Ward was the closest call, with Brenden Dillon not far behind. In Ward's case, the expectation was high, but no one expected he'd be second on the team in even strength scoring. With Dillon, the expectations were more modest as he was coming off a season where he was minus-11 in 60 games with San Jose. Dillon looks a world better and is a plus player so far this year, despite playing mostly with partners that are borderline NHL players. I'll get to the concerns in the next article, for now, time to look at some good news.
Joonas Donskoi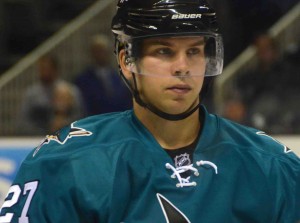 Talk about starting at the top! Donskoi fell into the right role to begin his NHL career, on the top line with Joe Thornton and Joe Pavelski. While he hasn't stayed on the top line, in 29 games, Donskoi has shown why he deserves an everyday roster spot. His 12 points at even strength are tied for fifth among the teams forwards. Donskoi has been shuffled around the line-up in the past month. My sense is Sharks coach Peter DeBoer is moving him around to help other struggling players break out of their slumps. This could be the reason he went minus-6 so far in December. At 23, Donskoi is a bit on the older side for a player making his NHL debut; it seems that added maturity is helping him. He looks comfortable at the NHL level, with an all-around game that few rookies possess. He is an asset for the Sharks that should continue to improve as the season goes on.
Penalty Kill (PK)
Last year, the penalty kill was a problem. The start to this season was not particularly good either, with the team giving up ten PK goals in the first 13 games. But at long last, things fell into place and the team has surrendered only six man-down goals since then. The Sharks PK has allowed just two goals over the past 10 games despite being down a man 29 times. Over the years, the Sharks have tried to be penalty averse to limit power play chances for their opponents. As long as this penalty killing run holds, the Sharks can be more aggressive in 5-on-5 play since penalties are no longer the problem they were in the early part of the year. It is the right place to be on the risk-reward scale and the Sharks should take advantage of it.
Joe Pavelski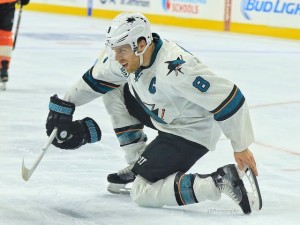 The new captain is doing what captains should do, leading by example. Pavelski has been terrific in all aspects. For putting up numbers, it certainly helps to be on a line with future Hall of Famer Joe Thornton. It helps, but it is not why Pavelski is a bright spot. Pavelski's reputation has been to make others around him better and that is again the case this year. Couple that with his ability to finish around the net and well, the Sharks have themselves a terrific player wearing the 'C".
Dainius Zubrus
Zubrus was not on the Sharks to begin the season; he was not on any NHL roster. DeBoer was familiar with Zubrus from their time together in New Jersey and was key in the decision to offer Zubrus a tryout. One thing the Sharks did not seem to need was another older piece to a roster with plenty of older players. But right around Thanksgiving, the Sharks added the 37 year-old Zubrus to their roster. It has worked.
Zubrus makes sense for this team. He plays a strong all-around game and can be counted on to be in the right place at the right time. While his speed is modest, he plays an efficient game. Zubrus spent most of his career as a top six forward, he understands how to play with high-end talent. Getting Zubrus to the top line was essentially an accident. When the player slotted to play on the top line was a late scratch, DeBoer moved Zubrus up from the fourth line to the top line. On a line with Thornton and Pavelski, he provides a substantial physical presence and an instinctive understanding of how best to compliment the others. In his past five games, Zubrus is a plus-5. Having Zubrus take that top line role should allow the Sharks to ice a more talented group on the lower lines. Which is something this team desperately needs to do.
As mentioned earlier, the penalty kill has come around. It is not a coincidence that Zubrus has played a role in it. He is one of six Sharks forwards averaging over one minute of PK ice time per game. Opposing teams have yet to score against the Sharks with Zubrus on the ice for the PK. Zubrus fits this team extremely well.
Martin Jones
Sharks goalie Martin Jones was a runaway hit — for four games. But then reality returned and Jones has come back down to earth. Still, Jones has been an improvement over last season's goaltending starter, Antti Niemi. Jones' save percentage is a respectable .916.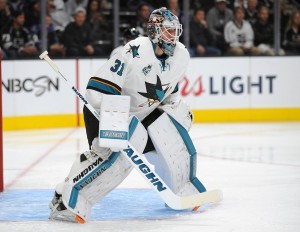 Importantly, Jones is tough to beat when the Sharks put a few goals on the scoreboard. Of his 10 losses in regulation, seven have come when the Sharks only score 1 goal or less. When San Jose scores 3 or more goals, Jones is 11-0-2.
Jones salary cap hit of $3 million per year is a bargain. It is a bargain that will hold for two more years after this one. Of the 15 NHL goalies currently with 13 or more wins (Jones has 15 wins), only Jake Allen of St. Louis makes less. Nine of those 15 goalies have cap hits exceeding $5.5 million. Of that 15 goalie group, only Allen and Jones are below $4 million cap hit. Excluding Allen and Jones, the average cap hit exceeds $6 million. Anyway you cut it, Jones is a bargain.
Whether Jones can carry the load of a top goalie is still unknown. His back-up, Alex Stalock, has not inspired confidence. This had led to speculation that Jones will play north of 65 games, a heavy load for any goalie, let along one in his first year as a full-time starter. He is slightly ahead of that pace. All in all, getting solid goaltending for a bargain price with a distinct upside potential is a good thing for the Sharks. Martin Jones is on the right track.