The San Jose Sharks have won their first three games of the season by scores of 5-1, 2-0, and 5-0 (two empty net goals). To be cliché, "Team Teal" is firing on all cylinders. They are rolling four lines, committing to the defensive aspects of the game, and lets just say I've decided to refer to Martin Jones as Indiana Jones. San Jose's No. 1 netminder has played all three games and allowed just one goal. His shutout streak stands at 178 minutes and change.
Not often does a goalie go into a game with a .979 save percentage and increase it, but Martin Jones just did.

— Andrew Bensch (@BenchWarmerView) October 14, 2015
Martin "Indiana" Jones
What more can you say about a goaltender sporting a .987 save percentage after three games? The only puck to get by him into the net (and count on the scoreboard) was a point shot redirected in midair right outside the crease. There's nothing he could have done on that one. Since then, he has simply been unbeatable. At six-foot-four, Jones leaves little room to shoot upstairs even after dropping down to the butterfly. His positioning has been impeccable and those long legs make it easy for him to push across the crease. This save on Tyler Toffoli at the end of the period was an amazing stop, but Jones made it look easy. Obviously, the 25-year-old goaltender will eventually come down from this super-duper start, but nobody should be surprised if Jones finishes with a .921 save percentage or better this season. He came into this season (granted in limited action) with a career NHL mark of .923 and in a large sample of AHL games he posted a .922. The track record suggests a goaltender with a well above average ability to stop pucks.
Commitment to Defense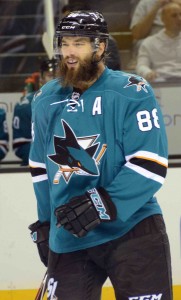 Jones has made a number of Grade-A saves through the first three games but at the same time he hasn't been asked to do too much for the most part. Newcomer Paul Martin and Brent Burns have been excellent as the second pair behind the shut-down duo of Marc-Edouard Vlasic and Just Braun. Despite a tendency to leave his feet defensively, Burns has shown to be much, much better away from the puck through these first three games than he was last season. It certainly helps to have a stud defensive defenseman next to him in Martin but in his own right, Burns has been making fewer mistakes. The third pair of Brenden Dillon and Matt Tennyson has also been solid in their limited minutes. Tennyson in particular has made a bunch of nice little outlet passes that go unnoticed. His skating ability also gives him the poise and confidence to skate the puck out of the zone rather than force a pass that isn't there.
The forwards are also coming back hard through the neutral zone. Players like Joel Ward, Chris Tierney, Matt Nieto and Barclay Goodrow in particular are showing tremendous effort defensively. Each of these guys are also contributing on the penalty kill. Thus far the Sharks a perfect 11-for-11 while down a man and these depth players are part of the reason for that success.
Finishing Off Games + Rolling 4 Lines
A big problem area last year was San Jose's tendency to take the foot off the gas after taking early leads. Not playing a full 60 minutes was a theme throughout many of their losses a year ago, a season that saw them miss the playoffs for the first time in 11 seasons. However, through these first three games this season the Sharks have looked much more dedicated to sticking with new coach Peter DeBoer's aggressive forechecking system. In the first two games, the Sharks combined to out-shoot the Ducks and Kings by a combined 29-9 in the third periods despite carrying the lead going into the third each game. In those situations the losing team is supposed to carry the play and get more shots, but the Sharks continued to carry the play. Against Washington they were out-shot 11-5 in the third but that doesn't really tell the story. Washington went on three power plays in the final frame and head coach Barry Trotz pulled starting goalie Braden Holtby with around four or five minutes left. The Sharks scored two empty net goals but they had to defend most of the third period in short-handed situations. Thus far San Jose deserves three check marks for closing out all three wins in impressive fashion.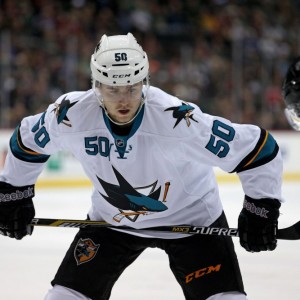 Another problem last season was the lack of depth with fourth liners like Tye McGinn and John Scott providing next to nothing, and a third line centered by James Sheppard who is currently without an NHL team. So far this year though, the Sharks have proven to have terrific forward depth. Against Washington, two of the three Sharks goals that got by Holtby were scored by the bottom-six. Fourth line tough guy Mike Brown tapped home a rebound that was sitting wide open just outside the crease after a terrific net drive by Chris Tierney. Later in the same period Tomas Hertl added his second of the year to make it 3-0.
These even strength insurance markers and overall solid play from the bottom six has come with forwards Raffi Torres, Melker Karlsson and Ben Smith not in the lineup. The suspended Torres and injured Karlsson can both be effective third line players, and Smith scored 14 goals for the Blackhawks in 2013-14. Getting offensive contributions from the bottom-six without these guys in the lineup speaks volumes to their new-found forward depth. Not to mention top prospect Nikolay Goldobin is playing down in the AHL, so the Sharks have plenty of talented forwards not even in the lineup right now. With this type of organizational depth, they should be able to sustain their strong play throughout the season even when the inevitable injury bug decides to hit.