Let's face it, the Toronto Maple Leafs team as a whole need to be better. Coach Randy Carlyle may help in that regard. Hired in March, Carlyle took over a team that was 29-28-7, and managed only a 6-9-3 record. Ideally, the NHL and players' association will settle the collective bargaining issues and the coach will have a full training camp to put his systems in place and assess how he'll use the roster general manager Brian Burke has provided him.
Every fall, articlesappear assessing which Maple Leafs need to perform better if the team is going to climb the standings. It stands to reason that while the team did not perform well enough, there's a number of specific players who need to step things up. That's not necessarily an indictment of the individual, just acknowledgement that better performances are required. That may cause debate among the faithful, but these if five guys can play up to expectation, it will give Toronto a much better shot at finally playing some post-season hockey.
Dion Phaneuf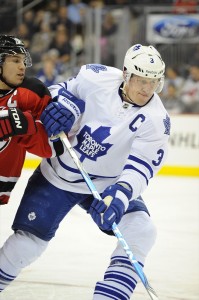 The captain began 2011-12 well, garnering not only an All-Star Game selection, but high praise from then-coach Ron Wilson who said "by a country mile he's the best defenseman in the league". Maybe the coach was pumping the tires a little, but 10 games in, Phaneuf had 2 goals, 11 points, a +7 rating. A great start, and perhaps somewhat unsustainable. He finished the season with 12 goals and 44 points. Still, Dion seemed to be hitting, shooting and creating offence. Overall, it seemed maybe he was becoming the player so many people predicted he would.
As the season wore on, it became apparent that while Phaneuf logs big minutes (over 25/game), and often plays against the best forwards the opponent can throw out there, his defensive game is lacking. He wasn't the only mistake-prone defender in blue-and-white, but Leaf fans witnessed numerous instances where #3 was caught flat-footed, was beaten to the outside, lost his check, made an ill-advised pinch, or simply gave up on a play.
Top-flight NHL defensemen need time to develop – Phaneuf is now 27. A big contract, falling production and rumours he may have been trouble in the locker room in Calgary mean skepticism in Toronto he will ever be reach the potential 'Norris candidate' status conferred on him early in his career. Bottom line, Phaneuf is a key Maple Leaf – and must emerge as a guy who can consistently be physical, an offensive catalyst, and one of the better defensive players. He must bear down and reduce (or eliminate) the mental errors from his game, something a defensive coach (and former Norris Trophy winner) such as Carlyle could be instrumental helping with. He does not necessarily have to be a Norris finalist, but he does have to be a solid, reliable pivot for Toronto.
James Reimer
No one is forgetting that James Reimer began his 2011-12 season well, going 4-0-1 in six starts before taking a Brian Gionta elbow to the head and missing a month and a half. No one will ignore that Reimer may have been rushed back to the lineup, perhaps not 100% healthy, and that may have affected his play. And, it's fair to say the defensive play of the team in front of him left much to be desired. Still, the fact remains, Reimer must improve.
Despite the general manager wanting to add goaltending, there's no doubt Reimer is the guy, with Ben Scrivens backing up. Reimer's in the second year of a three year deal, has been named 'the guy' numerous times by Burke, and remains in Toronto while former platoon partner Jonas Gustavsson was allowed to walk.
In 2010-11, Reimer was 20-10-5, with a .921 save percentage and 2.60GAA in 37 appearances. Compare that to his 2011-12, when in 34 games, he was 14-14-4, with only a .900 percentage and 3.10GAA – numbers ranking him well behind other NHL goaltenders. In games where Reimer faced 30 or more shots, he posted a .925 percentage; 29 shots or fewer, that number drops to .852 (16 games). Simply, those numbers say if Reimer faces 30 shots, he'd make 27 or more saves, 29 shots and he makes fewer than 25 saves – more than a 1 goal difference. Is that a case where James is less focused when he isn't as busy? Perhaps. But, that kind of drop-off is not acceptable for a number 1 NHL goalie.
With only 71 NHL games of experience, Reimer is the Leafs' senior netminder. Barring a veteran acquisition, he's the guy who must carry the mail for Toronto. Entering the season healthy as the top goalie, and with what may be a simplified team defense concept in front of him, Reimer will need to provide more than solid play. The Leafs are still a team that will require its goalie to steal them a game every so often.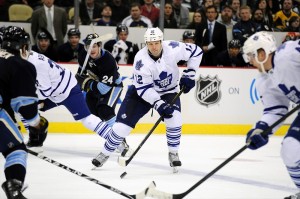 Tim Connolly
Much has been said about the signing of Tim Connolly. He missed 12 games last season, despite his reputation as a brittle player. He should never have been thought of as 'Plan B if Brad Richards doesn't sign', though it's fair to say at $9.5M over 2 years, he was expected to be the centre who could play with Kessel and Lupul. Unable to displace Tyler Bozak, Connolly became a whipping boy of sorts – a relatively large salary playing 3rd line minutes.
His production (13 goals, 36 points) reflects that he's not going to be a 60 point forward anymore. He was -14 on the season, and it was late in the year before he seemed to find a line he was comfortable on. Ideally, Connolly would be part of a trade package to address other team needs. So far that hasn't happened, and with a year remaining on the contract, he'll be a regular in the lineup.
Nothing can be done about the cap hit, but Connolly can make a solid contribution with defensively sound play from the 3rd line. He played centre and wing, and will have to be versatile, occasionally seeing powerplay duty, or taking faceoffs. And perhaps with his role defined that way, Connolly will be more successful, rather than moving from first-line centre to second-line wing, etc. Without improvement, Connolly will be an ineffective forward simply using up ice-time.
James van Riemsdyk
Unfair to call for James van Riemsdyk to improve before he even steps onto the ice as a Maple Leaf? Perhaps. But there's much riding on how van Riemsdyk performs as a Leaf.
As things stand, acquiring van Riemsdyk for Luke Schenn is Brian Burke's big deal of the off-season. The big forward is not a crash-and-bang player, rather a finesse guy using his size to gain an advantage in the offensive end. He's an upgrade for the Leaf forward corps, but at the cost of a young, and potentially very good, defenseman. And it was a deal that was rumoured for months, which puts more pressure on the deal to be a success.
Keep in mind that while young, van Riemsdyk has not scored more than 21 goals and 40 points in a season. He was on pace for only 46 points last season. In Philadelphia he was buried down the depth chart, and will get a chance in Toronto's top-6, which could help those numbers. But, the danger here is that Burke has tried this experiment previously Kris Versteeg, with mixed results.
Bottom line here, van Riemsdyk will need to be a legitimate offensive threat. Whether he centres the top line or plays wing in the top 6, 40-50 points will not be good enough. The Leafs have a number of players in that point range, including Bozak who already centres the first line. If James can turn the top line into a trio of 70-80 point players, or be a 60-70 point threat on the second line, drawing attention away from Kessel and Lupul, that's the level of performance that could make a difference to the Leafs' win totals.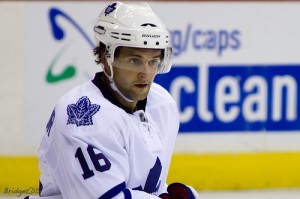 Clarke MacArthur
Clarke MacArthur is another player that may simply have too much expected of him. Plucked off the free agent pile two seasons ago, he justified Burke's play to sign him with career high goal and point totals. That earned Clarke a nice raise and a multi-year deal.
In his second Leaf season though, MacArthur disappeared somewhat. He still potted 20 goals, but only 43 points due to a 45% drop in his assist totals from the previous year. At one point, he was paired with former Sabre teammate Connolly to try to spark both players, with mixed results.It gave the appearance that MacArthur was unable to be a consistent second-line wing.
Don't misunderstand – MacArthur wasn't terrible in 2011-12. His shooting percentage was fairly consistent (13.5, compared to 13.6 in 2010-11, and 14.0 career), and his +/- rating improved (+3 versus -3 in 2010-11). And actually, he's previously not been a great passing forward (removing the 2010-11 season, MacArthur has 64 goals, 67 assists career). But a great part of the success Clarke found in 2010-11 with Mikhail Grabovski and Nik Kulemin revolved around the idea the three players were able to feed each other. MacArthur's 20-or-so goals is great, but he needs to create offense with passing also if he is to be part of an effective attack. Similar to van Riemsdyk, 40-ish points is not going to be good enough for a top-6 forward if the Leafs are going to see the playoffs.
There's always a number of factors that affect a team's success over a season. For the Leafs, a great start to the season was derailed by breakdowns in defensive play and some spotty goaltending. Those areas of the game will have to improve, and more offense won' hurt. If these five Maple Leafs can elevate their play and provide consistently solid play as indicated, it will go a long way to achieving a berth in the post-season.