Have an opposing opinion? Feel free to discuss in the comments below!
As August wraps up and we near September, we not only begin to turn the corner into the last few precious weeks of Summer, but we also begin to see the first signs of NHL hockey returning for the 2014-15 season. Training camps open in about 20 days or so and preseason will kick off on September 21st. With that in mind, fantasy drafts will start to commence in around a month's time. Looking at NHL.com's Fantasy Hockey, Matt Cubeta and Pete Jensen have compiled a well thought out list of the top 200 fantasy players. One thing they have in common is the 1, 2, 3 order of Sidney Crosby followed by Steven Stamkos and then Corey Perry.
Overrated NHL Players from NHL.com Top 200
Without any bias whatsoever, I've gone through each of Cubeta and Jensen's Top 200 multiple times to determine 5 players which are highly thought of by both the authors, but in terms of helping their teams win, are not worth the risk through an entire 82-game season, otherwise known as being overrated. I've not only looked at the matter of total points and production, but also into deeper aspects of their game. The players defensive ability, goals for %, tendency to take penalties, etc..The following 5 players are ones that are highly touted in all fantasy leagues as well as by teams in the NHL, but with their high reward comes high risk. One thing to remember, you have to be great, to be criticized.
#5: Ryan Kesler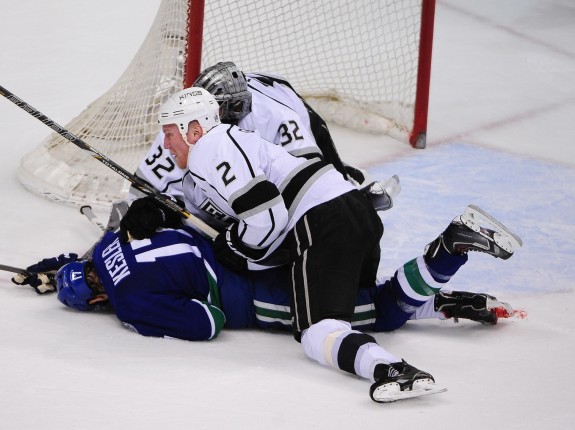 Although he isn't looked at as one of the best, he is still highly touted, as showcased at this year's Entry Draft, where as many as 10 teams had interest in throwing away part of their future for him. He is ranked 76th and 51st by NHL.com and rated 90 overall in NHL15, tied for 24th best. He had a great year in 2010-11, but that was a one-night stand. In the two full seasons since, he had 49 and 43 points, extremely average numbers. He piled up 81 PIM last year and at times, seemed uninterested in the team around him. He managed a -15 rating in 2013-14 and in all, has seemed to be on a steady decline over the past 4 seasons. Definitely not a player I would risk to have as one of the leading scorers on my team.
#4: Phil Kessel
His production has become what the Leafs had expected now, but that's really all you can expect from Kessel. Phil is ranked 13th and 21st on NHL.com and rated 90 overall in NHL15. Outside of points, which I understand is important, he doesn't do much of anything really. He is a combined -45 since joining Toronto. He has literally no physical side to his game, with a whopping 25 hits last season, Phil has proven that he will do whatever it takes to escape physicality. See, Scott, John incident. He likely doesn't know the meaning of defence, that or he missed the practice as a 6 year old. He managed 88 giveaways last year, most of them likely while running away from a hit. His possession is downright bad, with a Fenwick For% at 0.433, 0.447, 0.478, and 0.464 over the last 4 years. Simply put, he can score… well that's the only thing he can do. At times he seems like he could hurt the team more than he can help it. Result, he is definitely overrated.
#3: P.K. Subban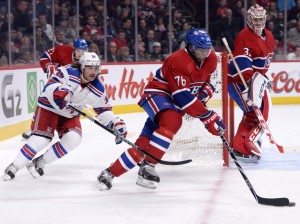 Although he won the Norris Trophy just 2 years ago, even his GM and coach have often criticized his defensive play and have hardly trusted him in key, last minute situation. Subban is ranked 16th and 11th on nhl.com and 24th in NHL15 at 90 overall. Besides his exceptional offensive numbers for a defenceman, he is usually a liability in his own end. With 83 giveaways last year, you'd be correct to assume a lot of those end up in the back of his net. Also, in 2 of the past 3 full seasons, he has surpassed the 100 PIM plateau, hitting 124 and 119. His possession his average at 0.499 last year, but those are not numbers you expect from a 'franchise player'. He did have 204 shots, but with a lousy 4.9 shooting%, you have to wonder if he thinks when to take a shot, or is always just firing on all cylinders. To me, I can't trust how much he could backfire defensively.
#2: Alex Ovechkin
It's hard to go against someone who has hit the 50-goal plateau in the NHL 5 times, but only once has that happened in the past 4 years. Ovi was ranked 5th and 9th on nhl.com, and tied for 2nd on NHL15 at 93 overall. Still an exceptional player, but point totals are seemingly decreasing and with an extremely defensive coach, Barry Trotz, coming in this season it would be a surprise to see something different. Besides goals, there isn't much else to the 'Great Eight's game. He is usually no where to be seen in his own end, and compiled a ridiculous -35 rating last season. His possession numbers are terrible as well, with a Fenwick For % of 0.478, 0.487, and 0.476 in the past 3 years. Also, more than half of his total points are scored on the powerplay, while his 5on5 numbers are not great at all. So, while Ovechkin has an amazing shot, there isn't much else to look at here. A superstar has to be great at all parts of the game, Ovi is not, but he is overrated. Check out his back check here, where he decides he doesn't know how to move his legs, great gliding though.
#1: Pavel Datsyuk
Rated 22nd and 24th by the nhl.com authors, and also tied for the 2nd highest rating in NHL15 at 93 overall, the dangler is highly regarded by most around the league. The problem is, everyone is simply mesmerized by his slick moves and his famous 'Datsyukian Dekes'. What fans seem to always miss is what's behind the dazzle. His points per game last season was just 0.822, still a good number, but not enough to be considered among Joe Pavelski, Patrick Sharp, and even Taylor Hall. Besides being behind on simply total points, Datsyuk is also one of the more 'soft' players in a league which is always getting bigger and stronger. Lastly, he is 36 years old. A body can only hold up and produce for so long in this tough of a job, so expecting him to perform above Taylor Hall, as is projected on nhl.com, seems a bit of a long shot. As a result he wins the award for Most Overrated Players for 2014-15.
Have a opposing opinion on this? Feel free to discuss in the comments below!